The Best Workout Gyms Near Me Within My Budget
Exercise is the right of every human being. But some gyms in New York City price fitness out of reach. In climates like Montréal, New York City, or Miami where extreme temperatures affect outdoor fitness options, gym memberships are especially crucial. But you don't want a "budget" gym, you just want a gym that fits in your budget. You don't want to sacrifice quality, safety, or results- you want the best workout money can buy. Luckily, Sweat440 knows your plight so we provide affordable workouts with all the perks.
For Affordable Personal Trainers- Trust Sweat440
Working out on your own won't produce the best results. Even elite athletes seek professional input to take fitness to the next level. But many gyms charge a fortune for that expert advice, and it's often hard to get an appointment with a personal trainer, since they only have so many hours in the day. If you or the trainer has to cancel, it's money down the drain.
Sweat440 utilizes an innovative concept- personal training delivered in group fitness classes. All of our classes include personalized training for free, so you get the best of both worlds. You can pay a lower group class fee, but still get customized instruction. Our trainers circulate through every class, correcting form and assisting with any limitations. We push you to be your best without charging you one extra cent. And we have a team of certified trainers which means we never cancel- there's always an instructor ready to meet your needs. We don't charge you for classes if you have to cancel, which is something you won't find in other gyms.
For Affordable Group Fitness Classes- Trust Sweat440
Sweat440 teaches the most effective workout at the most affordable price. The high-intensity interval training (HIIT) method costs a fortune at other gyms with less qualified instructors who only lead classes once or twice a week. We specialize in HIIT 7 days a week and our trainers are the best HIIT instructors you'll find. Many gyms have general instructors who teach a variety of classes and aren't an expert in any of them. But our teachers are highly trained HIIT devotees who know how to maximize results.
Our classes cost a fraction of other HIIT classes around town because we value your investment. With our dedicated mission, we invest in innovation, elite trainers, and high-tech equipment, not large warehouses, needless spa treatments, or add-on amenities. And we offer those classes all day long. So, your membership grants you endless classes, unlike some gyms where the membership is a useless card until you make your way off the class waiting list.  
For Affordable Workouts at All Fitness Levels- Trust Sweat440
Whether you just won a triathlon or haven't been to the gym in years, Sweat440 meets you where you are and takes you where you never thought you could go. Our proprietary interval training technique lets you work to the best of your own ability. Our classes are divided into 4 10-minute stations with 3 sets of 3 exercises each.
Whether you squeak out 3 reps, or pump out 50, the fun is, you're done with each set in 45 seconds. With 15 seconds to rest between sets, you push to your limits, but still get to catch your breath. This transition targets your VO2 max, so you burn calories long after your workout. Come see what your body can do with the proper training- prepare to be amazed! Your body won't know what hit it, but your eyes will love the results. Every class caters to all fitness levels, unlike some gyms with an elitist mentality.
For Affordable Gym Memberships- Trust Sweat440
Sweat440 is one of the only gyms that doesn't require a contract. Our goal isn't to trap you, it's to help you reach your goals. We don't need iron-clad binding contracts, because our members love coming to Sweat440. We understand that members don't want to be tied down to a gym before they even know if they like it. That's why we offer free classes and multiple membership options.
You can purchase as little as one class at a time, and we offer specials like Founder's Rates that make fitness extra affordable. While some gyms only focus on revenue, we are passionate about your health. Our founders sought to redefine the gym experience after hearing clients express disdain for other gyms during their years as personal trainers. They are passionate about making Sweat440 a place where the cost isn't the hurdle that blocks you from fitness.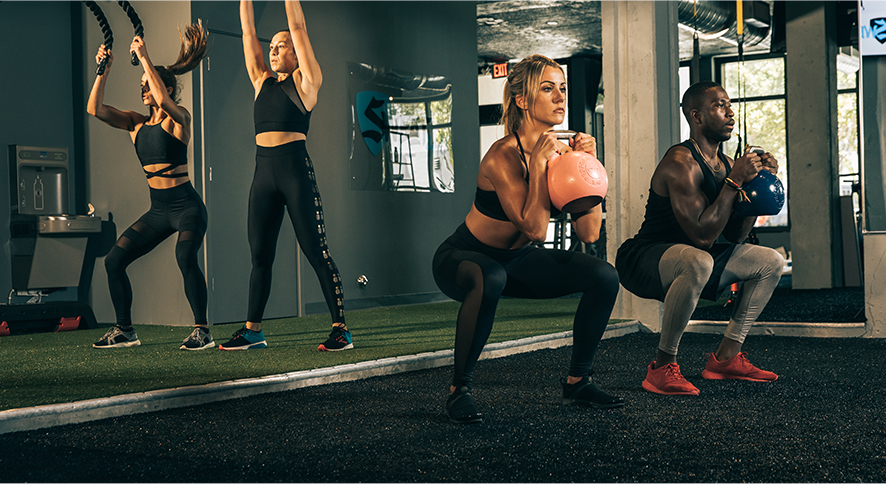 How Sweat440 Provides Boutique Fitness for Your Budget
Sweat440's Wise Investments Save You Money
Sweat440 invests in innovative equipment, not unnecessary square footage.
Sweat440 invests in technology like animated demos and schedule apps, not spas.
Sweat440 invests in top-notch trainers, not cafes or corporate agendas.
Sweat440 invests in members with countless classes, not classes you can't get in.
Sweat440 invests in global health with fitness applicable to all levels.
Sweat440 invests in your self-worth with upbeat music, encouragement, and results.
Sweat 440's Selfless Mission Makes Boutique Fitness Affordable
Sweat440 puts members first with no contracts or hidden fees.
Sweat440 puts members first with classes that fit your schedule.
Sweat440 puts members first with amenities like showers, locker rooms, and towels.
Sweat440 puts members first with multiple membership options for each budget.
Sweat440 puts members first with locations near you.
Sweat440 puts members first with the best method for results.