Chances are, if you're looking for "Sweat Fitness near me," you might be wondering what a class at a Sweat Fitness gym is like. You've probably guessed that it involves some degree of sweating! But the amount of sweat you expend in a gym doesn't necessarily correlate to the amount of calories burned. If you want to break a more effective sweat, try one of Sweat440's multiple locations in New York, Florida, or Canada. Sweat440 is designed to utilize every droplet of sweat to help you reach your fitness goals.
WHAT is a SWEAT440 class like?
Our classes are high energy and full of positivity, with plenty of high-fives! Our specialized trainers are always on-hand to assist in proper form and technique. Don't like to ask for help? No problem- each move is digitally animated via video screen, so you can flex like a consummate pro. With a quick glance, you can see how to perfect an exercise and earn that next high-five when you master a station. Our classes are comprised of people at all fitness levels, so there's no air of intimidation.
Our 4 stations in 40 minutes (440) mean you can max out a certain muscle and move on to the next before you reach burnout. Sweat440's stations are always evolving to keep your workout fresh and exciting. Expect anything from resistance bands, to bikes, to boxes, to ropes. Your workout will never be dull. Our devotees swear by the fact that the classes fly by, because they're having so much fun.
Just when you think you can't do another rep, the good news is, you don't have to! That's the beauty of HIIT– you're always one set away from something new. With 15 seconds between each transition, and one minute between each station, you have time to catch your breath, but not enough time to lose momentum.
Sweat440 delivers on fitness goals you can't achieve in a Sweat Fitness class that's less dynamic. Our convenient locations make it easy to break a sweat, and one that delivers results.
Why is A SWEAT440 class more effective?
Sweat440 classes implement High-Intensity Interval Training (HIIT) which keeps your heart pumping at the optimal level to burn fat and calories, not just make you sweaty! The way we sweat is linked to age, gender, level of fitness, genetics, and environmental surroundings, as well. Some people can run a marathon and barely break a sweat, while others need to wring out their shirt after 10 minutes on the rowing machine.
To ensure your workout delivers maximum impact, you can't just sign up for anything that promises to make you sweat. The best body workout includes interval training to keep your metabolism on its toes. Sweat440 offers a unique formula that provides the perfect concoction of cardio and resistance so your body never gets complacent.
If you live in a busy city like New York or Miami, you can't always control what time you'll arrive at the gym. Sweat440 eliminates the risk of lost class fees if you don't get to class on time. We're proud you showed up, and you should be proud too! It's not always easy to prioritize fitness. We believe there's no such thing as being too late for exercise, so we offer classes every 10 minutes.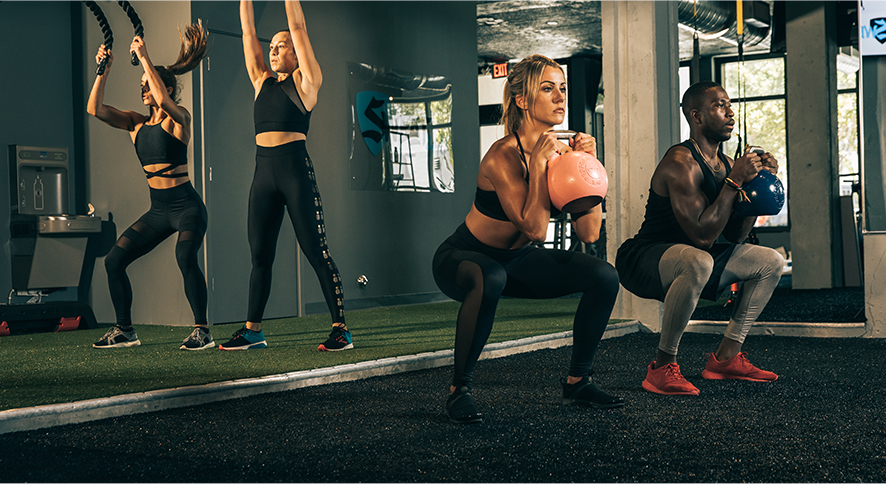 Sweat 440 vs. Sweat Fitness near me: How do they compare?
While both gyms share the goal of providing a great workout, there are some key differences too. Sweat Fitness is a regional gym, whereas Sweat440 is rapidly expanding throughout Florida, New York, and Canada. If you're wondering, "Where is a Sweat Fitness near me?" You're only in luck if you live in Philadelphia. Sweat440 offers multiple locations and class start times every 10 minutes, in contrast to the set schedules and less flexible Sweat Fitness memberships. Sweat Fitness classes will make you sweat, but you won't maximize each muscle group or avoid the dreaded plateau.
SWEAT FITNESS:
Sweat Fitness memberships require you to purchase monthly memberships at a minimum of $175 per month.
Sweat Fitness classes jam all body parts into one session, so you can't isolate or target a muscle group.
Sweat Fitness classes aren't ideal for daily practice, since muscle groups have no time to recover.
Sweat Fitness classes are repetitive, so they don't offer dynamic movement.
Sweat Fitness has a heavy emphasis on power lifting, which isn't everyone's thing.
Sweat Fitness is only located in Philadelphia.
SWEAT440:
Sweat440 allows you to purchase as little as one class at a time, and offers complimentary introductory classes.
Sweat440 offers classes every 10 minutes, so you are #never late, and don't have to commit to classes ahead of time.
Sweat440 has multiple locations throughout New York, Florida, and Canada so you can easily stop in to the one that's closest.
Sweat440 classes target certain body parts each day, so it's safe and effective to make it your daily workout.
Sweat440 workouts are constantly changing so you never get bored.
Sweat440 incorporates a wide variety of equipment so there is something that appeals to everyone.
Sweat440's fast pace makes the class fly by, and maximizes every second.
The best gyms know that you don't just want to be fit, you also want your workout to be a fit for your lifestyle. That's why Sweat440 offers a continual cycle of classes that starts whenever you need them to. We get you in and out of the gym in the most efficient manner so you blast your muscles, but still have time for everything that life demands. Drop your stuff in a locker, crank out 40 exhilarating minutes, then stop by our photo booth to capture your post-workout glow. You did it! See you tomorrow!