How to Choose a Sports Club Near Me
A sports club sounds fun, right? Sports are enjoyable, both to watch and to play. And it's always nice to be part of a club. But sports clubs offer a wide range of experiences, depending on which one you join. Before you sign up, make sure it's what you had in mind. Some sports clubs lock you in for a year or more, so use these tips to choose the right one before you're trapped.
1. Determine Which "Sports" It Offers
Some gyms go by the title "sports clubs," despite having any affiliation with a particular sport. They might be a traditional gym with cardio machines and weight benches, or a family-style gym like a YMCA. Other sports clubs are designed to train collegiate and professional athletes, in the form of training camps and pre-season workouts. And some sports clubs are dedicated to a particular sport, like New York Sports Club, which was founded around the game of squash. While squash is fun for some, just like the food by the same name, it's not for everyone. So, it's important to determine exactly what a sports club means by the word "sports" in its title.
2. Determine Which Equipment It Offers
If a sports club is designed to facilitate a particular type of athlete, it might not have adequate equipment for you. For example, sports clubs that train pre- and post-season football players are sometimes open to the public to join. But they're typically housed in warehouses with Astroturf and minimal equipment, since they focus on things like sprints, explosive movement, and quick-twitch muscles. If you're an athlete training for triathlons or your basketball or baseball season, you won't find bikes, swimming pools, bats, or a hoop in these gyms. And if you're not an athlete, but a fitness fan looking to torch your core, build your biceps, or tone your glutes, these sports clubs won't fit the bill.
3. Determine if They Have Certified Personal Trainers
If you're looking for a "sports club near me," then you're either an athlete aiming to improve your game, or a gym goer looking to improve your fitness. In either case, certified personal trainers are the key to success. Athletes who work with certified personal trainers have distinct advantages over competitors, including quicker results, less complacency, less injury, less burnout, and the prevention of plateau.
Athletes are now being drafted as early as middle school, so hiring a personal trainer is increasingly common. But it's important to choose a certified personal trainer who is educated in your particular sport and age group. High school and college athletes are still growing and developing. So, joining a sports club that doesn't staff certified personal trainers could result in serious injury.
And for gym members who aren't athletes, trainers are even more important. Athletes have scheduled practices and coaches to help keep them on track, but typical gym members have to rely on their own willpower and knowledge of gym equipment. Having a certified personal trainer makes a tremendous difference both in safety and efficacy. Trainers help you push past perceived boundaries and keep you consistent in gym attendance, which is key to reaching fitness goals.
The tricky thing about certified personal trainers is they can be costly and their schedules are often full. So, join a sports club like Sweat440 where personal training is included in every group fitness class. A legitimate sports club understands that trainers are key to upping your game; that's why Sweat440 provides them at no additional fee.
4. Determine Their Fitness Philosophy
Does the sports club sign you on and then cut you loose to figure things out on your own? Do they offer group fitness classes, individual instruction, and a wealth of equipment to choose from? Are they focused on a single sport like cycling or boxing? Do they welcome all fitness levels or are they designed for elite athletes? Even if you specialize in a particular sport, joining a well-rounded sports club works to your advantage.
Football players benefit from diversity in strength training like sleds, kettlebells, rowers, and TRX, not just bars and plates. And swimmers benefit from resistance work, weightlifting and compound cardio like Ski Ergs and Versa Climbers. That's why Sweat440 is packed with a wealth of options to train athletes from all sports. All of our classes use high-intensity interval training (HIIT) to capitalize on each movement. We build muscle while burning fat to acquire quicker results.
Our fusion of cardio with resistance means you'll burn twice the calories in half the time. Whether you're trying to be the #1 draft pick, or just trying to trim down for swimsuit season, quicker results are a universal goal. Rather than choosing a "sports club near me" that focuses on a single sport, or a club that has no sports focus at all, choose the gym that's designed for all types of athletes.
Sweat440 uses state of the art equipment, top-notch certified personal trainers, and a superior fitness method so everyone who sets foot in our gyms achieves their personal best. Our classes start every 10 minutes, so they fit in with your sports practice schedule, school schedule, work schedule, and everything else in between!
Our gyms don't use contracts and offer free classes for beginners, so come try our 5-star sports club risk free!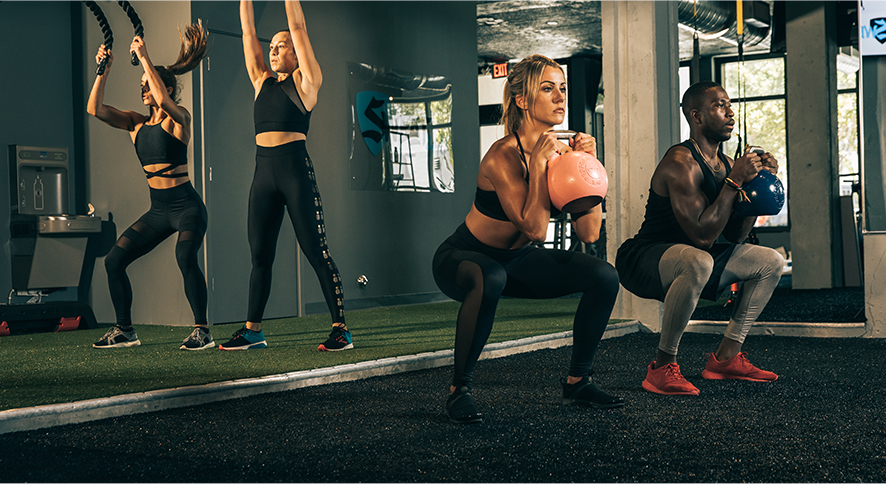 Finding the Right Sports Club Near Me
Are you focused on only one sport?
Which athletes can improve in your gym?
Do you work with all fitness levels?
Do you offer certified personal trainers?
Do you have a variety of equipment?
Which fitness method do you use?
Do you require annual contracts?
Do you offer free classes?
Do instructors assist with equipment?
Do your classes fit my sports schedule?
Sweat440 Montréal
Sweat440 Miami Beach
Sweat440 Brickell
Sweat440 Doral
Sweat440 Coral Gables
Sweat440 Palm Beach
Sweat440 Kendall
Sweat440 FIDI
Sweat440 Chelsea
Sweat440 Austin