The Nearest Gym to Your Daily Commute
Sometimes laziness is the enemy of fitness. But for most people, they are willing to exercise, they just can't fit it into their schedule. One of the biggest hassles is fighting traffic to get to a gym all the way across town. But studies show that if you find a gym on your daily route, you're much more likely to work out. 
Sweat440 has convenient locations throughout major cities around the world. We make fitness accessible with classes that start every 10 minutes. And we're right near prime locations where you like to socialize and run errands. Squeeze in fitness with our 40-minute classes, then grab coffee with friends or groceries for dinner around the corner.
Sweat440's Convenient Locations
What better place to be close to than the beach when you're working out? If beach bodies don't inspire you, then you haven't been to South Beach! But Sweat440 Miami Beach is also close to everything else you need! Grab the freshest catch for lunch at Pubbelly Sushi, Sushi Garage, or Stiltsville Fish Bar on the same block. Choose produce for dinner at Publix or The Fresh Market across the street. Make a coffee date at Panther Coffee Miami Beach, or get your juices flowing at Dreamer Acai Juice Matcha or Sunset Juice Cafe just steps away from Sweat440.
Right in the heart of downtown Miami, our Brickell location is perfect for work commuters. We're also within a block of Starbucks and Toasted Bagelry and Deli, so you can grab a quick post-workout breakfast on your way to the office. Stop in the Publix across the street after work, or even better, pop into Village Humidor, Freddo Brickell, or SuViche on the same block for a treat after a hard day's work.
Capture your post-workout glow in our Coral Gables selfie station, then reward your fitness with a fun new wardrobe. Step into the Shops at Merrick Park a block away to find treasures at Anthropologie, Nordstrom, Prada, and Francesca's. Or spruce up your home with fine goods from Pottery Barn or Williams-Sonoma down the street. Don't forget to pamper yourself at Sephora or Forever Young Skin and Hair Spa a block away.
Sweat440 Doral is perfect for busy moms and professionals alike, since it's surrounded by kid-friendly activities and professional buildings. The Miami-Dade Public Library, Downtown Doral Park, Sky Zone Doral, and La Caimanera Soccer Fields surround this gym which is walking distance to Downtown Doral Charter Elementary School. For adult tastes, take advantage of Bulla Gastrobar, Pisco y Nazca Ceviche Gastrobar, Dragonfly Izakaya and Fish Market, or Las Vegas Cuban Cuisine across the street. Stop into the nearby Publix or UPS to check errands off your list.
If you work in the city, Sweat440 at 80 John St. brings fitness to your doorstep. Not only that, we make it convenient to your favorite rituals. We're near your favorite iced coffee at Dunkin' Donuts, essentials at Jubilee Marketplace and Basics Plus, and your tanning, salon, and spa appointments at Lee Salon 25. Unlike most city gyms, there is ample parking surrounding Sweat440 in the Financial District. Not to mention, the post office, FedEx and UPS are steps away from our gym. Grab a quick healthy lunch at Open Kitchen, Magic Mix Juicery, or Poke Bowl nearby.
Errands galore align with your fitness in Chelsea, where our gym is bordered by Marshall's, West Elm, T-Mobile, Container Store, and clothing boutiques. But you can also work sustenance into your trip with tasty neighbors like The Hummus and Pita Company, Basta Pasta, and Hollywood Diner. Did you burn the midnight oil last night? Stop in adjacent Coffeed or Think Coffee to get your engines running. By the way, if your upcoming wedding is part of your fitness motivation, step into Kleinfeld Bridal two blocks away for inspiration.
Our Montréal location has something convenient for everyone. For pet-owners, we're across from Clinique Vétérinaire Métropolitaine. For toiletries and beauty, we're adjacent to ADI Cosmétiques and Pharmacie Jessie Haggai. Find thrifty purchases at Dollarama or Electrotel across the street. Treat yourself to international cuisine at Amir or Kanda Sushi Bar post-workout. Or have a cheat day at Splendid Chocolates or Squish Candy down the street. We're also on your way to work, just off Autoroute Décarie 15.
A Sweat440 Location Near You Coming Soon!
If you don't see your town on the list, don't worry, we might be there very soon! Sweat440 favors small group classes with personal training infused in every routine. Rather than opening one giant impersonal space that isn't convenient for all, we believe in smaller facilities spread throughout the city. We like to get to know our members and join them on their fitness journey. We have plans to open locations near you soon! To learn more, contact us for the latest updates.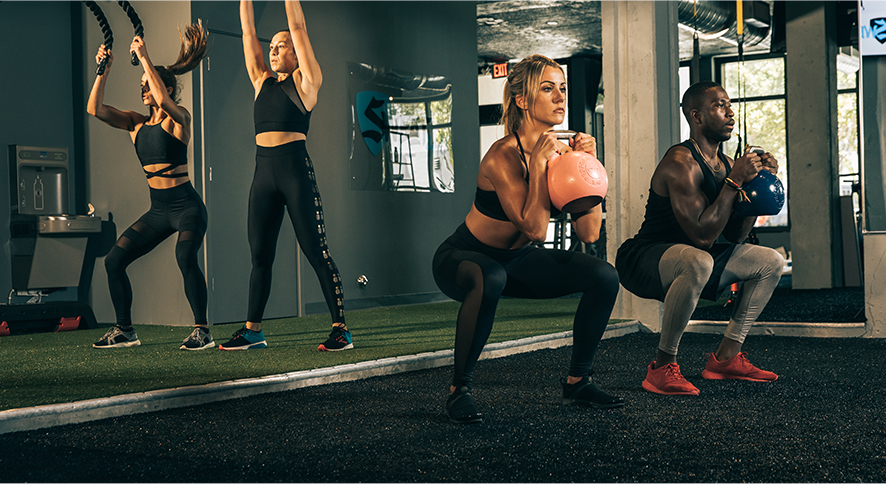 Why Your Gym's Location Matters
5 Ways a Gym's Proximity Helps
Nearby gyms allow you to pop into class when you get the chance.
Nearby gyms cut down on travel time, so you have more time to work out.
Nearby gyms reduce fuel prices, mileage, and wear and tear on your car.
Nearby gyms help you connect with neighbors in your community.
Nearby gyms increase attendance which enhances results.
5 Ways a Gym's Distance Hurts
Distant gyms cause you to miss your workout if traffic slows you down.
Distant gyms are easy to blow off if you get a social invitation.
Distant gyms don't create a sense of community or connection.
Distant gyms aren't convenient to the other stops you have to make.
Distant gyms increase travel costs and waste time and fuel.