Contract Free Gyms near Me with Free Classes
Joining a gym can be costly. Some gym memberships require annual contracts, initiation fees, pricey classes, and extra fees for personal trainers. Other gyms like Planet Fitness charge lower monthly fees, but lock you into binding contracts and lack the amenities you need to succeed. An overpriced gym leads to cancelled memberships since you don't get your money's worth. And an inferior gym leads to lackluster results and the tendency to quit exercising.
The best bang for your buck is joining a gym with multiple membership options and no annual contracts. That way, you aren't stuck paying for the gym if it doesn't prove to meet your needs. Sweat440's contract free gyms near me offer free classes for everyone! You can try a class for free any day, any time, and buy classes in your preferred increments. You can stop your membership at any time, since we don't lock you into a contract or charge hidden fees or cancellation penalties.
Sweat440 is your best bet to try free classes without a contract. Some other gyms offer a free class or a free training session only after you've signed up for a gym membership. Don't fall for a gym's trap of a free session after you join. If you don't end up liking the gym, that free session is no consolation for a year's worth of required membership dues. Many gyms require fee passes obtained at secondary sites like Class Pass or Groupon, but Sweat440 simplifies things by making every first class free, for every participant, without requiring free passes.
Sweat440's Free Classes Aren't Tied to a Contract
At Sweat440, we let you try a free class first, before you make any purchases or sign up for membership. You can buy our classes one at a time, or in bundles of 10, or whatever is best for you. We don't use contracts, so you don't have to sign up for a particular length of time. If at any time you need to pause, whether for surgery, childbirth, health, or finances, you're free to stop immediately! And if you move to a new location, you can cancel your membership, or join one of our other locations in cities around the world! Unlike at other gyms, at Sweat440, free classes and contract free memberships are truly free.
Sweat440's Free Gyms Near Me Include Free Personal Trainers
One of the biggest perks to our free classes is that they include free personal trainers! In fact, every single one of our HIIT classes includes free training, no matter what day or time you show up! Monday's lower body shaping class? Free personal trainers! Tuesday's upper body and core shredding class? Free personal trainers! No matter what your fitness goals are or what body part you want to perfect, our personal trainers are with you each step of the way, at no additional cost!
Our Fitness App Makes Gym Memberships Flexible
Since we don't require contracts or annual gym memberships, all you have to do is join a class to work out! Our classes start every 10 minutes! Try finding a gym schedule more flexible than that! You don't have to book your free class months in advance. You can book online, use our scheduling fitness app, call us to schedule, or simply stop by, and our front desk team will put you in a class. With our convenient schedule, you're only minutes away from a killer workout, any time of day! Try the best free class in town at your Sweat440 local gym today!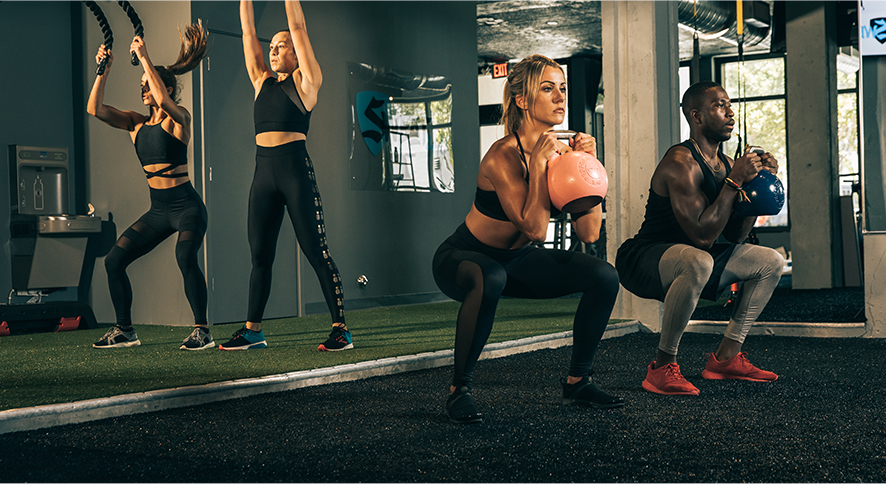 Contract Free Gyms Near Me
Sweat440's Free Classes Near Me:
Sweat440 Brickell- Call: (305) 882-9514
Sweat440 Kendall- Opening Soon!
Sweat440 Coral Gables- Call: (305)783-2469
Sweat440 Miami Beach- Call: (305) 770-6212
Sweat440 Downtown Doral- Opening Soon!
Sweat440 Palm Beach- Opening Soon!
Sweat440 Austin- Opening Soon!
Sweat440 Montréal- Call: (514) 594-0440
Sweat440 Chelsea- Call: (646) 956-1631
Sweat440 FIDI- Call: (917) 722-6702
Our Contract Free Gyms Near Me Include:
Showers
Lockers
Free personal trainers
Scheduling app
HIIT training
Flexible schedules
Full body workout
Free classes
No contracts or fees
No cancellation penalty