Top 10 Social Fitness Clubs Near Me
Wouldn't it be easier to go to the gym if you enjoyed it as much as coffee with your bestie, or a pint with pals at the microbrewery, or a night out clubbing in the city? Sweat440 believes that fitness SHOULD be fun! And we know how few hours there are in a day. That's why we designed our fitness clubs near you to fuse fitness with your social life.
Why Your Gym Should Align With Your Social Life
Most days, there isn't enough time to do everything we need to do. Fitness is essential to health, so it's important that it doesn't get squeezed out of your day. Look for "fitness clubs near me" that fit in with your routines. If you can pop into the gym on the way to the office, the grocery store, school, or social outings, you're much more likely to go. Better yet, have your friends join you for group HIIT classes at Sweat440! Friendship fused with fitness is a powerful health combo!
10 Fitness Clubs Near Me That Fuse Fitness With Social Life
1. Sweat440 Miami- Brickell
Located in the heart of the city, this gym has quick access to hotspots like SuViche, El Túcan, Blackbird Ordinary, and Coyo Taco for dinner or drinks with friends. It's also easily accessible to Starbucks and Publix, or your commute to several Consulate Generals and financial institutions. Pop in after dropping your kids at one of the multiple schools nearby, like Southside Elementary, Champs Brickell, Tiniciti Preschool Brickell East, Kingsbury Academy, Brickell International Academy, or Cladea School.
2. Sweat440 Miami Beach
Get your pump on before hitting South Beach, or fit a workout in before meeting friends at Pubbelly Sushi, Tequiztlan Mexican & Margarita Bar, Panther Coffee, Sunset Juice Café, or Dreamer Acåi Juice Matcha just steps from this gym. Or peruse the nearby Publix or Fresh Market after your workout to whip up something fresh for friends. And of course, this fitness club is in the perfect vicinity to hit up social clubs like SoBe, Exchange, SkyBar, Mokai, and Basement afterward!
3. Sweat440 Coral Gables
Perfect for your commute to Coral Gables High School, Little Cavaliers Preschool, or Key Point Preschool, this gym is also convenient to multiple offices and financial institutes in the center of Coral Gables. Keep it social too by meeting friends for upscale shopping at Prada, Nordstrom, Anthropologie, and Sephora in the adjacent Shops at Merrick Park.
4. Sweat440 Downtown Doral
Ideal for socializing with family or friends, this gym is located within walking distance of Downtown Doral Park and Downtown Doral Charter School. It's also steps away from Bulla Gastrobar, Las Vegas Cuban Cuisine, and Dragonfly Izakaya & Fish Market, for a night out with friends. Check groceries off your to-do list at the Publix across the street, or stop by after working at the adjacent City of Doral Government Center, Aerotek, or Avianca Airlines.
5. Sweat440 Kendall
Our Kendall location is just across from Pinecrest Prep Middle and High Schools, and next to the Meadows Shopping Center for your errands. It's walking distance from Publix Supermarket, Lakes of the Meadow Branch Library, and fun dining options like Little Louie's Italian Kitchen and China Town West. Close to multiple family neighborhoods, it accommodates your busy schedule.
6. Sweat440 Palm Beach
You can do it all from this location! Stop into HomeGoods, West Elm, or the Shops at Midtown Miami after your workout. Or meet friends at Sugarcane, Blackbrick, or Sakaya nearby. Pamper yourself and your girl friends with a visit to Omni Nails and Lash Lounge or Bleach Hair Addiction across the way. Don't forget your Starbucks fix– it's just down the block.
7. Sweat440 NYC- Chelsea
There's no excuse for errands to get in the way of this workout– it's literally next to Old Navy, Container Store, Marshall's, Cost Plus World Market, Bed Bath & Beyond, Chase Bank, AT&T, and T-Mobile. It's just across from Lash Couture and Gong Fu Spa for relaxation, and just next to Coffeed, Think Coffee, and Telegraphe Café for java with friends. Stop into Oramen, Basta Pasta, or the Hummus & Pita Co. for a social lunch. Or grab cocktails at Raines Law Room or Karaoke One 7 after your sweat session (no worries, Sweat440 has showers)!
8. Sweat440 NYC- FIDI
Exercising on your way to or from work? Our Financial District location is perfect for you! Just a few blocks from the New York Stock Exchange and New York Presbyterian Lower Manhattan Hospital, and steps from the NYC Banking Commission and the NYC Department of Finance, we bring fitness to your doorstep. We're located near Pacific College of Health and Science and Pace University so students can make time for fitness too. Convenient to Fulton Street Station, we're right next to Starbucks and Blue Spoon Coffee so you can fuel up with friends and start your day!
9. Sweat440 Austin
Perfect your look by crushing calories at our Sweat440 Austin location, then meeting friends at Hush Hush Tan, Vitali Salon, or Happy Salon + Spa just steps away from the gym. Or meet friends to socialize at Bar Peached, Nightcap, or Lolo across the street, or Donn's Depot or Mean Eyed Cat a few blocks away. Fuel your fitness with cuisine from nearby Veggie Heaven, or indulge your Texan tastebuds at El Arroyo or Z'Tejas. Catch up with friends at Nate's Baked Goods & Coffee, or shop for fun finds with friends at The Antique Swan down the street.
10. Sweat440 Montréal
Seamlessly work this gym into your routine when you hit Epicure Market, Pharmacie, Jessie Haggai, Dollarama, or Village des Valeurs. Convenient to Parc de la Savane and Terrain multi-sport du Parc Nelson-Mandela, it's an easy location to fuse social activities with family and friends. Enjoy international cuisine with friends at nearby Amir or Kanda Sushi Bar. Score a fun bargain at Le Château Entrepôt, or adopt a furry friend at SPCA of Montréal just across the street!
Sweat440 is all about making fitness effective, affordable, convenient, and social! Find the address for the Sweat440 near you below, and join us for friendly fitness today!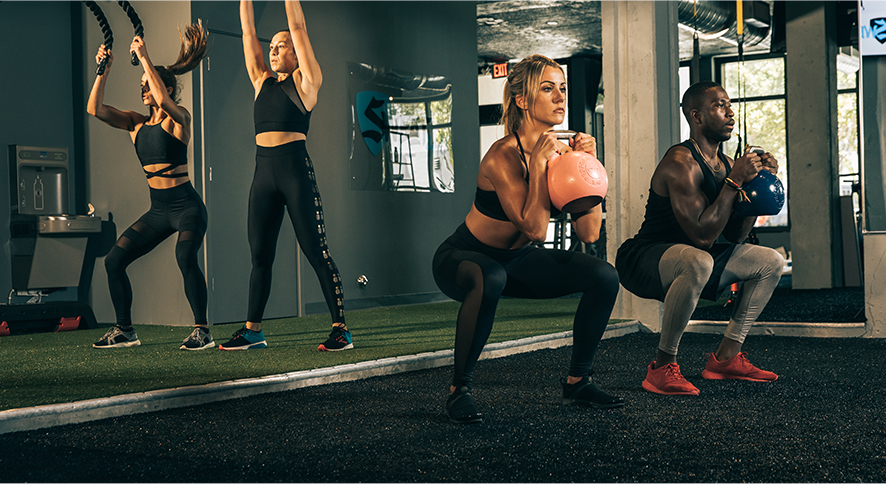 How to Fuse Fitness With Friendship at Clubs Near Me
Choose a Fitness Club That Values Social Engagement
Sweat440 teaches all group HIIT fitness classes.
Sweat440's founders are trainers who know the value of groups.
Sweat440's environment is inclusive, encouraging, and upbeat.
Sweat440 is effective for beginners and elite athletes alike.
Sweat440 has fun music and positive vibes for your workout.
Sweat440 is located near all of your favorite hotspots.
Sweat440 is convenient to work, school, and errands.
Sweat440 has showers and locker rooms so you can socialize after.
Sweat440's classes pack a punch in 40 minutes so you have time for fun.
Sweat440 has classes every 10 minutes so your friends can always join in!
Join One of These Sweat440 Fitness Clubs Near Me!
Sweat440 Miami/Brickell- 25 SW 9th St., Suite G100, Miami, FL
Sweat440 Miami Beach– 1916 Bay Rd., Miami Beach, FL
Sweat440 Downtown Doral– 8403 NW 53rd St., Doral, FL
Sweat440 Kendall- 4293 SW 152nd Ave., Miami, FL
Sweat440 Palm Beach- 3201 N. Miami Ave., Suite 10, Miami, FL
Sweat440 Coral Gables- 301 Altara Ave., Suite 111, Coral Gables, FL
Sweat440 NYC/Chelsea- 600 6th Ave., New York, NY
Sweat440 NYC/FIDI- 80 John St., New York, NY
Sweat440 Austin- 507 Pressler St., Austin, TX
Sweat440 Montréal- 5000 Rue Jean-Talon O, Montréal, QC