The Closest Gyms Nearby for Quick Weight Loss
Do you need to shed some pounds quickly? If you want to lose weight, then the likely answer to that question is "yes!" No one ever wished their weight loss would take longer! If you're counting calories, or ditching carbs, or eating Keto or Paleo, then you know that nutrition is only half the battle. The other half is how you burn those calories. Gyms are not equal in their ability to help you lose weight. The method, trainers, and classes involved play a huge role in your success. Take a look at what it takes to maximize your efforts in the gym.
5 Ways to Expedite Weight Loss
1. Practice the HIIT Method
High-intensity interval training (HIIT) uses varied levels of intensity in distinct intervals to target your VO2 max. As a result, it maximizes oxygen consumption during exercise, which burns the maximum number of calories. It also causes your body to continue burning calories for several hours after your workout. But don't just try HIIT on your own. It requires expertise that you'll find with the HIIT instructors at Sweat440 gyms near you.
2. Use Compound Cardio Exercises
When you combine cardio with resistance, you get double the results in half the time. At Sweat440, we use compound cardio circuits that incorporate both with machines like Ski Ergs, Assault Bikes, and Versa Climbers. With the Ski Erg, you get a great cardio workout as you flow from standing position, down into a cross-country ski position. But you simultaneously build your muscles with the customized resistance created with each movement. Cardio like running can't burn as many calories since it doesn't fuse weights with cardio the way compound HIIT workouts do.
3. Incorporate Personal Training
On your own, you can do great things, but personal trainers take you to the next level. Particularly when you want to shed weight quickly, you need the guidance of trainers to do it correctly. Crash diets and excessive cardio may shed a little weight, but you'll gain it all back and more, before your event. Not to mention, trying to lose weight too quickly by yourself leads to things like anemia, dehydration, and exhaustion when you work out. Trainers know how to make each sweat droplet count, but in a safe way. Good news- at Sweat440, personal training is free in every class! No need to shell out a fortune or search feverishly to find a private trainer with an opening in their schedule. Just stop into our classes that start every 10 minutes for free certified training.
4. Sweat!
Sweating is key to your workout since it rids your body of water weight. Don't believe the hype some gyms sell, that sweat rids you of things like cancer and disease. But sweat does help rid you of that bloat you're carrying from Chinese takeout! You can't sweat fat cells out through your skin- bummer. But sweating does help flatten your tummy and give you that post-workout glow so you can look fab for your upcoming event. Sweating is also a good indication that you're working hard enough to burn calories and build muscle. That additional muscle will increase your metabolism and burn more calories while at rest. Some gyms use tricks like crowded spaces and heated rooms to induce sweat and create the illusion of weight loss. But at Sweat440, you'll sweat for 40 minutes (hence the name!), because you're getting the optimal workout.
5. Join Small Group Classes
Classmates give us that extra push to go further than we would on our own. For some people, they provide healthy competition. For others, they provide inspiration. And for some, they create accountability. When you work out in a small group, you're less likely to skip sets or give minimal effort. Together, you have motivation, encouragement, and a distraction in the challenging moments, since you're enjoying camaraderie. At Sweat440, our awesome classmates provide a positive energy and upbeat environment where we celebrate each other's successes. At other gyms, you'll get lost in overcrowded classes, or even shoved in the back. But Sweat440 welcomes new members and shows them the ropes from day one. To lose weight quickly, don't go it alone, join a Sweat440 class today!
The 10 Closest Gyms Nearby That Generate Quick Weight Loss
Sweat440 Miami/Brickell– 25 9th St., Suite G100, Miami, FL 33130
Sweat440 Miami Beach– 1916 Bay Rd., Miami Beach, FL 33139
Sweat440 Coral Gables– 301 Altara Ave., Suite 111, Coral Gables, FL 33146
Sweat440 Downtown Doral– 8403 NW 53rd St, Doral, FL 33166
Sweat440 Kendall– 4293 SW 152nd Ave., Miami, FL 33185
Sweat440 Palm Beach– 3201 N. Miami Ave., Suite 10, Miami, FL 33127
Sweat440 Austin– 507 Pressler St., Austin, TX 78703
Sweat440 Montréal– 5000 Rue Jean-Talon O, Montréal, QC H4P 1W9
Sweat440 NYC/Chelsea– 600 6th Ave., New York, NY 10011
Sweat440 NYC/FIDI– 80 John St., New York, NY 10038
How Sweat440 Delivers Results So Quickly
Quick Classes: Our classes pack a powerful workout into just 40 minutes. You'll crank out 4 10-minutes stations with 3 sets of 3 exercises each. So, you'll burn the most calories in half the time you would spend at another gym.
Quick Changes: Our HIIT method keeps your muscles guessing with quick changes between equipment. From kettlebells, to TRX, to sleds, slam balls, and sliders, you won't know what hit you, but you'll see the results quickly.
Quick Intervals:Our quick intervals include 45 seconds of high intensity, followed by 15 seconds of rest. We allow you just enough time to catch your breath without losing momentum. As a result, you're able to perform at your top level throughout the workout, so you shed fat and calories fast.
Quick Schedules: Our classes start every 10 minutes, so there's no reason you can't squeeze a workout. You can rotate in whenever you come. Available classes = quicker results! Schedules vary by location, so check our website to find the next class near you.
Quick Memberships: At Sweat440 there's no lengthy sign-up process. We don't use contracts or initiation fees, and your first class is free. You can literally stop by our front desk and start working out right away! You don't have to wait on waiting lists for classes to open up- just stop by and we'll fit you in. If you want to lose weight quickly, there's no better time to start than right now! See you soon!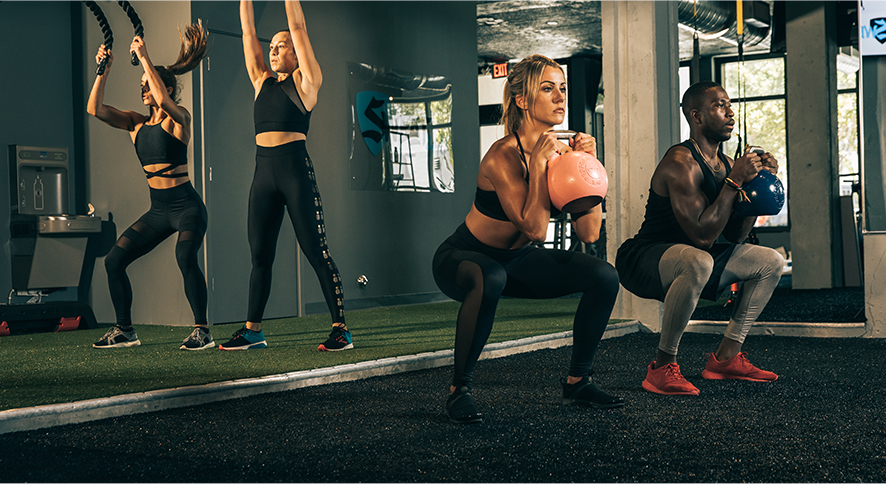 The Keys to Quick Weight Loss:
5 Workout Tips for Rapid Weight Loss
Practice HIIT for quicker results.
Use compound cardio to cut workouts in half.
Incorporate personal training to prevent plateau.
Make sure you break a legitimate sweat.
Join small group classes for faster progress.
Join These HIIT Gyms Nearby
In New York: Sweat440 in Chelsea or FIDI
In Quebec: Sweat440 in Montréal
In Texas: Sweat440 in Austin
In Florida: Sweat440 in Brickell, Kendall, Doral,Miami Beach, Coral Gables, or Palm Beach