What is the Best Workout Near Me?
Are you looking for a gym that provides the "best workout near me?" If so, you probably have an abundance of choices. If you're in a city like New York, you may even have workout gyms around every corner! However, you can't just enter any gym or workout studio — you must find one that's suitable for your needs. You must evaluate your needs. Do you want a high-intensity interval training session, such as a cycling or dance class? Do you want to exercise with free weights or join group fitness classes? Do you prefer strength training and resistance training? Or do you want a full-body workout that targets all major muscles? In this article, we give you an overview of the top five workout classes in the US.
#5. Dogpound — Strength Training
Have you ever wondered where all of New York's models and influencers get their incredibly toned bodies from? Well, wonder no more, because they get it from Dogpound. This is a personal training gym, strength training gym, and it also provides group fitness classes. While Dogpound has everything you need to build the perfect physique, it's more geared towards strength training, complete with kettlebells, barbells, free weights, etc.
Location: Dogpound is located in New York City and LA.
#4. 305 Fitness — High-Intensity Dance
305 Fitness is one of the country's most popular high-intensity cardiovascular fitness classes focused on fitness through dance. If you don't like free weights and other traditional exercises, you may enjoy these group fitness dance classes. Founded by Sadie Kurzban, 305 Fitness looks and feels different from all other workout classes because it's more like a dance studio or club rather than a gym. They even have their very own live DJ. However, 305 Fitness is primarily a cardiovascular fitness class.  
Location: 305 Fitness is available in 305 cities across the US, including New York, LA, Boston, Chicago, and Washington.
#3. Pure Barre — Barre Classes
In recent years, barre classes have become extremely popular because they fuse elements of ballet, Pilates, and yoga. The class uses elements of these workouts to facilitate cardiovascular training, strength training, conditioning, and stretching. Pure Barre is one of the leading gyms providing bare classes — it's a no-frills gym that focuses on barre classes without distractions. 
Location: Pure Barre classes are available in various states across the US, including New York, Texas, South Carolina, and others.
#2. CITYROW — Resistance Training
CITYROW is an effective resistance training gym that provides head-to-toe workouts using rowing machines. These workout classes are designed to mimic the crew-style rowing, with each stroke providing a full-body workout, activating your biceps, triceps, shoulders, core, quads, hamstrings, and calves. 
Location: CITYROW workout classes are only available in New York.
#1. Sweat440 — Full Body Workout
Sweat440 is undoubtedly the best gym for full-body workout classes in New York and Florida. Sweat440 provides 40-minute group fitness classes that take you through a range of free-weight, resistant training, strength training, and high-intensity cardio exercises. Our group fitness classes have been designed to target all major muscles throughout the week, while also providing the benefits of strength training, resistance training, high-intensity interval training, cross-training, and more. As such, if you come for Sweat440 workout classes, you don't need to go to other workout classes.
Sweat440 is also based on one of the most unique concepts for group fitness classes. Each 40-minute session consists of four fitness stations, each comprising three sets of three exercises executed in clock-work fashion. Each set lasts for 45 seconds, with 15 seconds of rest. As such, you have to start the next set of exercises on the minute. Once you finish the first station, you move on to the next, while the next small group takes your place. As such, Sweat440 group fitness classes move in a circuit, allowing new small groups to enter the class every ten minutes.
Locations: Sweat440 is located in New York and Florida. The New York Sweat440 gyms are located in Chelsea and Financial District, near Madison Square Park and the Fulton Street Station, respectively. The Florida Sweat440 gyms are located near Miami Beach, in Brickell, Downtown Doral, and Coral Gables.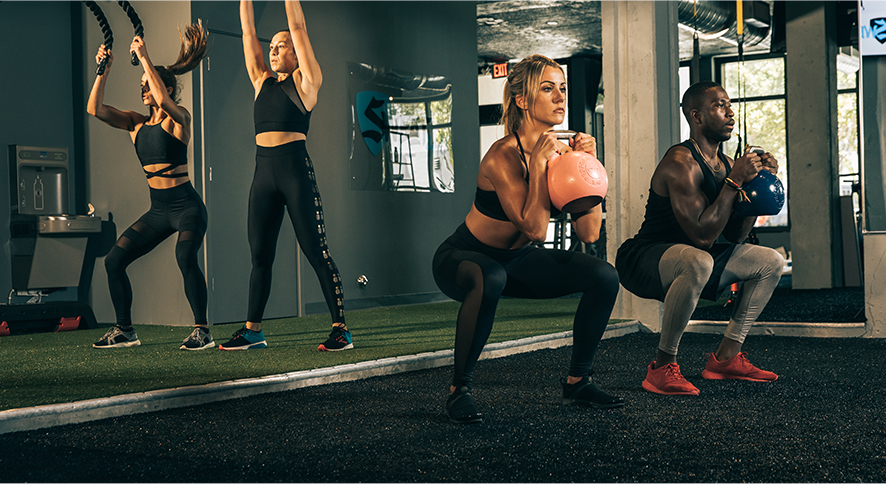 Best Full Body Workout Classes
#5. Dogpound for strength training.

#4. 305 Fitness for high-intensity dance group fitness classes.

#3. Pure Barre for barre classes.

#2. CITYROW for rowing resistance training.

#1. Sweat440 for full-body workout group fitness classes.