Which Gym Optimizes Every HIIT Benefit in New York City?
Which High Intensity Classes Near Me in NYC Work Best?
If you're searching for "high intensity classes near me," you're already on the right track. In a pinch (or a pandemic), doing HIIT workouts at home is better than no exercise at all. But HIIT is a very specific formula that requires a trainer's expertise. Don't waste time and energy on the wrong intensity, resistance, and intervals. You'll be frustrated by the results. 
Reap maximum rewards at Sweat440 Chelsea or Sweat440 FiDi. Our dedicated HIIT gyms produce unparalleled results, maximizing each HIIT benefit in minimal time. Other gyms offer "HIIT" classes that don't follow the right formula. But Sweat440 has a proprietary system, developed by renowned personal trainers, that delivers your best physique.
Do All HIIT Gyms Yield the Same HIIT Benefit in New York?
What is HIIT training? When it's done correctly, high intensity interval training is a specific ratio of varied intensity interspersed with recovery periods. For maximum impact, it must combine cardio with resistance and rotate through exercises, rather than simply running on a treadmill or pedaling on a bike at different speeds. Sweat440's HIIT classes include 3 sets of 12 different exercises to keep your body guessing – which prevents injury, burnout, and plateau.
Many NY gyms offer classes they label "HIIT workouts," since they know HIIT yields superior health benefits like burning fat and building muscle. But most of these classes don't follow the right formula, nor are they taught by trained HIIT instructors. For instance, cycling at high intensity for 30 minutes does not qualify as HIIT. At best, these classes produce lackluster results. They can also result in injury and overexertion. The right balance of varied intensity, including resting periods, is essential to safe and successful HIIT workouts. If you want to make the most of your HIIT workouts, choose a gym that specializes in HIIT.
How Do I Get the Most from High Intensity Group Workouts?
The first step in maximizing high intensity group workouts is choosing a qualified HIIT gym. Look for a fitness center that specializes in high intensity workouts, rather than dabbling in them. If the classes are described as "beginner's HIIT," or "HIIT workouts for men," or "HIIT workouts for women," they might not be legitimate HIIT. 
The basis of HIIT is that you work at your own pace with your ideal resistance to complete each set. So, a gym that's designed specifically for HIIT offers classes that work for everyone. When throwing battle ropes, the size of the rope, the number of times it's tossed, and the strength of the toss will vary from person to person, but the exercise is applicable to everyone. 
The second step is choosing a gym with small classes and qualified instructors. Since each person has different abilities and goals, you want personalized training. At Sweat440, our trainers circulate through every class to make sure your heart rate, blood pressure, resistance, and efforts are optimized for success. If you choose a gym with insufficient oversight, you won't reach your goals as quickly and might be injured in the process.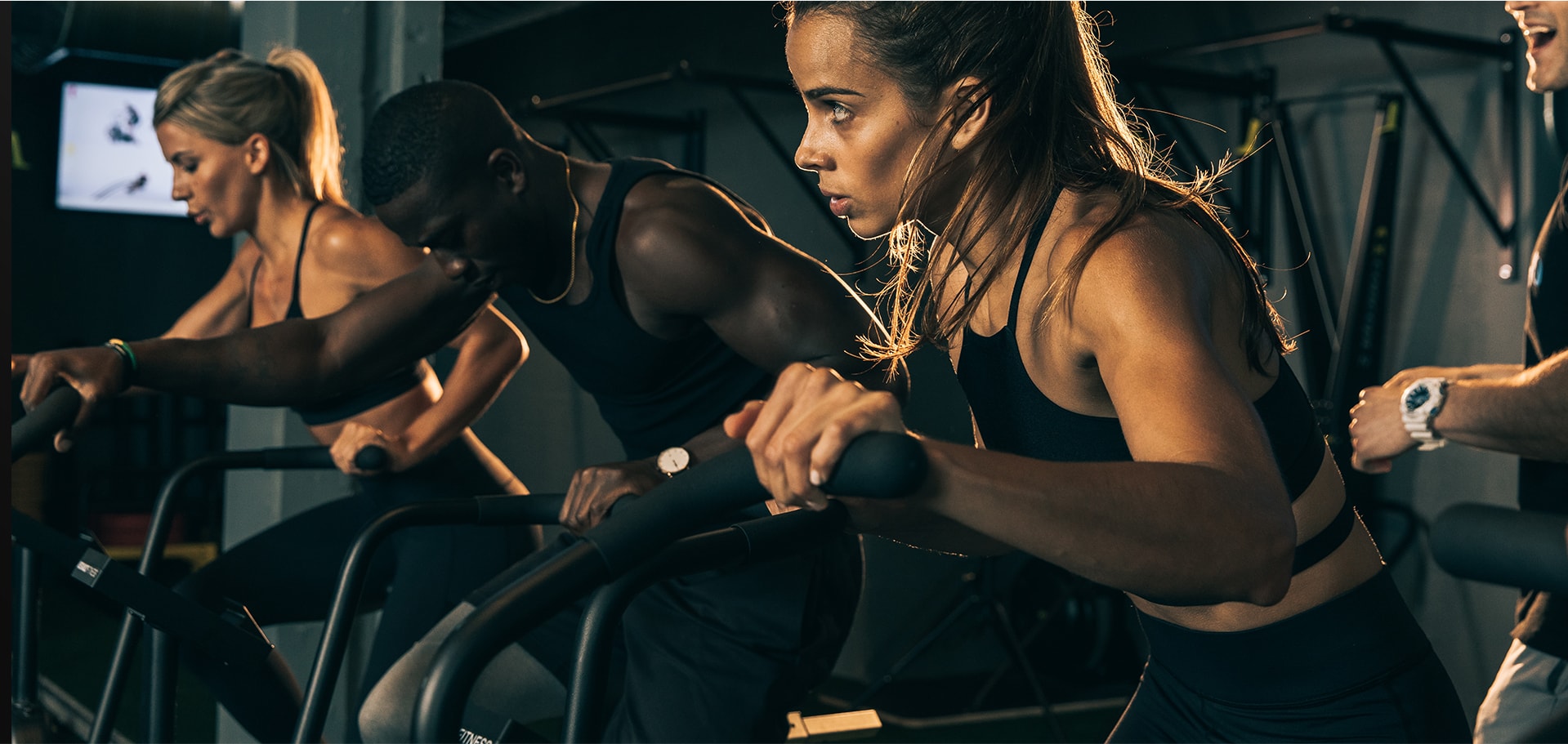 If I Do HIIT Every Day for a Month Are Results Guaranteed?
If you choose the best HIIT gym in New York, quick results are guaranteed. Sweat440's HIIT workouts burn twice the calories in half the time of other gyms. And since we use compound cardio, you'll build muscle while burning fat. That means you'll end up burning fat even while you're at rest. Our classes help you hit your VO2 Max, which is the maximum amount of oxygen consumed during exercise. 
Other variables like diet, sleep, and lifestyle are factors in your fitness results. But if you do HIIT every day for a month at Sweat440 Chelsea or Sweat440 FiDi, results are guaranteed no matter what! It's important to note that Sweat440 offers different HIIT classes every day of the week. Some gyms offer the same class every day, so you won't maximize each muscle group or give your muscles time to recover. At Sweat440, daily HIIT workouts are safe and effective since they're different each day!
Are HIIT Classes the Best Fat Burning Classes Near Me?
If you're searching for "fat burning classes near me," HIIT workouts are the indisputable winner. Studies show that HIIT burns 28% more fat than moderate exercise or high intensity exercise without specific intervals. In addition, it's remarkably efficient for building muscle. The best thing about HIIT at Sweat440 is that it's highly customizable. Unlike yoga, spin, rowing, and other classes, HIIT is adaptable to each person's abilities. Whether you want a workout for weight loss or burning fat, or you want to build muscle, you can do it all with HIIT!
Where Are High Intensity Interval Training Classes Near Me?
Maximize each HIIT benefit in New York at Sweat440 Chelsea near the Flatiron Building or Sweat440 FiDi near the New York Stock Exchange. Both gyms offer free high intensity interval training classes near you, and the first class is free! Sweat440 is a dedicated HIIT gym with expert HIIT trainers. Sweat440 is a contract-free, affordable gym, so come see what HIIT can do without putting a penny down!
Where Is HIIT Most Beneficial in New York?
Top HIIT Gyms in New York City:
600 6th Avenue
New York, NY 10011
(888) 507-9328
80 John Street
New York, NY 10038
(888) 507-9328
Why Sweat440 Is the Top NY HIIT Gym:
Dedicated HIIT gym

Qualified HIIT instructors

Cutting-edge HIIT equipment

Convenient locations in Chelsea and FiDi

Small classes for personalized instruction

Classes every 10 minutes for easy scheduling

Free HIIT workouts for each first-timer

No contracts or annual fees