Is your workout getting a little stale? How about the gym you're in? Are the mats worn out, the weights a little rusty, or the showers too scary to set foot in? Fitness is a lifetime pursuit, and one that needs to change with the times. A fitness center should stay current not only in its equipment, but also in its philosophy. When the gym you're in isn't up-to-date, you can bet their fitness knowledge is outdated too.
How Older Gyms Near Chelsea Fall Short
Some gyms still focus on fitness mentalities from the 80s or 90s. If you haven't stepped in a gym since leotards and leg warmers were a thing, then you might think aerobics or heavy lifting are still the best way to get fit. But just like our fitness apparel wisdom has improved (no need for wedgies and sweaty calves to get fit- you can save those leotards and leg warmers for 80s parties), research has proven that cardio or weight training alone doesn't deliver the best results. High-Intensity Interval Training (HIIT) is the perfect recipe for a hot body, as well as a healthy heart, and Sweat440 in Chelsea is centered around that principle.
Older gyms lack the energy and enthusiasm that comes with a fresh mindset. Sweat440's fitness coaches are trained in the newest exercise science for weight loss and how to build muscle, and we're eager to meet you! Our founders are passionate about delivering mind-blowing results through an affordable workout in a fraction of the time. Our vision aligns with current lifestyles, as we seek to simplify fitness. Life is crazy enough without having to schedule classes months in advance or rush to a class that only meets once a day. Unlike other gyms in Chelsea, our HIIT classes start every 10 minutes, and provide the ultimate workout in only 40 minutes.
Why HIIT Gyms Deliver Quicker Results
HIIT incorporates a potent blend of cardio and resistance to ensure your body is burning fat and toning up at the same time. Rather than an hour on a treadmill and an hour of free weights, HIIT nets a higher energy expenditure and greater post-exercise consumption in a fraction of the time. The intervals get your heart pumping quickly, for brief spurts of time, so you can max out calorie burn before hitting muscle fatigue.
You could spend hours in a spin class, but you're triggering muscle memory, so over time, the workout is less effective. HIIT keeps things moving and varies daily, so your muscles never know what to expect. Standing, jumping, sitting, pedaling, rowing, throwing… your body stays in flux. That's why HIIT improves your VO2 max (the highest rate at which your body can utilize oxygen during exercise) better than any other form of exercise.
HIIT gyms also deliver quicker results, because you actually want to go back! Sweat440's awesome music and high-energy coaches make the workout a blast. No matter how large a gym is or how many members it has, attendance is what really matters. Don't be fooled by older gyms with lots of members; you'd be surprised how many never go. Sweat440 keeps you coming back for more with its uplifting environment and quick sweat sessions, and that's how you get results.
Why HIIT Classes Aren't the Same as HIIT Gyms
Some gyms, offer classes dubbed as "HIIT," but the classes are simplified into things like TRX or boxing. Only the gyms that specialize in HIIT training truly understand the concept. HIIT trainers at Sweat440 teach HIIT all day, every day, and are experts in the distinct methodology.
Our fitness classes provide personalized training in a group setting, so you get the best of both worlds. We offer a smaller, boutique class size, so you receive focused attention from certified coaches throughout your routine. HIIT moves quickly, so HIIT classes at older, larger gyms that don't specialize in HIIT leave participants confused and at risk of injury from improper technique. Our sessions are designed for ultimate instruction with circulating teachers, as well as animated demos at every station. Don't waste your time or risk your safety at a HIIT class staffed by general trainers.
At Sweat440, you train with experts, and your first class is free, with subsequent classes available for just $20! If you want to get measurable, safe, quick results, stick with the pros at Sweat440.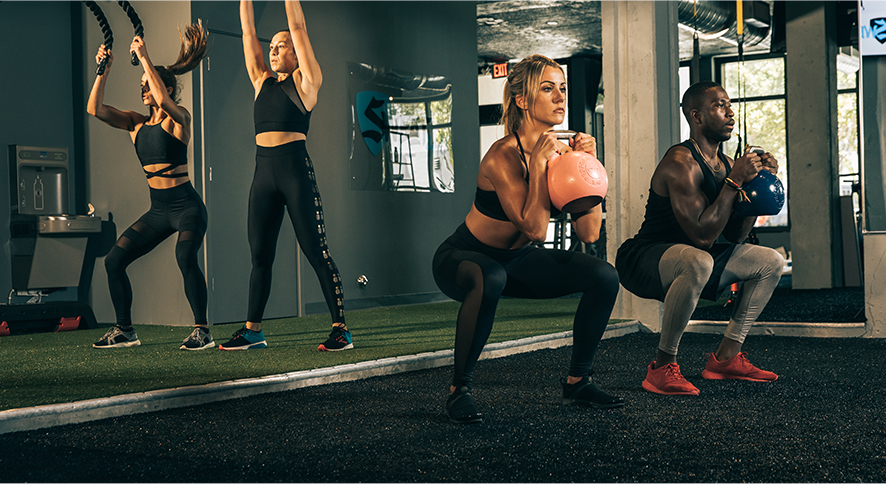 Old Gyms vs. New Gyms Near Chelsea
How Older Chelsea Gyms Fail:
Old gyms utilize worn out machines that are frequently in need of repair.
Old gyms have outdated methods and classes that lack variety.
Old gyms are often missing key equipment like weight stack pins and mats.
Old gyms have trainers that are burnt out after years at the same place.
Old gyms are frequently unsanitary with uninviting locker rooms.
Old gyms offer infrequent classes on set schedules and require reservations.
Old gyms aren't inviting to new members who don't know anyone yet.
Old gyms have to focus on keeping up with new ones, rather than their members.
How Sweat440 in Chelsea Succeeds:
Sweat440 employs the latest concepts in exercise science for efficient fitness.
Sweat440 hires only HIIT experts with positive energy to guide you through.
Sweat440 provides state-of-the-art equipment in a clean, welcoming facility.
Sweat440 has classes every 10 minutes with no need to reserve in advance.
Sweat440 provides an affordable workout that's also the most effective.
Sweat440's classes are appropriate for beginners as well as elite athletes.
Sweat440 classes are constantly changing to keep you on your toes.
Sweat440 is excited to meet you and will welcome you with open arms.
It's time to turn over a new leaf in 2020 and step into the gym that will truly ignite your fitness. Sweat440 says, "Out with the old, let's do something bold!" Join us in our bold new facility with a bold new mindset and discover a whole new you!