Best Gym Close to Me with Social Distancing & Sanitization Protocols
If you're like most people, you may have spent the last few months without a gym or fitness. If so, perhaps it's time to resume your fitness journey — but you must find gyms that follow proper social distancing and sanitization protocols. Gyms have the potential to increase the risk of COVID-19 transmissions, especially warehouse-style gyms packed with lots of people. If you're looking for a "gym close to me with social distancing and sanitization protocols," you've come to the right place. Sweat440 is eager to help you resume your fitness journey while following the strictest sanitization protocols. This article aims to highlight all our safety protocols, so you can workout comfortably with peace of mind.
Sweat440's safety protocols.
No-contact fever checks for all staff members before their shift.
No-contact fever checks for fitness members when they enter the gym.
All team members must wear PPE, including masks and gloves, during their shifts.
We encourage members to avoid physical touches. You can replace high-fives with a socially distant thumbs-up.
All members are given individual disinfectant spray bottles and towels. We encourage you to disinfect the equipment once you're done using it.
You're assigned a workout pod with your individual equipment and social distancing marks.
The Sweat440 group fitness classes are performed with clockwork accuracy, finishing in precisely 40 minutes. We encourage you to leave immediately after your session.
We deep-clean the entire studio, especially handles and equipment, twice a day with hospital-grade sanitizing products.
Lockers are temporarily unavailable, so we encourage you to not bring a lot of stuff.
We encourage members to bring reusable bottles because the water fountains can only be used to refill bottles.
We're not providing towels currently — please bring your own.
We've closed the shower facilities temporarily.
You can now enter our gyms with touch-less doors, so you don't have to touch the handles.
We permit a limited number of members per class to avoid over-packing the studio.
Please stay at home if you're feeling unwell, have signs or symptoms of COVID-19, have been exposed to someone sick, or have a fever.
Sweat440 helps you ride the pandemic in the pink of health.
Sweat440 provides incredibly effective group fitness classes suitable for all fitness levels. Our fitness schedule ensures that you ride the pandemic in the pink of health — after all, coronavirus may be dangerous, but so are inactivity and sedentariness. Sweat440 training program provides holistic full-body workouts, incorporating strength training, cardiovascular training, high-intensity interval training, core training, cross-training, and suspension training. As such, we target all aspects of physical fitness to ensure you meet all your fitness goals.
Sweat440's workout plan is constructed to target all major muscle groups at least twice every week. Our training program takes you through four modules — shape, shred, sweat, and warrior. Each module focuses on different aspects of fitness, be it losing weight, getting ripped, full-body conditioning, muscle building, or all of the above. The following is our weekly fitness training schedule:
Monday: Shape — Lower Body
Tuesday: Shred — Upper Body/Core
Wednesday: Sweat — Core/Conditioning
Thursday: Shred — Lower Body/Core
Friday: Shape — Upper Body/Core
Saturday: Warrior — Total Body Conditioning
Sunday: Warrior — Total Body Conditioning
Besides targeting all muscle groups and having an all-encompassing training program, Sweat440 also follows an innovative workout plan that ensures you're never late for your group fitness classes. Each 40-minute Sweat440 session consists of four 10-minute fitness stations, each comprising 3 sets of 3 exercises. After each fitness station, you move to the next station, allowing another group to take your previous spot. This circuitous format ensures that a new group can join the class every ten minutes, so you're never late for a class.
Sweat440 gyms close to me.
Sweat440 in New York City
If you're in New York City, you can find Sweat440 gyms in two locations — Chelsea and Financial District. The Sweat440 Chelsea gym is close to Union Square Park, and the Sweat440 FiDi gym is close to the Federal Reserve Bank of New York.
Sweat440 in Florida
If you're in Florida, you can find Sweat440 gyms in four locations — Miami Beach, Coral Gables, Brickell, and Downtown Doral. Our Sweat440 gyms are always highly accessible, close to prominent landmarks like the Brickell train station or the Miami Beach Fresh Market.
Sweat440 in Montréal
Sweat440's Montréal beach is a short walking distance from schools like the École des Nations School and the Académie Beth Rivkah Pour Filles School.
Claim your free Sweat440 training session.
Sweat440 is the best gym for holistic full-body workouts, and we're also incredibly diligent about ensuring our community's safety. But you don't have to take our word for it — we're offering free trial sessions, so you can see it for yourself!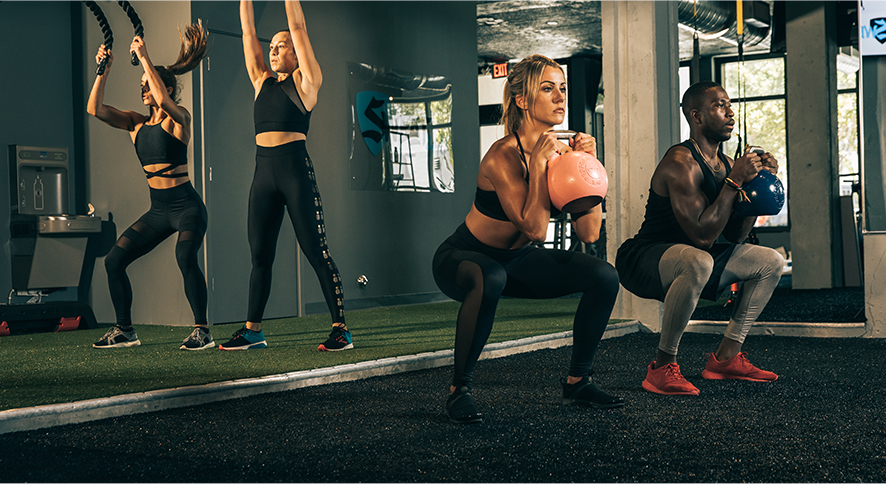 Sweat440 Social Distancing Measures
No-contact fever checks.
PPE equipment for the entire team.
Limited members allowed at a time.
Regular disinfection and sanitization of equipment.
Touch-less doors.
No towels, locker rooms, and showers.
Socially distanced workouts within demarcated training pods.