Want the Top Gym in Financial District for Personal Training?
If you're starting a new fitness regime, choose the top gym in the Financial District to help you reach your goals. To expedite results, you'll also want the best personal trainer by your side. Fortunately, Sweat440 FiDi is a top gym in NYC that hires the best trainers and provides their expertise to members at no additional cost. Here's why you should train at Sweat440.
Why Should You Work With a Personal Trainer?
The most obvious reason people hire a personal trainer is that they want better results from their workouts. Trainers have expertise that the average gym-goer lacks, and they also provide motivation for you to maximize every workout. But here are some additional reasons anyone can benefit from working with a trainer.
You don't know how to use the equipment.
You're recovering from injury or surgery.
You need accountability to keep you in the gym.
Your current workout isn't providing results.
You're bored with your routine.
You're intimidated in the gym.
You want to try something new.
You don't know how hard or long to work out.
You want to maximize your efforts.
You're on a weight loss journey.
You're training for a race or competition.
You have a health condition or chronic pain.
You want a workout buddy or spotter.
What Does it Cost to Work With a Personal Trainer?
Personal training in the Financial District can be expensive, and it can also be tough to acquire. The amount of people who want to hire a trainer exceeds the number of trainers in the city, which makes it challenging to book one. However, Sweat440 FiDi has the perfect solution to this problem. Our state of the art gym hosts high-intensity interval training (HHIT) sessions that start every 10 minutes, and each one of them is led by a trainer.
Our class sizes are small, so each member gets personalized instruction without having to pay extra for a trainer. At Sweat440, the cost of training is $0, since it's included in every one of our fitness classes. At other gyms in NYC, training costs as much as $200 per session, but Sweat440 was founded by renowned personal trainers who chose to offer this perk at no cost to every member.
Which Top Gym in the Financial District Has the Best Trainers?
Sweat440's instructors are HIIT specialists, which means they're all highly trained in the top workout method for all fitness levels. Our HIIT classes are divided into 4 10-minute stations that feature 3 sets of 3 different exercises per station. As such, our trainers lead members of all fitness levels through workouts that are customizable for everyone's abilities.
Our trainers circulate throughout the room, rather than taking a stationary post like trainers in spin classes and yoga classes do. We correct form, adjust resistance, offer alternative exercises, and provide encouragement throughout each session. Our uplifting music and positive training method inspire everyone to give their best effort. The unique variations of intensity we use enable your body to burn the most calories while also building muscle. Check out our 5-star reviews to see why FiDi residents prefer our trainers!
What Is It Like to Train at Sweat440?
Sweat440 offers different classes every day of the week, and the classes repeat all day long. So, you can take your pick of a SHAPE, SWEAT, SHRED, or WARRIOR class that focuses on either the upper or lower body, each of which also works your core. Since the classes start every 10 minutes, you don't have to commit to a certain time slot every day of the week. You can book in advance, but you can also show up, and we'll work you into a class. Our small group sessions are fueled by friendly members who work together to achieve fitness goals.
Our workouts are intense. You'll sweat for the entire 40 minutes, but you won't believe how quickly time flies with our quick rotations. Before you know it, you'll complete 36 sets of various exercises with intervals of rest in between. We implement cutting edge tools like Versa Climbers, Assault Bikes, and Ski Ergs, as well as rugged tools like battle ropes, sleds, sliders, and dumbbells. Our trainers provide constant feedback, plus, each of our stations provides video demos of each exercise, so you're always aware of what to do.
Why Should You Work With a Trainer Near Wall Street or FiDi?
Personal training is key to better, faster, and safer results. And choosing a trainer nearby in the Financial District is equally important. If your training facility is hard to get to, it reduces the odds that you'll consistently show up. Long meetings, gridlocked traffic, inclement weather, family emergencies… plenty of things can interfere with our plans to work out.
When you choose a gym just steps away from your Wall Street job or your Financial District apartment, you reduce that interference. If you can pop in for a quick sweat session on your lunch break, or walk to your gym rather than battling traffic, you'll be more consistent with your fitness routine. This is particularly true at Sweat440, where the flexible schedule allows you to work out whenever it's convenient for you.
How Do You Get Started at a Top Gym in Financial District?
It's easy to try personal training in the Financial District when you choose Sweat440. Our gyms offer free classes to every newcomer, so you don't have to pay a dime to give it a try. Additionally, we don't use any contracts, so you aren't obligated to sign on for a year or even a month to try our trainers. You can buy one class at a time, or buy packs of classes, or an unlimited membership, if you prefer.
With all of our membership packages, there are no annual fees, cancellation fees, or initiation fees, and no minimum purchase requirements. You can stop into our gym near the Flatiron Building, give us a call, or book a class online. Our front desk team will welcome you when you arrive and our trainers will lead you through every step of the class, so you'll feel like a pro in no time. See you soon!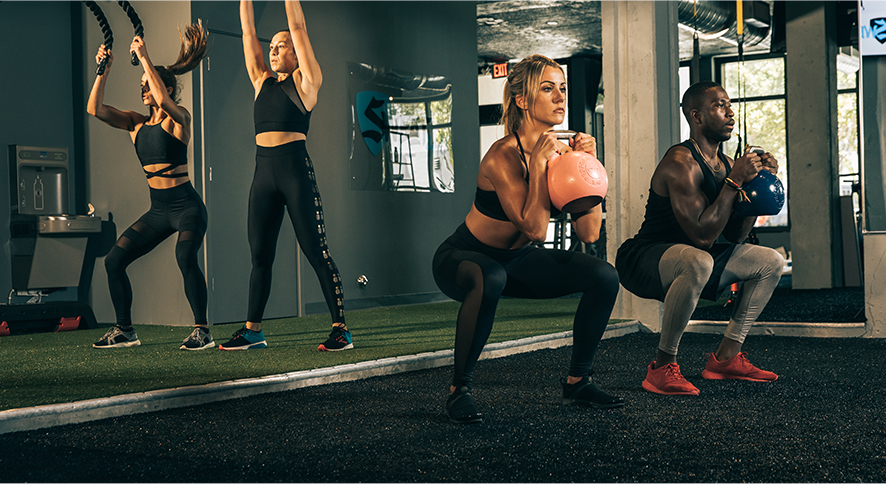 11 Reasons to Work With a FiDi Trainer
11 Reasons to Train in General:
You aren't sure how to use the equipment.
You're training for a competition.
You want to lose weight.
You feel intimidated at the gym.
You're recovering from injury or surgery.
You have a disability or chronic condition.
You want companionship or a workout buddy.
You need motivation or accountability.
You aren't seeing results with your current routine.
You're bored and want to try new exercises.
You don't know your target heart rate or ideal workout.
11 Reasons to Train at Sweat440:
Our trainers are HIIT experts.
Our training is free for members.
Our trainers circulate through the class.
Our trainers keep class sizes small.
Our classes start every 10 minutes.
Our classes are different each day.
Our gyms don't use contracts.
Our gyms don't have hidden fees.
Our method yields faster results.
Our trainers work with all fitness levels.
Our workouts are highly customized.