If you're a fan of fitness, NYC is practically paradise. With gyms popping up on every corner and new fitness trends filling up Instagram feeds, it's hard to know which one to try! From personal trainers, to boot camps, to group fitness, and interval training, the options are seemingly endless. But not all workouts are created equally, nor are the gyms that provide them. Before you invest in a New York gym, take a look at what sets the best apart from the rest.
Smaller gyms like Sweat440 provide more personalized feedback from fitness coaches and a less hectic workout environment. Exercise is designed to release endorphins and relieve stress, but fighting for a turn on the treadmill or a bike in the class undoes the benefit exercise provides. Smaller gyms help you find workout buddies and form connections with the instructors. In less crowded fitness studios, you can count on a routine without worrying someone will jump ahead of you. Sweat440 doesn't charge for classes you miss or require you to book in advance. Smaller gyms often have better rates, making them a wiser investment. At Sweat440, you are a valuable person, not just a membership fee, which is just one reason we're the best New York gym for you.
Are Personal Trainers Better Than Group Fitness in New York?
Personal trainers in NYC can charge a premium due to demand. They typically have limited availability and no flexibility in their schedule. 
The thing to remember about celebrity trainers is that some of the results come from their expertise, but a good percentage of the outcome stems from the fact that their clients are genetically blessed. You don't make it onto the runways without a good metabolism, BMI, and bone structure. And then there's the meticulous diet they follow, and the amount of time in the gym… So, before you shell out $500 per session, remember results will vary.
Group fitness classes provide the expertise of multiple fitness coaches for less than the price of one personal trainer. At Sweat440, you never have to worry about missing appointments or cancellations, since group classes start every 10 minutes. HIIT training mixes socialization with fitness in classes where great music and high-fives set the tone. You can take inspiration from those around you, instead of relying on your own willpower. Fitness is always better in groups, where you take turns spurring each other on.
What's the Difference Between HIIT, Boot Camp, and Tone House?
High-Intensity Interval Training (HIIT), boot camps, and Tone House have a common denominator- they all promise a challenging workout. But the things that make them different are distinctive, and can affect not only your safety, but also the length of your commitment.
Sweat440's HIIT classes are designed for all levels of fitness, and provide ample instruction, as well as animated demonstrations at every station. Exercises are performed for 45 seconds each, and everyone works at their own pace. The elite athlete might pump out 40 reps, while beginners do 5 or 10. Before the strongest athletes trigger muscle memory or the newer athletes encounter muscle failure, you're on to the next set of exercises. This keeps your body in a constant state of calorie burn, without causing injury or muscle failure. HIIT classes target different muscle groups every day, so you can safely take classes daily.
Boot camps also burn calories, but the risks outweigh the benefits. Boot camps are often run by one "drill sergeant" who oversees a huge crowd of people. They can't have eyes on every class member or take time to correct form for each participant like HIIT instructor teams can. Boot camps are meant to push you past your comfort zone, which can motivate some, but for others, it's a recipe for injury. They aren't designed to let you work at your pace, but are geared to a preset standard with no consideration for any limitations you may have. That explains why most people burn out on boot camp, or limp away injured before their membership ends.
Tone House touts that everyone has the capacity to train like elite athletes, and offers an extreme athletic-based workout in a fitness studio focused on sports conditioning. If you think that doesn't sound right for everyone, you are correct. Extreme sports are fun for some, but others aren't wired that way. Fitness and extreme sports conditioning are somewhat related, but you can be in great shape without ever playing a sport. Likewise, there are sports participants who could stand to be in better shape. At Sweat440, we value optimal fitness, and offer many different ways to achieve it.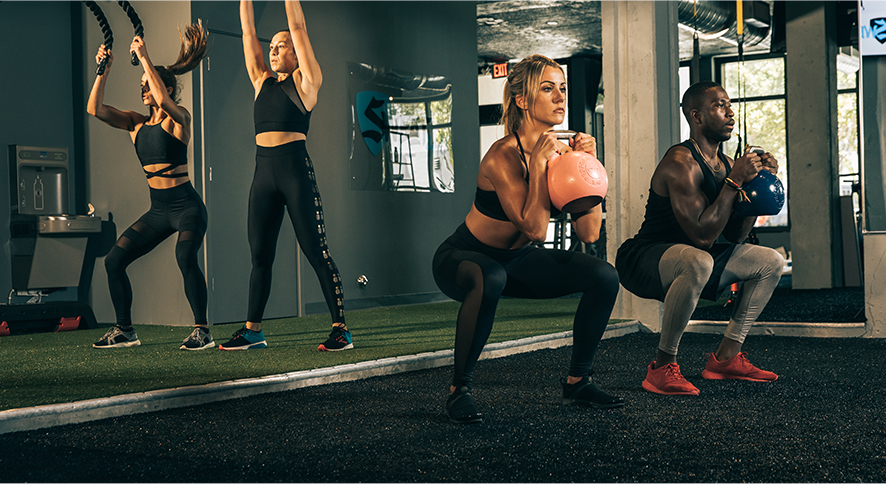 Sweat440: How the Best Rises Above the Rest
The Sweat440 Experience: 
Content A:
Diverse community of all fitness levels working in unity
HIIT training to target maximum output without maxing you out
Upbeat music and friendly environment making fitness fun
Multiple instructors circulating to keep you in proper form
Dynamic varied classes to keep you from getting bored
The Sweat440 Difference:
Content B:
Classes that start every 10 minutes
Multiple convenient locations
Prices that don't squander your income
Educated instructors who help prevent injury
Group training for boosted morale
No need to schedule in advance or pay for missed classes
Finding the right New York gym can be an exercise in frustration if you don't know what to look for. Sweat440 offers a full-service boutique fitness experience with the intensity of boot camps and personal trainers in a safer and more affordable package. Sweat440 stands out in the crowd by combining the best of what other gyms have to offer, and leaving the downsides behind. Come try a class for free and end the New York gym hunt for good.