Sweat440: The Best HIIT Fitness Near Me
When you google "best HIIT fitness near me," you might find lots of potential HIIT (high-intensity interval training) classes near your location. However, Sweat440 is widely considered the best gym for HIIT fitness in Texas, Florida, New York, and Montreal (Canada). But you don't have to take our word for it; you may go through our amazing 5-star reviews and testimonials from our members.
One of our fitness enthusiasts recently wrote, "I absolutely love this new style of exercising, I found it hard to believe there was a different workout every 10 minutes, but man was I wrong. The environment is so motivating to workout in, on top of the people who work there. I mean, just wait until you guys meet Christina; she's one of a kind! I definitely recommend this place if you're looking to meet personal fitness goals."
Now, you might wonder what separates Sweat440 from other HIIT gyms and HIIT classes? What makes Sweat440 special? Well, one of our fitness program's primary advantages is that you're never late for a HIIT class — we have a rotating system of fitness stations that ensures you can enter a new class every 10 minutes, so you're never too late or too early for a HIIT class. But Sweat440's advantages go far beyond that.
This article provides a detailed overview of Sweat440's high-intensity interval training program.
What's the difference between Sweat440 HIIT fitness and other HIIT classes?
The HIIT workout program is widely recommended by sports doctors, scientists, and medical experts across the globe. At this point, it's an established fact that high-intensity interval training helps you burn more calories and fat faster than other forms of workouts. Gyms and fitness studios have jumped aboard the HIIT class bandwagon, providing isolated HIIT workouts to their members. However, the major problem is that most fitness studios and trainers have a rudimentary understanding of HIIT's scientific principles.
In its bare essence, HIIT (high-intensity interval training) is a workout modality that alternates high-intensity exercises with short low-intensity or rest periods. However, HIIT classes have to be designed with specific intensities, formulations, lengths, and types of exercises. The fitness trainers must know exactly how far to push you to ensure you burn the most calories without pushing you overboard. That's an incredibly delicate tightrope to walk — impossible for gyms that don't specialize in HIIT classes.
You can find a variation on the HIIT workout in most gyms. They have specific HIIT classes led by the same trainers that lead other classes. They usually only target one or two aspects of fitness or provide isolated exercises for some muscles but not the entire body, leading to weak results. Boot camp also has a reputation for pushing people past their breaking point, with devastating results.
Sweat440 is different because it doesn't offer a few isolated HIIT classes a week. Instead, it's based on HIIT principles — high-intensity interval training forms the backbone of the Sweat440 workout program. Furthermore, Sweat440 classes are designed by fitness experts specializing in HIIT exercise, so you can rest assured the program is designed perfectly.
What happens during Sweat440's HIIT (high-intensity interval training) workout?
Sweat440 HIIT classes consist of four fitness stations, each including three sets of three exercises. Your personal trainer guides you through the movements as a large clock counts down the seconds. You have to perfect each set for 45 to 50 seconds and then take a short rest for 10 to 15 seconds. As you move through the fitness stations, other groups take up your previous fitness station. All the workouts and exercises are carefully calibrated and designed to adhere to HIIT (high-intensity interval training) principles.
What's the amount of time you spend at Sweat440 HIIT fitness classes?
You spend a total of 40 minutes in each HIIT class. The 40 minutes are divided equally between four 10-minute fitness stations, consisting of 3 sets of 3 exercises. You get a 10-second rest between each set and a 1-minute rest between each fitness station.
Are Sweat440 HIIT classes suitable for different fitness levels?
Yes, Sweat440 HIIT classes are designed to be highly-scalable. You can easily adjust the complexity of the movements by increasing your weights. Your personal trainer can also help you adjust the exercise according to your fitness levels.
Schedule your free trial for a Sweat440 HIIT (high-intensity interval training) class.
Sweat440 currently holds HIIT classes in Texas, Florida, New York, and Montreal (Canada). We provide a free trial for all first-timers, so you can get acquainted with the HIIT class before making a commitment. You may schedule a free trial to claim your first HIIT class today.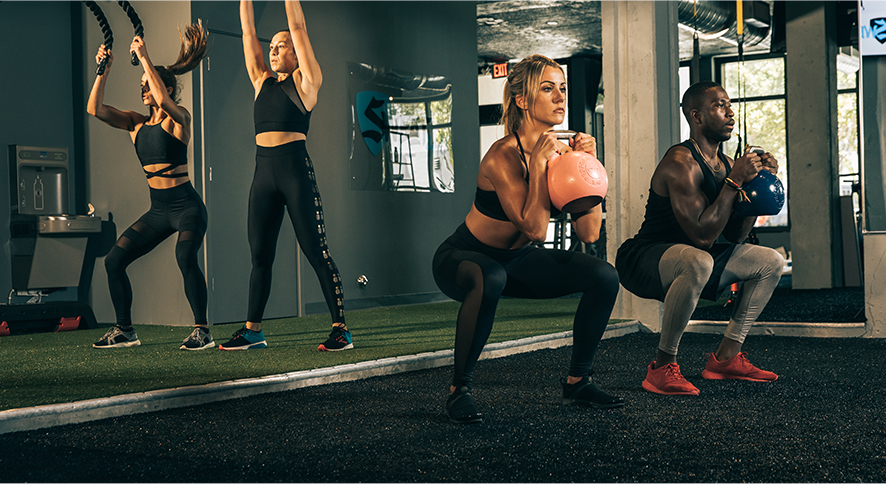 Sweat440: The Best HIIT Fitness Near Me
Sweat440 HIIT Fitness Schedule
Monday: Shape — Lower Body
Tuesday: Shred — Upper Body/Core
Wednesday: Sweat — Core/Conditioning
Thursday: Shred — Lower Body/Core
Friday: Shape — Upper Body/Core
Saturday: Warrior — Total Body Conditioning
Sunday: Warrior — Total Body Conditioning
Sweat440 HIIT Class Locations