Gyms That Offer Classes Near Me for Free
Are you curious about fitness classes? Does your friend rave about hot yoga classes or HIIT group classes, sparking your interest? So, what's stopping you? A group workout class has tremendous benefits that extend beyond fitness, like social connection and an active mind. But some people are hesitant to try a group fitness class, either because of the cost, the year-long membership, or the fear that they won't be good at it. Sweat440's gyms break down those barriers, so you can get in on the fun! Take a look at why our gyms that offer classes near me are the best ones to join. Plus, spoiler alert: Sweat440 has free group classes!
Why You're Going to Love Group Fitness Classes
Some people live for exercise. Whether it's circuit training, hot yoga classes, or HIIT workouts, a good sweat session is what makes them happy. Then there are those that enjoy working out once they start, and are glad they did it, but it takes a little prodding to get them in the gym. No matter where you fall on the fitness spectrum, our fitness classes are fun for people of all fitness levels.
Group fitness provides certain rewards and incentives that solo workouts can't deliver. First, there's the camaraderie of completing a tough class together. There's also the motivation to keep going, when you're inspired by those around you. Group classes allow you to celebrate meeting your fitness goals with others who are grinding it out too.
Plus, working out with other fitness members keeps you accountable– they notice when you don't show up! A positive workout class also provides something extra important. It adds a little fun to your day! Whether you're laughing together, belting out songs together, or spotting each other, group fitness is never boring.  It's much easier to work a little harder, go a little longer, and come back the next day, when you're having a blast! Fitness classes make the minutes fly by, and before you know it, you're done!
Why Sweat440's Group Classes Are the Best
There's one little catch to group fitness, though. Some fitness classes aren't designed for all fitness levels. Certain gyms have an elitist attitude or teach something very limited like hot yoga classes. You can't show up for Olympic circuit training or an advanced cycling class without adequate training. Not to mention, workouts that are too specific, or monotonous, don't bring the fun or the results you're after.
But Sweat440's classes are designed for all fitness levels, since you work at your own pace through our stations. We use compound cardio circuit training delivered through a HIIT method with various intervals of intensity. If you're a beginner, you'll love the 15 seconds of rest we disperse between each 45-second set. And if you're a pro, you'll use those 15 seconds to catch your breath so you can max out your next killer set!
Sweat440's group classes have several advantages over other gym's fitness classes. One thing that sets us apart is our superior schedule. Our classes start every 10 minutes! That means no matter when you want to work out, a class is waiting for you! No getting stuck on waiting lists or having to wait months for a spot in a class, like you do at other "gyms that offer classes near me."
Our fitness members have full access to all of our classes, 7 days a week. If you need to miss a class, you won't be charged, and you also aren't out of luck. If you're running late, simply get here when you can, and we'll fit you into the next workout class. Our classes repeat all day long, unlike other gyms that only offer each class once a week. Our classes are also different each day, so you can work separate muscle groups each day.
As if that weren't awesome enough, our classes also include free personal training! Each HIIT class is led by a trained instructor who circulates, providing tips on form, technique, and pace. We'll make sure you hit your target heart rate, so you can burn the most calories and build the most muscle mass simultaneously. Our classes are the perfect fusion of resistance and cardio, which means you'll hit your VO2 Max and keep burning calories long after the workout.
Try a Workout Class for Free Today at Sweat440!
Ready to give group fitness a try? Do it risk-free at Sweat440! Not only is your first class free, we're also a contract-free gym. That means you have no obligation to join, and no annual or hidden fees. Buy individual classes, or buy in bulk, the choice is yours. You have access to all of our state-of-the-art equipment, including Ski Ergs, Versa Climbers, Assault Bikes, and more! Sweat440's gyms that offer classes near me have free sessions every 10 minutes!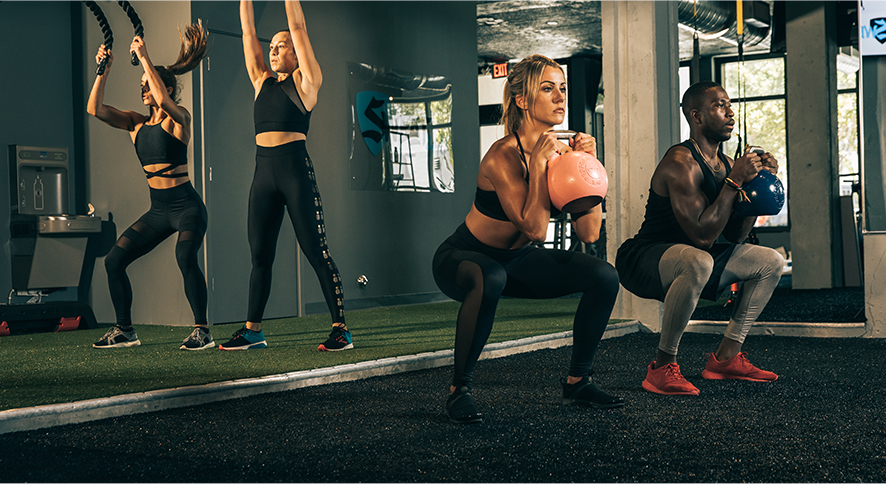 Free Group Classes for All Fitness Levels
Free Sweat440 Classes Near Me:
25 9th St., Suite G100, Miami
1916 Bay Rd., Miami Beach
301 Altara Ave., Suite 111, Coral Gables
4293 SW 152nd Ave., Miami
3210 N. Miami Ave., Suite 10, Miami
8403 NW 53rd St., Doral
600 6th Ave., New York City
80 John St., New York City
507 Pressler St., Austin
5000 Rue Jean-Talon O, Montréal
HIIT Classes for All Fitness Levels:
SHAPE- Lower Body
SHRED- Lower Body/Core
SWEAT- Core/Conditioning
SHRED- Lower Body/Core
SHAPE- Upper Body/Core
WARRIOR- Total Body Conditioning
OUTDOOR- Full Body HIIT Classes