Florida's Favorite Gym Reopening Near Me in South Beach
Fitness is essential for everyone, but our friends in South Beach know just how important it is! Living in the Sunshine State, you always need to stay swimsuit-ready. On any given day, 365 days a year, your friends might invite you to South Beach! With all of the active outdoor pursuits, from surfing, to kayaking, to stand-up paddle boarding, you also want to feel as fit as you look. Whether you're dancing the night away, or playing a game of beach volleyball, South Florida residents rely on their gym to keep them in shape.
So, we know what a bummer it was when we had to close Sweat440's South Beach gym for COVID-19. But, guess what? Miami Dade County is now allowed to reopen gyms with adequate safety precautions. Mayor Carlos Gimenez released a statement following Emergency Order updates by Gov. Ron DeSantis September 25, putting the city of Miami in Phase 3. The wait is finally over for gyms that abide by safety protocols. Sweat440 not only adheres to the guidelines established by Mayor Carlos Gimenez and Gov. Ron DeSantis, but we exceed them in many ways.
South Florida's Favorite Gym = The Safest South Beach Gym
Sweat440 was the 5-star favored gym prior to the spread of COVID-19, and now our members are even more thrilled with our procedures. We already utilized ample space between classmates to allow adequate personal space for fitness prior to the pandemic, but now social distancing is clearly marked in our gyms, and members are divided into workout pods with individual equipment.
We use face masks, gloves, and touchless temperature checks for our team. Sweat440's gyms are cleaned with an antimicrobial disinfecting fogging procedure twice a week, and cleaned with Protexus Electrostatic Sprayers twice a day. We also sanitize equipment and high-touch zones like doorknobs and restrooms frequently throughout the day. We have disinfectant spray and cleansing cloths within reach of our members at all times.
Don't just trust any "gym reopening near me in South Beach." While mandates are in place, it's possible, and even likely, that some gyms will skimp on sanitation, not limit capacity, and not monitor social distancing. Sweat440's gyms are all fitness class driven, which means there's always an instructor keeping an eye on member behavior. We keep classes small and rotate members out every 10 minutes per our unique schedule. Our trainers ensure that members are in compliance and that you're given adequate space to work out. We'll ensure that equipment is cleaned after each use to keep you safe.  
Sweat440 Sets New Standards in the Fitness Industry
Sweat440 introduced groundbreaking, innovative concepts from our inception, and we continue to set industry standards. Our gyms were founded by two highly sought-after trainers seeking to correct other gyms' failures. They listened to their clients talk about how gyms were too crowded, classes had waitlists, and personal trainers were too pricey and all booked up. They heard frustration about membership contracts that were tough to get out of, hidden fees, cancellation penalties, and classes members had to pay for even if they couldn't attend.
Sweat440 reinvented the fitness concept by creating gyms that benefit all members. They got rid of contracts, hidden fees, and minimum purchase requirements. They eliminated cancellation penalties, initiation fees, and charges for classes you miss. They created a schedule with classes starting every 10 minutes, so long waitlists weren't a problem. And they kept classes small, so members got individual instruction from a personal trainer in each small group class at no additional cost.
Our founders' formula was unprecedented and unrivalled, making Sweat440 South Florida's instant favorite! The unique scheduling system means no matter how many members flock to our gyms, they'll never be overcrowded, and you won't have to wait your turn for a machine. Our trainers move members through 4 10-minute stations, completing 3 sets of 12 different exercises. As such, you're always on the move, never in each other's way, and never waiting around.
In light of COVID-19, our progressive founders remain ahead of the pack in the fitness industry. With classes already designed for social distancing and led by trainers for oversight, COVID-19 can't stop Sweat440 from continuing to deliver the best workout in Miami Dade County. We've gone above and beyond to provide a safe place for South Beach residents to get fit. For example, our towel service, lockers, and showers remain closed as an extra precaution. We're also offering outdoor classes for additional protection against the spread of COVID-19.
Try the #1 Gym Reopening Near Me in South Beach for Free
Come join your South Beach friends at Sweat440 in South Florida! We have several locations near the city of Miami, including our South Beach gym right near beautiful SOBE! Try a class for free today with no obligation to join. Personal training is free in your first class, and in every class after that! With just one visit, you'll see why Sweat440 is Florida's favorite gym reopening near me in South Beach!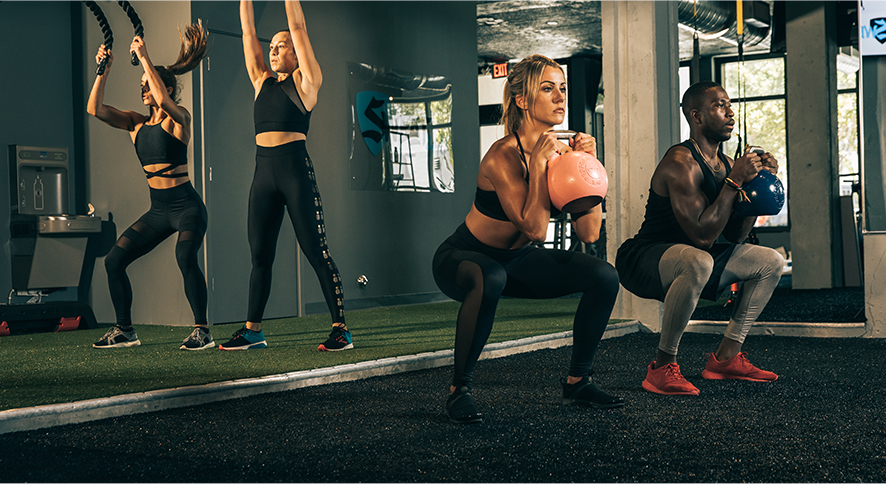 South Florida's Favorite Gyms Reopening Soon!
Sweat440 Locations Reopening Near Me:
Sweat440 Miami Beach: 1916 Bay Rd.
Sweat440 Brickell: 25 SW 9th St., Suite G100
Sweat440 Coral Gables: 301 Altara Ave., Suite 111
Sweat440 Kendall: 4293 SW 152nd Ave.
Sweat440 Downtown Doral: 8403 NW 53rd St.
Sweat440 Palm Beach: 3201 N. Miami Ave., Suite 10
Sweat440 Prevents Spread of COVID-19
Antimicrobial defogging 2x a week
Hospital grade sanitizing 2x a day
Masks, temperature checks, PPE
Smaller classes and social distancing
Showers, lockers, towel service remain closed
Frequent sanitizing of equipment and touchpoints