HIIT and Group Fitness Gym Near Me in Financial Distrcit
Are you looking for a gym near your location in the Financial District of New York? There are a lot of gyms in the Financial District of NYC. You can go to cycling gyms like SoulCycle or OrangeTheory. If you want to dance away some of those calories, you can try dance fitness at Youfit. If you prefer pumping iron, you can try out places like Miami Iron and Steelhouse Fitness. The options are endless, but they're also limited. Cycling gyms only provide a cardio workout. Dance fitness classes are really fun, but they mostly focus on burning calories. Weightlifting gyms focus on strength training to the detriment of other aspects of fitness, such as endurance and flexibility.
If you're looking for the best gym near me in Financial Distrcit, we believe you should consider Sweat440. Ours is the best gym in Financial District because we provide science-backed holistic workout programs that combine elements of cross-training, strength training, core training, and cardio workout. You don't need to create a schedule to shuffle between different locations and gyms in FiDi to meet your overall fitness goals. Our schedule has been designed as such that you don't need to try out any other gym. Furthermore, Sweat440 focuses on some of the best group fitness classes that combine the benefits of personal training and other group classes. All of our group fitness classes are based on true high-intensity interval training (HIIT) standards.
Please continue reading for a detailed overview of the benefits of Sweat440's group fitness classes and HIIT method.
Benefits of Sweat440's Group Fitness Classes
Personalized Training

: We have certified fitness experts who offer personalized training and support to each of our members. They motivate you, hold you accountable, and correct your form.

Flexible Timing

: Sweat440 group fitness classes have been designed such that each session begins in intervals of 10 minutes. As such, you don't need to schedule classes in advance and can show up to join the upcoming group within ten minutes.

Small Groups

: Because each new group starts in ten minutes, we ensure that each group is relatively small, comprising around three or four members. This gives you plenty of space and allows the trainers to focus on you better.

Structure

: You don't have to worry about designing a workout plan. The Sweat440 workout plan focuses on strength, agility, endurance, and flexibility. Over the week, we take you through four workout stages — Sweat (HIIT and cardio workout for weight loss), Shred (strength training), Shape (conditioning and endurance), and Warrior (combination). As such, our workout program targets every muscle group and provides holistic physical fitness.

Motivation and Accountability

: Working out in a group is always better than working out solo. The presence of your peers prevents you from quitting and motivates you to give it your best. As such, group fitness classes offer automatic peer-based accountability.

Socialization

: After the session, you can also interact with your other group members, socialize, and maybe grab a protein shake!

Affordability

: Sweat440 is one of the most affordable group fitness classes in the Financial District. We also offer some pretty amazing discounts for those who subscribe to monthly memberships.
Benefits of Sweat440's HIIT Method
VO2 Max

: Sweat440 classes are structured such that each set lasts for 50 seconds with a short 10-second break. You also get a one-minute break after every nine minutes of an intense workout. As such, the intervals between periods of exertion ensure the maximum rate of oxygen consumption (VO2 Max). This is the measure used to calculate one's cardiovascular fitness.

Heightened EPOC

: Our workout program is designed to increase your excess post-exercise oxygen consumption (EPOC). As such, your body continues burning calories even after the workout, when you're resting.

Strong Heart

: HIIT workouts have been shown to strengthen the hearts of participants and stave off heart problems. As such, HIIT workouts are beneficial for patients recovering from cardiac problems as well.

Burning Fat

: One of the greatest benefits of HIIT workout programs is that they burn twice the amount of calories in half the time. As such, a 20-minute HIIT workout is usually more beneficial than an hour of traditional cardio workout. As such, our 40-minute Sweat440 HIIT workout is more than enough for daily fitness.

Slow Aging

: Your body creates more protein for mitochondria and energy during HIIT workouts. As such, HIIT workouts have been shown to reduce the signs of aging at a cellular level. 

Ideal for Busy People

: In our busy modern lives, we often lack enough time in the day to dedicate to traditional workouts. People who join gyms often quit because they can't make them fit into their existing schedules. However, Sweat440's HIIT workout focuses on a quick 40-minutes session that ends with clockwork precision. You can easily fit it into your schedule.
Free Training Session at Sweat440 Gym Near Me in Financial Distrcit
Sweat440 is located on 80 John Street in New York's Financial District. Our gym is highly accessible because it's within walking distance of the Fulton Street Station and the Wall Street Subway Station. If you're in the area, come over and claim your first free session at Sweat440 today!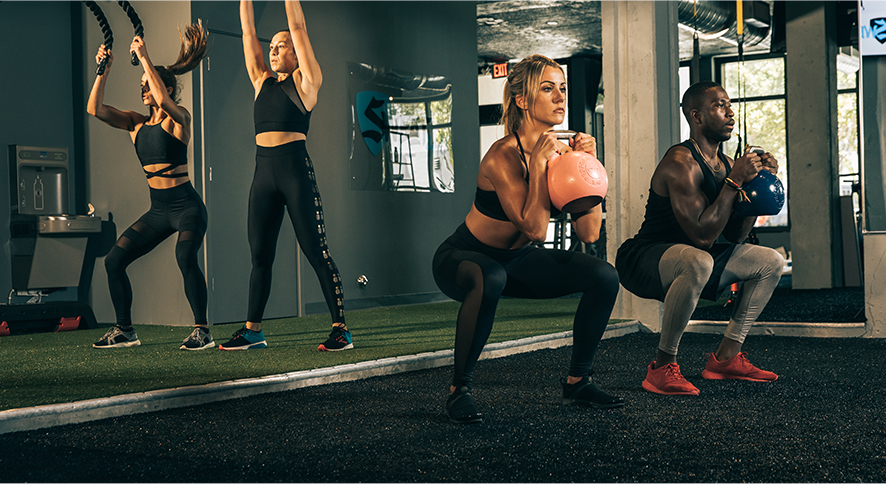 What Makes Sweat440 the Best Gym Near Me in Financial District
Sweat440 Group Fitness Classes
Personalized training from certified fitness experts.

Each group fitness class begins in intervals of 10 minutes.

Each group is relatively small.

Our workout schedule focuses on holistic physical fitness.

Peers motivate you and hold you accountable.

Provides opportunities to socialize after the class.

Affordable membership plans.
Sweat440 Hight-Intensity Interval Training
Increases your VO2 max.
Increases your metabolic rate and EPOC.
Burns more fat at a faster rate.
Improves and strengthens your heart.
Slows down the aging process.
Shorter workout sessions are ideal for busy people.