7 Steps to Find the Best and Safest Gym Near Me
Are you wondering, "how can I find a safe gym near me?" In 2020, one of the most important factors to consider when finding a gym is its safety protocols to prevent spreading coronavirus. However, COVID-19 safety protocols aren't enough; you must consider several important factors when looking for a "gym near me." After all, there's no point in finding a safe gym if it's an hour from your home. This article provides a step-by-step guide on finding a safe gym near me.
Step 1: Google "best gym near me."
The first thing you should do is google "best gym near me." You'll get a list of some of the best-rated gyms in your area, arranged according to their proximity to your current location. For example, if you google "best gym near me" from Downtown Doral, Florida, your results may include Sweat440's Brickell gym. Once you've got a list of the gyms near your location, you can narrow down the list to those with 5-star ratings and reviews.
Step 2: Look for a gym with COVID-19 sanitization and social distancing protocols.
In 2020, you must look for gyms that follow the strictest safety protocols, including sanitization, social distancing, and other safety protocols. Gyms are generally considered to be "super-spreader" locations, i.e., they have a high risk of spreading coronavirus due to the close proximity of members working out and sweating together.
Sweat440 is one of the safest gyms because we've implemented a wide range of COVID-19 safety protocols. The following are some of our safety implementations:
Pre-bookings for all classes with a limit on the maximum number of people in each class.
We discourage loitering in the waiting areas.
We've temporarily closed our locker rooms, showers, and other communal areas.
Social distancing lines and individual workout pods ensure you maintain the appropriate distance from other members.
No high-fives — you can instead communicate enthusiasm via a thumbs-up.
We encourage all members to leave immediately after class.
All Sweat440 members have to pass touchless temperature checks.
The Sweat440 team must wear PPE and conduct temperature checks before each shift.
Frequent and mandatory deep cleaning of all high-touch zones (door handles, equipment, etc.) at least twice a day with hospital-grade disinfectants and cleaners.
Step 3: The gym should also have state-of-the-art equipment and a versatile training program.
Safety and social distancing aren't enough — the gym must also have cutting-edge workout equipment and a versatile training program. You should look for a gym that allows you to effectively scale your efforts, and their training program must cover each aspect of physical fitness.
Sweat440 has the latest state-of-the-art equipment, including kettlebells, a wide range of dumbbells, rowing machines, battle ropes, suspension trainers, etc. Our workout programs include strength training, high-intensity interval training, cross-training, core training, free weight training, and conditioning to ensure you achieve all your fitness goals.
Step 4: Look for a gym with flexible timings for their group fitness classes.
Gyms that offer group fitness classes usually have inflexible timings, and you need to schedule the classes at least a day in advance. As such, most group fitness gyms necessitate structuring your entire day around the gym rather than the other way around.
Sweat440 has a unique training program that allows new members to join the group fitness class every 10 minutes. Each 40-minute training session takes the members through four 10-minute fitness stations. As you move through the fitness stations, you vacate the previous space for the new group. This structure ensures that you can enter the group within 10 minutes.
Step 5: Go through the gym's weekly schedule.
You should go through the gym's weekly schedule to ensure they target all major muscle groups. Some group fitness classes only focus on one or two muscle groups, leading to disproportionate results. Sweat440 has an expertly-structured weekly workout plan that targets all aspects of fitness and all muscle groups. The following is our weekly workout plan:
Monday: Shape — Lower Body
Tuesday: Shred — Upper Body/Core
Wednesday: Sweat — Core/Conditioning
Thursday: Shred — Lower Body/Core
Friday: Shape — Upper Body/Core
Saturday: Warrior — Total Body Conditioning
Sunday: Warrior — Total Body Conditioning
Step 6: Look for a gym with flexible, no-contract memberships.
You must look for a gym with flexible and no-contract memberships that you can leave whenever you want, without any obligations to continue paying even after you stop going to the gym. Sweat440 has incredibly flexible membership plans — you can pay for a single session, a group of sessions, or an unlimited monthly membership.
Step 7: Schedule a free trial session at a gym near me.
After you've found a gym that meets all the above requirements, you should schedule a free trial session. The best gyms always provide free sessions, so you know what to expect. Sweat440 has gyms in New York City, Florida, and Montreal. If you're in any of these locations, you can find a gym near your location and claim your free trial session.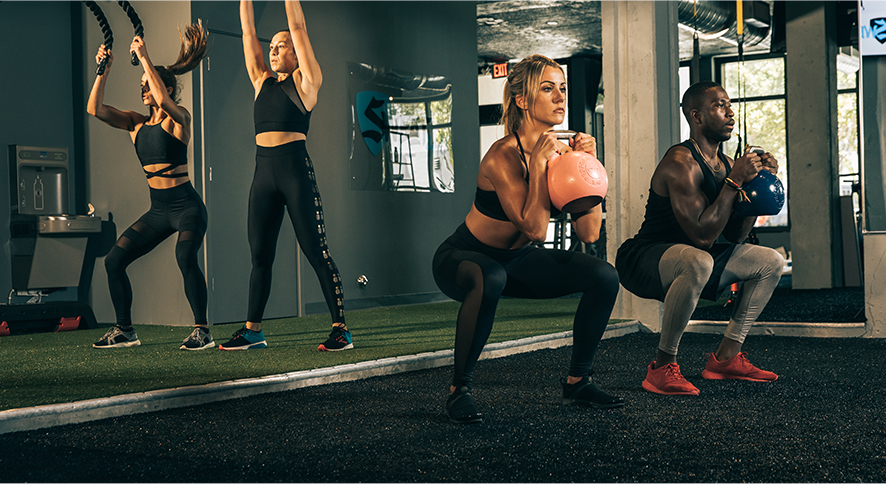 Qualities of the Best Gymss
5-star ratings and reviews.
Convenient location with access to public transportation.
COVID-19 sanitization and social distancing protocols.
State-of-the-art equipment.
Versatile training program.
Flexible timings.
Flexible, no-contract memberships.
Free trial session.