Sweat440: Best Gym Near Me in Chelsea?
Sweat440 is widely considered to be the best gym near me in Chelsea, especially in regards to a gym offering group fitness personalized training sessions.
You can probably find a lot of gyms around Chelsea, but Sweat440 is the best gym near me in Chelsea because we provide classes that focus on holistic physical fitness. We don't just focus on weightlifting, or cardio workout, or flexibility — our personalized training workout combines elements of strength training, HIIT, and cross-training for a rigorous and rewarding 40-minute workout session.
Located in Chelsea, our gym is close to the iconic Flatiron Building, which is one of the most recognizable and accessible parts of New York. In this article, we give you a complete overview of Sweat440's personalized training sessions, and we discuss what makes Sweat440 the best gym near me in Chelsea, NYC.
What Happens in Sweat440's Personalized Training Sessions?
Sweat440 personalized training classes have been designed for the modern age of flexible schedules. Unlike other group fitness classes, you don't need to schedule a class ahead of time or forfeit the scheduled class if a last-minute issue prevents you from coming. Sweat440 is a personalized training gym offering new group classes every 10 minutes. You don't need to schedule classes ahead of time; simply come over and join the upcoming group.
Our personalized training program consists of 4 10-minute fitness stations. Each fitness station comprises 3 sets of 3 exercises, which will be displayed on a screen with a countdown clock. You have to follow the onscreen prompts through the 3 sets of 3 exercises. Each set is 50 seconds long, followed by a 10-second break. After 9 minutes, you have a one-minute break to change stations and familiarize yourself with the next set of exercises. As you move to Station B, another group will take their place in Station A. After 10 minutes, once you move to Station C, the following group will move to Station B, and a new group will join Station A. After Station C, you move to Station D for the final set of exercises, before concluding the workout.
Because of the program described above, each group moves through the fitness stations with clockwork precision. This module ensures two things — each group is relatively small, and you are never late for a fitness class.
Personalized Training Schedule
Our workout program is designed by our certified fitness experts. We make sure that we target each muscle group at least twice in the week, and we take you through a variety of workout modules for maximum effectiveness. The following is an overview of Sweat440's personalized training schedule:
Monday: Lower Body (Shape)
Tuesday: Upper Body/Core (Shred)
Wednesday: Core/Conditioning (Sweat)
Thursday: Lower Body/Core (Shred)
Friday: Upper Body/Core (Shape)
Saturday: Total Body Conditioning (Warrior)
Sunday: Total Body Conditioning (Warrior)
The words Shape, Shred, Sweat, and Warrior identify the overarching goal of the workout. The following is a brief description of what these terms stand for:
Shape: Conditioning, shaping, and toning workouts.
Shred: Resistance and weight training workouts.
Sweat: HIIT, cardio workout, and core training.
Warrior: Combination of all the previous modules of workout.
What Makes Sweat440 the Best Gym in Chelsea, Manhattan?
Personalized Training: Sweat440 has certified fitness experts who offer personalized training support during your workouts. As you go through the fitness stations, they will observe your movements and make sure you're working out with a perfect form, all while motivating you to scale up.
Structure: Sweat440 liberates you from having to curate a training schedule. We've designed a workout program that's highly scalable, and it covers everything — cross-training, weight training, and cardio workout.
Flexibility: As already mentioned, our workout program is designed to maximize flexibility. You don't need to make schedules. You can come over for a session whenever you find the time, and you'll get a slot within ten minutes. Furthermore, because of the constantly rolling admissions, each group is relatively small.
Motivation: Each session is conducted with your peers. Studies have shown that group exercise yields far greater benefits than individual or solo workouts. You're less likely to give up if you see that others are carrying on with the workout.
State-of-the-Art Infrastructure: Sweat440 has state-of-the-art infrastructure and equipment, such as rowers, assault bikes, sleds, battle ropes, and a lot more. Furthermore, we also have some of the best locker rooms so you can shower and change up after the workout to continue with the rest of your day.
Affordability: Sweat440 offers the benefits of personalized training, while being relatively affordable, especially if you subscribe to one of our monthly memberships.
No Contract: Unlike other gyms that try to trap you into complicated contracts that prevent you from leaving the gym, we don't lock you into a contract. You are free to leave any time you want.
Accessibility: Sweat440 isn't just the best gym near me in Chelsea, but also the most accessible because it's located near the 18th St. and 14th St. Metro Stations.
Gym Offering Free Trial: Sweat440 is a gym offering free sessions for first-timers. If you haven't worked out with us before, come over and just give it a shot! First-comers can also avail of some pretty amazing discounts.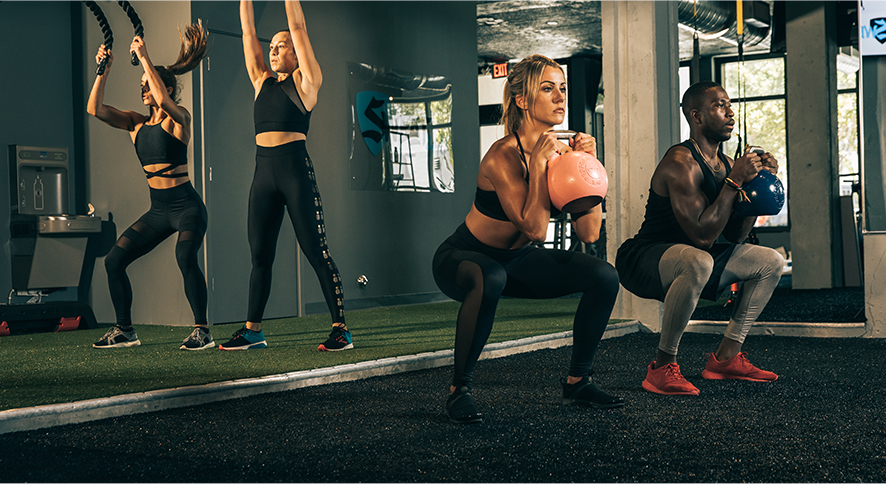 Attend Sweat440 Gym Near Me in Chelsea
Personalized training and support from certified fitness experts.
Pre-designed workout schedule targeting each muscle group.
No need to schedule classes. Just drop in and join the upcoming session.
Group classes offer greater motivation.
State-of-the-art equipment and locker rooms.
Affordability with free sessions for first-timers.
No contract. You can leave anytime you want.
Located near 18th St. and 14th St. Metro Stations.
Sweat440 Personalized Training Schedule
Monday: Shape — Lower Body
Tuesday: Shred — Upper Body/Core
Wednesday: Sweat — Core/Conditioning
Thursday: Shred — Lower Body/Core
Friday: Shape — Upper Body/Core
Saturday: Warrior — Total Body Conditioning
Sunday: Warrior — Total Body Conditioning