8 Benefits of a Gym Membership Near the Financial District
1. Gym Membership Near the Financial District = No Commute
One of the best reasons to search for "gym membership near me in the Financial District" is to eliminate your fitness commute. No matter how much you love a gym, getting across town before or after work is a hassle, which means you're more likely to bail on the gym when your schedule is jammed. Join Sweat440's gym at 600 6th Ave., located right near your place of business, so you can work out without adding to your commute. Conveniently spaced between major transit stops and green spaces like Madison Square Park, we're on your way, no matter where you're headed!
2. Functional Training Cures a Case of "The Mondays"
Does anyone LOVE a Monday? Heading to work on Monday mornings can be tough, especially on a cold and blustery day in NYC. If you've got a case of "The Mondays," there's no better cure than a dose of functional training on your way to work. Our personal trainers are high-energy, encouraging, fitness pros who will help you shake off those Monday blues. Grab a quick sweat session at our gym near FiDi and head into your work week ready to slay! Our HIIT method incorporates functional training techniques that strengthen your core and help your body work efficiently, which simplifies your busy workday.
3. Your Personal Trainer Fits Into Your Workday
Many people want personal trainers, but only a few can afford them, or even work them into their schedule. Personal trainers have a limited number of appointments, and you have a limited number of openings in your day to work out. That means, for most people, it doesn't line up. But Sweat440 near the Financial District takes care of that by incorporating personal training into all of our classes. No matter which class you take, you'll get personalized instruction to expedite your results. No more working around a trainer's schedule; our trainers accommodate yours.
4. Squeeze a Group Fitness Class in Between Meetings
Meetings have always been a drag. But with the increase in digital communication over Zoom and Facetime, those meetings can get especially dull. Not to mention, the meetings can drag on for hours on end. This makes it harder to find time for fitness after your workday. Instead, squeeze a class in between those meetings to make sure you stay healthy and fit. When your gym membership is near you in the Financial District, it's easy to take fitness classes whenever you have a quick break. Sweat440's HIIT classes are just 40 minutes, but they pack 3 sets of 12 high-intensity exercises into each class, so you get a killer workout in well under an hour.
5. Fitness Classes Give You Focus and Clarity
Exercise is good for the body, but it also helps your mind. It's well known that working out boosts your endorphins and reduces stress hormones like cortisol and adrenaline. But exercise also increases your focus and clarity. Your hippocampus grows with regular aerobic exercise, which improves your memory and attention span. Studies show that executive control (ability to multitask, ignore distractions, and process information) increases when we exercise too. If you're stumped by a problem at work, or lacking clarity on an issue, pop into Sweat440 for a quick boost to your brain power.
6. A Personal Training Session Defeats the Midday Slump
What does 3:00 pm look like for you? Do you find yourself reaching for sweets or more caffeine? The midday slump is real and most people combat it by giving their body the opposite of what it needs. Instead of empty calories and afternoon coffee that will disrupt your sleep, break up your boredom and fatigue with a midday group fitness class. You'll re-energize yourself to power through the rest of your day and leave your evenings free to relax. Sweat440 has everything you need to sweat it out and head back to work, including showers, towels, and locker rooms. With classes that clock in at 40 minutes, you can crush a midday workout in less time than a lunch break.
7. Small Group Classes Double as Social Hour
If your workday is long, it might be hard to make time for friends. If you work in the service, restaurant, or hospitality industry, your work "days" often turn into work "nights" as well. A gym membership near the Financial District is a great way to make time for your friends. All of Sweat440's HIIT personal training sessions are small group fitness classes, so you can bond with your besties while you get fit. We take every precaution to keep you safe: individual cleansing spray bottles, sanitizers, social distancing, workout pods, and hospital-grade cleaning throughout the day. But we also provide a safe space for you to connect with friends while you work out. Is there any better way to double-task than that?       
8. Dinner Plans Are Easy With Showers & Locker Rooms
If you're lucky, you love your job in the Financial District. But, even if you have the best job in the world, you're probably still pumped to "clock out" and head out for a night in the Big Apple. When you join Sweat440's gym near FiDi, date nights, dinner plans, and girls' nights are a breeze, since our gym is packed with amenities. From showers, to locker rooms, to towels, to a selfie station, we make it easy work out and head straight to your evening adventures. Who wouldn't want to tone up and get a glow on before a night out on the town? Try a free class at Sweat440 to see how a gym membership near the Financial District makes it easier to get in shape!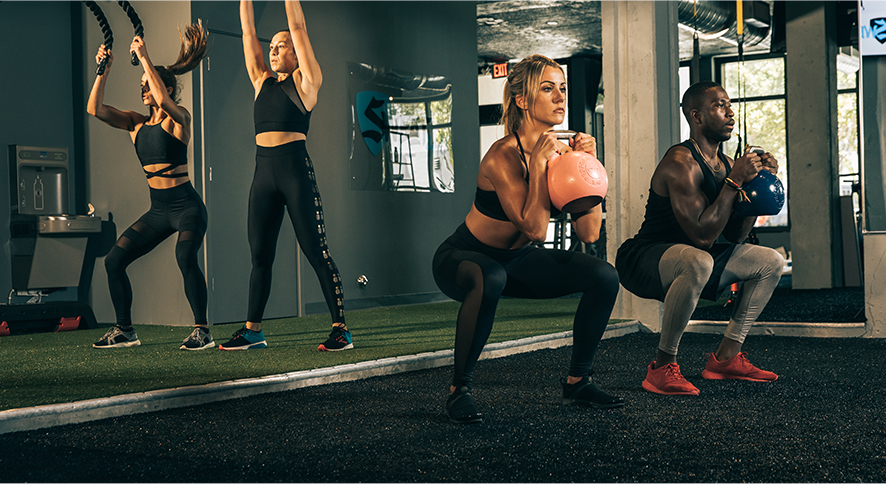 Want a Gym Membership Near FiDi? 8 Reasons to Sign Up!
8 Reasons to Join a FiDi Gym:
No commute
Cure a case of "The Mondays"
Personal trainer fits your schedule
Fitness classes fit between meetings
Increase focus and clarity
Defeat the midday slump
Small group classes = social time
Showers & locker rooms for dinner plans
8 Reasons to Pick Sweat440:
Small group classes include personal training
Functional training to improve your workday
Free trial session for newcomers
Convenient location to transit stops
No contracts or minimum purchase
All fitness classes are HIIT-based for results
Our amenities save you time
Our 5-star gyms are the most powerful + fun!