Which Fitness Studio Near Jean Talon Is Right for Everyone?
Are You New to Joining a Fitness Studio?
If you've never joined a fitness studio before, you might be questioning which one to choose. This is not one of those questions where there are no right or wrong answers. Some gyms are not suited to beginners and are actually unsafe or intimidating for first-timers. Sweat440's fitness studio near Jean Talon is a high-intensity interval training (HIIT) gym that's designed with beginners in mind. Our HIIT method is extremely powerful, delivering quick and incomparable results for people of all fitness levels. While our fitness method is intense, it's safe for beginners because of how it's conducted.
Our sessions are led by certified instructors who guide you through each exercise. Our classes are small and divided into individual workout pods, so you can go at your own pace. Our trainers provide continual instruction, which is reinforced by animations of each exercise on screens at every station. If it's your first time in the gym, you'll be relieved to know that you are never on your own. In fact, other members won't even be able to tell if it's your initial visit, because our trainers provide individual instruction to every classmate.    
Are You a Gym Member Who Wants to Try Something New?
Maybe you've joined a fitness studio near Jean Talon before, but you aren't loving your results. This is a common predicament, since many gyms operate to make money, not to improve your health. A line of treadmills or bikes is not inspiring or varied enough to keep you motivated for long. And many gyms just repeat the same fitness classes day after day, without bringing anything new to your routine.
At Sweat440, we use innovative equipment like VersaClimbers, SkiErgs, TRX, sleds, Assault Bikes, and more to keep your mind and body engaged. Our classes are different every day of the week, so you'll never get bored or complacent. We use high-energy music and a team mentality in our gyms to inspire each other to keep coming back for more. Our trainers are an integral part of generating enthusiasm and results. And guess what? Our trainers are a free perk to our members– their input is a complimentary part of every small group class!
Are You a Serious Athlete Looking to Elevate Your Game?
Have you been exercising basically since birth, and don't know what else to do to elevate your game? Most fitness studios don't offer the individual training you need to achieve ongoing results, especially without charging additional, hefty fees. The typical fitness class doesn't cater to specific needs or abilities, so you might be training beneath your level. You might also be training too hard, or too long, but lacking the proper intervals of intensity to do anything more than tire yourself out.
If you want to sculpt your muscles into optimal form, maximize your agility and endurance, or lose those last stubborn pounds, you need a customized plan that's tailored to you. Sweat440's classes are designed to ensure you reach your potential with 45-second bursts of intensity, followed by 15-second periods of rest, to achieve EPOC and your VO2 Max. Ready to take fitness to the ultimate level? Try a free class at Sweat440's fitness studio near Jean Talon today!  
Are You Averse to Exercise but Need to Improve Your Health?
If exercise is "not your thing," but your health issues are demanding that you do it, we have good news: most people who don't like to exercise simply haven't tried the right gym. Sweat440 is intense, yes. But it's also commonly referred to as, "fun," "exhilarating," "a blast," and a class that "flies by." When you step into our Rue Jean Talon fitness studio, you'll instantly be inspired by the positive energy, upbeat music, and fascinating equipment to try.
Our welcoming team will make you feel right at home. Our classes are high-energy and fast-paced, so you move through a ton of exercises in just 40 minutes. You'll be so proud of all you accomplished when you reflect on the class. But in the moment, you'll be too engaged to notice how hard you're working. It's the perfect system to max out your efforts in the gym, without wearing you out to the point of overexertion or injury.   
Are You Willing to Exercise but Can't Find the Time?
Maybe you're one of the many who want to exercise but everything else seems to get in the way. Sweat440 has the answer to this dilemma: classes every 10 minutes! You can book in advance but if you run late, there are no penalties. You simply join the next class. If your schedule is too unpredictable to book a class at all, then simply stop by when you can! With classes starting every 10 minutes, you'll only be a couple of minutes away from a workout, no matter when you show up.
Our classes pack an incredible punch in just 40 minutes. You probably spend that much time each day scrolling through your phone or to-do lists or procrastinating on your overwhelming workload. Instead, just pop in for a quick sweat session. Research shows that you don't need an extra-long workout to reap rewards. The boost of adrenaline will help you check off the rest of your to-do list in half the time! If you don't make time for exercise, all the negative things (stress, anxiety, depression, exhaustion, insomnia, weight gain) only get magnified. Make time for fitness and watch how everything else improves!
Are You Seeking a Convenient Fitness Studio Near Jean Talon?
Do you want to get fit, but don't want it to be a hassle? If the idea of commuting across the city and fighting rush-hour traffic deters you, Sweat440 Montréal has the solution. Our fitness studio is convenient to Jean Talon bus stop number 5005 and number 5000, and is walking distance from several schools and businesses. Since we're fully staffed at all hours and offer classes every 10 minutes, it's always easy to access our gyms.
An additional convenience is that we don't use contracts or minimum purchase requirements. Your first class is completely free, and you don't have to join before trying. We offer several membership options, which you can change at any time, and you can also quit without advance notice or penalty. If you're on the fence about how convenient your workouts will be, give us a try, risk-free. You'll find that Sweat440 offers the ultimate gym convenience!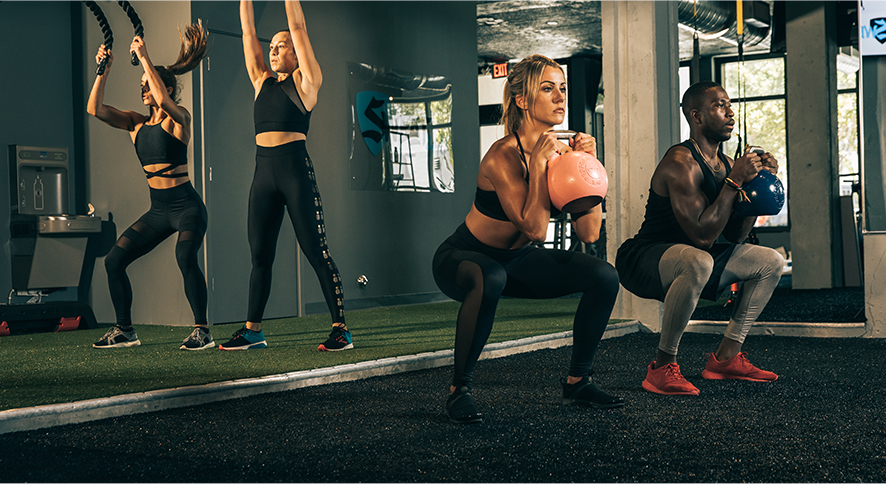 Sweat440 Montréal Is Right for You! Ready to Get Started?
How Sweat440 Montréal Meets Everyone's Needs:
Qualified instructors to assist beginners
Dynamic equipment to banish boredom
Innovative techniques to elevate athleticism
Engaging method for those who are anti-exercise
10-minute class rotation for those who are busy
Convenient location to eliminate commute hassle
What to Expect at Sweat440 on Jean Talon:
40-minute, exhilarating HIIT classes
Personal trainer input free of charge
Inclusivity for all fitness levels
State of the art equipment
First class is totally free
No contract or purchase requirement