Personalized Workout Plan for Fitness Near Me in Manhattan
Most people believe that the best way to achieve their fitness goals is to opt for personal training. If you live in New York, you can easily find personal trainers for fitness near me in Manhattan. And yes, personal trainers can create a customized workout plan and help you with your training program. But is that the ideal way to go about your training program? We believe a group fitness class, especially one comprising a small group with a personalized training program, can be far more effective.
In this article, we discuss how personal trainers can help you, the benefits of a group fitness class, and we discuss the Sweat440 training program for fitness near me in Manhattan.
​
Do Personal Trainers Create a Workout Plan?
Yes, personal trainers do create a customized workout plan for your specific needs. That's one of the primary reasons people opt for personal training. While personal training can certainly help you reach your only goals, it's not the only way.
Personal training has various drawbacks that make it inaccessible and inconvenient for most people. First, personal trainers in New York, especially Manhattan, are insanely expensive. Second, personal training only works if the personal trainer's training style is compatible with your personality. If you don't get along with the personal trainer, you may lose interest in your fitness goals. Third, working out with personal trainers puts you on an extremely inflexible schedule, one that's not amenable to changes in schedule or people with erratic schedules.
The primary reason people opt for personal training (despite the obvious drawbacks) is that they offer a personalized workout plan and training program. However, you can also get those benefits from a good group fitness class, one that includes a small group led by personal trainers. Furthermore, group fitness classes are far more reasonable than personal training.
Benefits of Personalized Workout Plan at a Group Fitness Class
You must find a group fitness class in which you can avail of a personalized workout plan with a small group and personal trainers. With group fitness classes, you can follow the group's workout schedule, which is usually customized to be scalable to everyone's specific needs.
Furthermore, the best group fitness classes are led by personal trainers, and their training program incorporates a wide range of exercises that cover all of your muscle groups. Various studies have shown that people are far more motivated to complete their training programs if they do so in a group. When you train with others, you're motivated to give it your all without slacking off. The presence of other members acts like an automatic check to ensure you do your best without quitting.
Benefits of Sweat440 Training Program
Sweat440 is the best gym for group fitness near me in Manhattan. Sweat440 is a group fitness gym that's designed such that each new group session starts every 10 minutes. Each group fitness class lasts for 40 minutes, during which you have to move between four fitness stations, each lasting for 10 minutes. As you move through the fitness stations, the following group takes their place in the vacated fitness station, continuing a 40-minutes loop of training.
The following is an overview of the benefits of the Sweat440 training program:
Our training program has been designed by fitness experts focused on full-body fitness. Our workout plan comprises elements of HIIT, strength training, cross-training, core training, and more.

Our workout plan is designed and available online. Each workout plan is scalable, which means you can continue improving your skills.

Thanks to our rotating fitness station model, we have new group sessions starting every 10 minutes, which means you can never be late.

Each group consists of 2-4 individuals. The presence of small groups means you get more attention from our personal trainers.

Sweat440 is one of the most affordable group fitness classes, especially if you take a monthly membership.
Sweat440 Workout Plan
Sweat440 has the most well-rounded workout plan in which we focus on all muscle groups at least once a week. We have a fixed workout plan and training program, but there's plenty of opportunities to scale up within that workout plan.
Furthermore, the Sweat440 workout plan also switches between different training programs, namely Shape, Shred, Sweat, and Warrior. On Shape days, we focus on conditioning and full-body toning. On Shred days, we focus on getting ripped with strength and weightlifting exercises. On Sweat days, we conduct HIIT training to make your read your VO2 max and burn all those calories. On Warrior days, we combine all the various types of workouts into a single intensive full-body workout plan.
The following is an overview of our weekly workout plan:
Monday:

Shape — Lower Body

Tuesday:

Shred — Upper Body/Core

Wednesday:

Sweat — Core/Conditioning

Thursday:

Shred — Lower Body/Core

Friday:

Shape

—

Upper Body/Core

Saturday:

Warrior

—

Total Body Conditioning

Sunday:

Warrior

—

Total Body Conditioning
Free Trial Group Fitness Class at Sweat440
If you live in Manhattan, you can find the closest Sweat440 gym in Chelsea/ Flatiron. Our Manhattan Sweat440 gym is located near the iconic Flatiron Building, which makes it highly accessible. Sweat440 offers a free trial class for first-timers, so drop by and claim your free group fitness class in Chelsea today!
​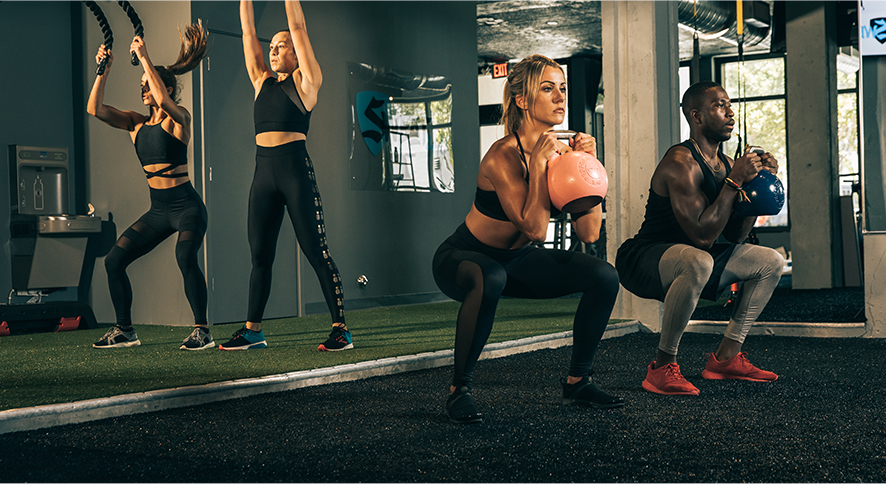 Train at Sweat440, Manhattan, New York City
Benefits of Group Fitness Class
Expertly-curated full-body training program.

A workout plan that targets each muscle group in your body.

You're never late because a session starts every 10 minutes.

Small groups mean more attention from personal trainers!

Group fitness classes help with motivation.

Our group fitness classes are affordable and don't include contracts.
Monday:

Shape — Lower Body

Tuesday:

Shred — Upper Body/Core

Wednesday:

Sweat — Core/Conditioning

Thursday:

Shred — Lower Body/Core

Friday:

Shape

—

Upper Body/Core

Saturday:

Warrior

—

Total Body Conditioning

Sunday:

Warrior

—

Total Body Conditioning