Which Covid Safe Gym Near Chelsea Will Meet Your Needs?
What Is the Definition of a Covid Safe Gym Near Chelsea?
Plenty of gyms claim to practice Covid safety. But simply making the claim doesn't make it true. There are specific steps that must be followed to be compliant with Covid safety guidelines. These measures might include facility sanitization, employee symptom screening, capacity limits, mask usage, and quarantine procedures, among other steps, depending on the current CDC and NYC recommendations.
At Sweat440 Chelsea, we not only comply with, but also exceed the measures outlined by the experts. That includes Protexus electrostatic sprayers, antimicrobial defogging, equipment sanitized after each use, social distancing guides on the floors, and personal workout pods. We keep class sizes small and rotate groups out every 10 minutes to limit your exposure to others. You have your own equipment and sanitizer spray for your workout and our instructors keep a safe distance as they lead you. Our gyms have operated in a safe manner throughout the pandemic, offering outdoor classes and closing off certain amenities for your safety. If you want to see the true definition of a Covid safe gym near Chelsea, visit Sweat440!  
What Are Your Personal Safety Requirements?
In addition to what the CDC and the city of New York require, consider your own safety requirements. Do you want a smaller, less crowded gym? Would you like a gym that's close to your home or office to limit your exposure on public transportation? Do you want a gym that's staffed at all times to make sure someone is enforcing member safety?
Do you want access to showers, sinks, or hand sanitizers for optimal cleanliness with your workouts? Sweat440 Chelsea offers all of these perks and more. Call us to see how we maximize safety in our gyms. It's been an unsettling year, so don't settle for a gym that doesn't make you feel safe. Safety has always been priority #1 at Sweat440, and you'll sense that the moment you walk in the gym.
What Are Your Fitness Goals During and Beyond the Pandemic?
While safety is your chief concern, don't forget the main reason you're joining a gym, which is to achieve certain fitness goals. A gym can't simply be sanitized, it must also provide what you need to get fit, otherwise it's a poor investment. Are your fitness goals the same during the pandemic as they were in 2019? What do you need right now? Do you miss human connection, an encouraging atmosphere, or an instructor's insight? Are you training for a marathon, a bodybuilding competition, or a spot on a sports team? What do you want to accomplish by joining a gym?
It's okay if right now you just want to get out of the house and be around other people again! If you show up at Sweat440 Chelsea, you're guaranteed an uplifting experience. But you'll also burn mega calories while having fun! And if you're more than ready to hit the gym at full speed, we've got you covered too. Our VersaClimbers, SkiErgs, Assault Bikes, battle ropes, kettlebells, TRX, and more are primed to take you to the next level. Sweat440's small group classes are designed around the HIIT method (high-intensity interval training). So, whether you're dipping a toe in, or jumping in with both feet, your goals will be met and exceeded.   
Have You Considered Personalized Training?
Personalized training has always been the essential ingredient in optimal fitness. But now, personal trainers play another important role in your health and fitness. Working with a qualified instructor ensures that you'll have individual space to complete your workout and that you'll have a pro by your side to make sure no one is compromising your safety by standing too close, using your equipment, or failing to wear a mask.
We know personal training is too expensive for most people to consider, especially for multiple sessions. So, that's why we offer free personalized training in every single one of our classes! We keep our class sizes small enough that everyone has ample space, and our trainers are able to provide one-on-one instruction to every class participant. Now, more than ever, personal trainers are the key to your health. So, join Sweat440 Chelsea, where complimentary training is just one of our free perks!
How Do You Feel About Shared Amenities Like Locker Rooms?
If you're uneasy about exposure from high-touch surfaces like door handles, faucets, and lockers, you don't have to sacrifice useful amenities like showers and locker rooms. Instead, choose a gym that cleans their surfaces and equipment after each use and limits capacity, so you aren't shoulder-to-shoulder in the gym. Sweat440 sanitizes all day long, and also performs deep cleans twice a day, and even deeper cleans once a week.
We also provide sanitizing sprays and cloths to our members, so you can give everything a second cleaning before use if you prefer. We encourage members to wash their hands often and to stay home if they're sick or exposed to Covid-19. We also ask that you use our water fountains as refilling stations, rather than drinking directly from them. Unlike other Chelsea gyms, we don't penalize members for missing a class, so you never lose money for staying safe.
Which Chelsea Gym Can You Trust for Covid Safety?
For best results, choose a smaller gym, like Sweat440, for several reasons. Smaller facilities benefit from better oversight by their staff. They also limit capacity in each class and the number of people in and out of the gym each day. Sweat440 is class-based and has a loyal following, with classes every 10 minutes. This means your circle of exposure is smaller and contact tracing is easier to complete.
In addition, Sweat440 provides individualized training in every class, so you don't have to worry about other members compromising your safety- our trainers keep things running smoothly! Other gyms in Chelsea have faced fines, closures, and citations during the pandemic. But Sweat440 has stayed on track, because we have the best staff and the best members! Try a free class today at our Covid safe gym near Chelsea's 14th and 18th Street Stations.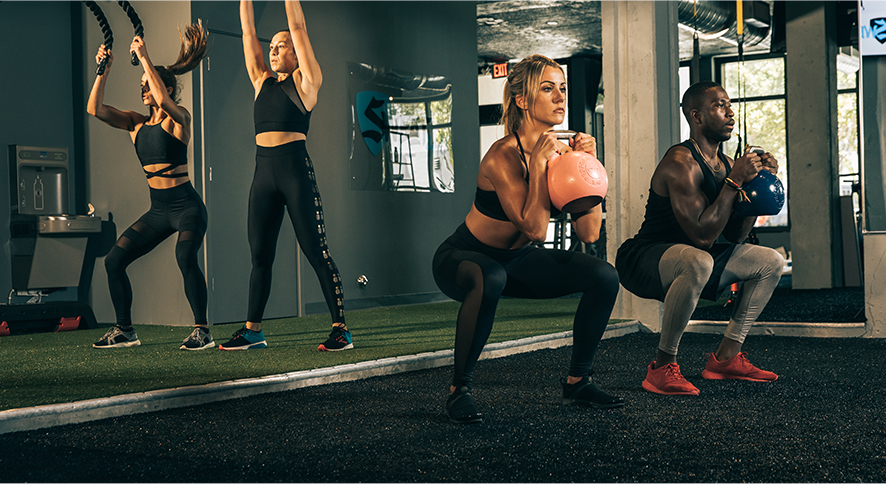 What Determines the Best Covid-Safe Gym for You?
Questions to Ask Yourself:
What are the Covid recommendations for my city?
What are my personal safety requirements?
What are my fitness goals during the pandemic?
Is personalized training an option for me?
Which amenities do I want to safely use?
Which gym has demonstrated CDC compliance?
Safety Measures to Look for:
Regular sanitizing of equipment
Deep cleaning of the gym
Reduced capacity and class sizes
Social distancing guides
Staff symptom checks and PPE
Rules about illness and exposure