Sweat440: Best Boutique Gym Near Me
In recent years, the concept of boutique fitness studios has seen a massive boom. Boutique fitness studios are extremely trendy gyms that usually specialize in one or two key aspects of fitness. Furthermore, boutique fitness studios are also known to have a creative and unique personality, one that clearly sets them apart from all others. While there are a lot of boutique fitness studios out there, we believe Sweat440 is the best boutique gym near me in New York and Florida. In this article, we briefly discuss boutique fitness studios, citing some examples, before discussing what makes Sweat440 the best boutique gym near me.
Benefits & Drawbacks of Boutique Fitness Studios
Boutique fitness studios have achieved their popularity because they make workouts fun. You don't have to slog in boring gyms, pumping iron in isolation. Boutique fitness studios transform working out into an experience, coupled with a social element. Since most boutique fitness classes are group fitness classes, you have the opportunity to interact with other like-minded individuals as well. Furthermore, working out in a group encourages you to give it your best, without holding back or slacking.
Boutique fitness classes also provide specialized classes, focusing on specific aspects of fitness, be it high-intensity interval training, strength training, or any other. In fact, most boutique fitness classes also focus on one specific exercise, be it yoga, indoor cycling, running, barre, rowing, etc. While that can be great for those who are really into those specific exercises, it can also be limiting. Doing the same exercise over and over can be monotonous. Furthermore, you have to find lots of boutique fitness studios offering different types of workouts for a full-body physical growth. Sweat440 is one of the few boutique fitness studios that covers a wide range of workout styles to ensure holistic physical development.
Examples of Boutique Fitness Classes
SoulCycle is one of the most popular examples of boutique fitness classes. SoulCycle is an indoor cycling studio in which you have to cycle at different speeds for the complete session. CITYROW is a boutique fitness studio that focuses on crew-style rowing with the help of rowing machines. Work Train Fight is a boutique fitness studio that focuses on boxing. Y7 Studio focuses on high-intensity power yoga. Mile High Run Club focuses on treadmill-based sprints and marathons. 305 Fitness provides dance fitness classes. As you can see, all of these boutique fitness studios specialize in one specific workout.
Sweat440: Best Boutique Gym in New York & Florida
Sweat440 is currently one of the best boutique fitness studios in the US. Our boutique fitness classes are based on a unique circuitous format that ensures you get a full-body workout targeting all major muscles in a group fitness setting.
Furthermore, Sweat440 fitness classes incorporate elements of various forms of fitness, including strength training, free-weight exercises, resistance training, cross-training, core-training, conditioning, and high-intensity interval training. Our boutique fitness classes don't just cover one aspect of fitness — they cover every aspect of fitness. As such, you don't have to go bouncing from one boutique fitness studio to another — Sweat440 is all you need.
Sweat440 fitness classes take you through four 10-minute fitness stations for a total 40-minutes workout. Each fitness station consists of three sets of three exercises, executed like clockwork. Once you complete all the exercises in the first fitness station, you can move to the second, clearing the previous station for the next group. As such, the fitness classes progress in a circuitous style, allowing a new group to join every ten minutes. As such, you don't have to schedule Sweat440 group fitness classes in advance. You can show up whenever you find the time, i.e., you're #neverlate.
In addition to convenience, Sweat440 is also focused on providing holistic full-body fitness. As such, we have an expertly curated fitness schedule that targets all major muscles at least twice every week. Furthermore, our days are divided based on the workout style or format. We have four workout modules — Shape, Shred, Sweat, and Warrior. On Shape days, we provide strength and conditioning workout. On Shred days, we focus on high-intensity interval training and strength training. On Sweat days, we focus on high-intensity interval training. On Warrior days, we focus on all the modules.
The following is Sweat440's weekly training schedule:
Monday: Shape — Lower Body
Tuesday: Shred — Upper Body/Core
Wednesday: Sweat — Core/Conditioning
Thursday: Shred — Lower Body/Core
Friday: Shape — Upper Body/Core
Saturday: Warrior — Total Body Conditioning
Sunday: Warrior — Total Body Conditioning
You can find Sweat440 boutique fitness studios in New York and Florida. If you live in New York, you can reach our Chelsea boutique gym from the 18th St. and 14th St. Metro Stations, or the FiDi boutique gym from the Fulton Street Station. As such, both of our New York Sweat440 boutique fitness studios are highly accessible. Our Sweat440 Florida gyms are located in Miami Beach, Brickell, Coral Gables, and Downtown Doral.
Sweat440 also offers a free fitness class for first-timers. Feel free to drop by anytime and claim your free sweat session!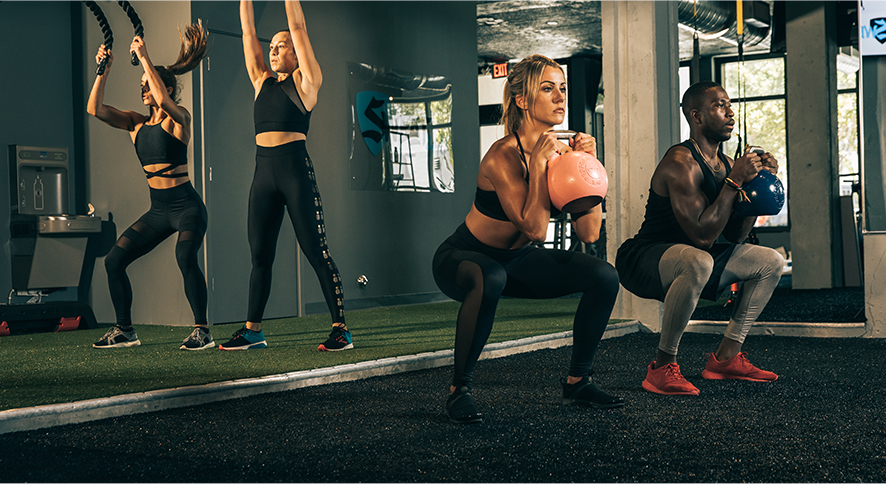 Boutique Fitness Gym Locations
Sweat440 Boutique Fitness Classes
Monday: Shape — Lower Body
Tuesday: Shred — Upper Body/Core
Wednesday: Sweat — Core/Conditioning
Thursday: Shred — Lower Body/Core
Friday: Shape — Upper Body/Core
Saturday: Warrior — Total Body Conditioning
Sunday: Warrior — Total Body Conditioning
Sweat440 Group Fitness Locations