7 Workout Centers Near Your Work Commute
You planned on hitting the gym today. You even packed your gym bag last night! But then your child missed their school bus because they couldn't find their shoe, so you had to take them to school. Plus, the meeting at work that was scheduled for an hour turned into two and half. There goes that training session you scheduled all the way across town! Sound familiar?
We can't always control our schedules, but we can choose a gym with convenient locations  along our commute and plenty of class times, so we don't have to miss a workout! After all, exercise is what keeps us healthy and sane, balancing out the chaos. At Sweat440, you never truly miss a class– you simply join the next one, since they start every 10 minutes. With locations in major cities near major highways, we're always right where you need us when you're short on time! Here are 7 of the most convenient workout centers near your commute.
1. Sweat440 Miami Beach
Located at 1916 Bay Rd., in beautiful Miami Beach, this workout center is centrally located to everywhere you want to go, and just seconds from Interstate 195, near the intersection of Alton Rd. and Dade Blvd. Headed to work at Ritz-Carlton South Beach or W South Beach? Fitness is steps away at Sweat440 Miami. Hop in before your meeting at the Miami Beach Convention Center, or before your shift at Panther Coffee, The Fresh Market, Office Depot, or Publix in Miami Beach. Grab your coworkers and head to the most effective workout on the beach!
2. Sweat440 Coral Gables
Located at 301 Altara Ave., in Coral Gables, this gym suits everyone's busy commute. Whether you're a student at Coral Gables High School, or a parent dropping kids off there or at Key Point Preschool, our gym is just across the street. Heading to work at Shops at Merrick Park, Consulate General of Italy, or The Collection car dealership? We're located just a few doors down! Find Sweat440 Coral Gables at the intersection of SW 42nd Ave. and Altara Ave., just off of S Dixie Hwy.
3. Sweat440 Brickell
Do you like to crush your sweat session before or after work? Sweat440 has you covered either way, at our 29 SW 9th St. location in Miami, FL. Bordering SW Miami Ave., and SW 9th St., this gym is easily accessed from both Hwy 95 and Brickell Ave. (US Route 1), to align with your commute. Join us after working at the Navy Federal Credit Union or Consulate General of the Dominican Republic. Hit a Sweat440 class on the way to work at the Shops at Mary Brickell Village, or before serving Miami's favorite food and libations at El Tucán or SuViche.
4. Sweat440 Downtown Doral
Do you travel for work? Sweat440 Doral is only a few minutes away from Miami International Airport. Grab a killer workout before or after a business trip to blow off steam. Doral, Miami, and Hialeah residents love how close this gym is to their commute, including locations like Provident Doral at the Blue Miami, Doral Charter School, and the Downtown Doral Sales and Welcome Center. It's just a quick jump over from the I75 express lane (FL-826).
5. Sweat440 Chelsea
In its prime spot at 600 6th Ave., Sweat440 Chelsea is right next to the 6th Ave. and W 17th St. bus stop, and a block from the 18 Street subway station. Students and faculty at Parsons School of Design and Mannes School of Music have an easy trek to Sweat440 Chelsea, as do employees at countless retailers nearby, like, Marshall's, Gap, and Container Store. Located between W. 17th St. and W 18th St., this gym is easy for all New Yorkers to reach on their daily commute.
6. Sweat440 Austin
Close to the MoPac Expressway and W Cesar Chavez St., Austinites will have no trouble fitting this gym into their routine. Tucked between W 5th St. and W 6th St., at 507 Pressler St., it's the perfect locale for beauty professionals at Salon Service Group and Hiatus Spa + Retreat, plus our favorite servers and restaurateurs at Nitecap, Lin Asian Bar + Dim Sum, Better Half Coffee & Cocktails, Mean Eyed Cat, and El Arroyo. Pop in before your day of work at Land Rover Austin or Rogue Running by JackRabbit to start your day on the right foot.
7. Sweat440 Montréal
Perfectly positioned at 5000 Rue Jean-Talon Ouest, Sweat440 Montréal is just a block away from Autoroute Décarie. Stop in to power up for your day working at City of Montréal Police Department Station 26, IO Solutions Call Center, or Montréal SPCA. Employees of Boustan Décarie, Kanda Sushi Bar, La Belle Province Milad, Harvey's Splendid Chocolates, and Eggspectation can sweat out a day of hard work just seconds away at Sweat440 Montréal.
With centrally located workout centers in cities around the world, Sweat440 helps you stick to your fitness plan. We know how much you want to be fit, and how hard you try to fit exercise in, so we make it easier for you. We offer gyms right near where you work and live, and classes every 10 minutes, so there's nothing stopping you from getting fit! Try a free class today, and you'll see why Sweat440 is the best workout center for your commute.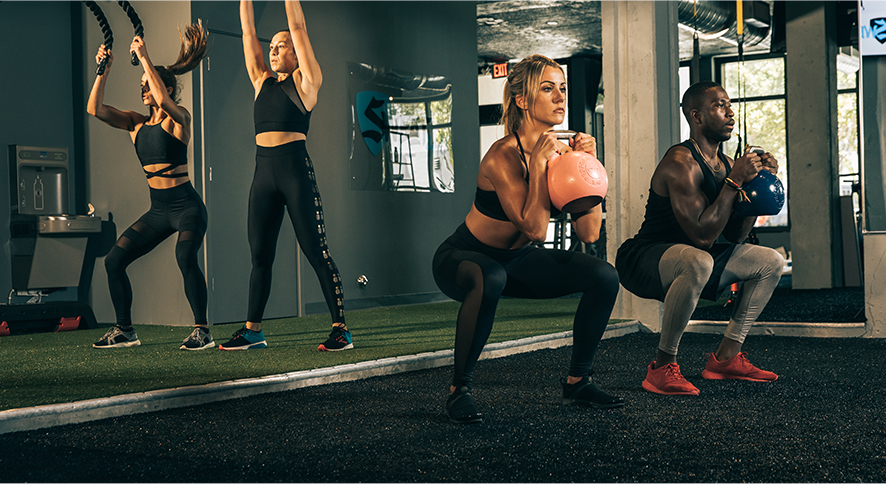 Choosing Workout Centers Nearby Helps People Stay Fit
7 Reasons Location Matters:
A shorter commute leaves more time to exercise.
Running late isn't as likely.
You can get to the gym before it closes on busy days.
If you pass it on your commute, you'll remember to go.
Your neighbors or coworkers can join you.
You can fit it in with your social obligations.
You can exercise either before or after work.
7 Convenient Gym Locations:
Sweat440 Coral Gables- in Coral Gables, FL
Sweat440 Miami Beach- in Miami Beach, FL
Sweat440 Doral- in Doral, FL
Sweat440 Brickell- in Miami, FL
Sweat440 Austin- in Austin, TX
Sweat440 Chelsea- in New York, NY
Sweat440 Montréal- in Montréal, QC