8 Things to Add to Your Routine at a Top Gym in South Beach
1. Personal Training at a Top Gym in South Beach
When it comes to optimizing your physique, there's no substitute for personal training. Since we all have different levels of strength, endurance, flexibility, and athletic experience, a professional should isolate your ideal fitness routine. Working with a personal trainer means your medical history, capabilities, and fitness goals are all taken into consideration before you begin working out.
However, no two personal trainers are alike, and some aren't actually certified or qualified to give advice. Choose a top gym in South Beach, like Sweat440, where the trainers are the best in the industry, and their training is a complementary part of every group fitness class.  
2. Boot Camp Style Sweat Sessions
Some people are drawn to the intensity of a boot camp workout, while others are intimidated by the concept. Traditional boot camps can, in fact, be too intense for certain people, especially when the instructor takes a "no pain, no gain" approach, or when they don't adjust the workout to suit people of various fitness levels. Instead, try a high-intensity interval training (HIIT) class, like those offered at Sweat440. HIIT classes are designed for all members to participate safely, since you work at your own pace in your own station, with constant trainer oversight.
Our classes alternate 45-second intense bursts of exercise with 15-second rest periods, which prevents injury or overexertion, but also burns more calories than staying at a high level of intensity for the entire workout. These intervals are key to achieving excess post-exercise oxygen consumption (EPOC), which means you'll burn calories for hours after you're done. Working too intensely for too long is actually counterproductive, so try our innovative 40-minute classes for superior results.
3. Yoga & Pilates Based Stretching
Some high-intensity classes don't incorporate essential tools like stretching, warming up, and functional exercises. That's why many bodybuilders, crossfitters, and boot campers sustain serious injuries. Sweat440 fuses intense exercises with functional yoga and pilates based stretching to protect your bones, muscles, ligaments, and joints.
We use lower impact alternatives through compound cardio movements so you burn more calories, build more muscle, and also avoid injury. Our trainers rotate throughout each class to correct form and identify risks like too much resistance or overexertion so you stay safe while getting fit.
4. Group Fitness Classes at Top Miami Gyms
There's really no better way to reinvigorate your workouts than trying group fitness classes. If your motivation is dwindling, you'll receive a hefty dose of inspiration by training with other fitness seekers. Our classes feature high-energy music and enthusiastic trainers who keep your blood pumping, but also keep the pace moving, so you're never uninspired.
We welcome everyone from beginners to pros, and thanks to our demo screens at each station, you won't stand out as a newcomer to the other classmates. Our sessions start every 10 minutes, and they're right near the beach, so any time is a great time to try group fitness classes at Sweat440's top gym in South Beach!
5. State of the Art Cardio Machines
How long have you been using a treadmill? How long do you have to spend on a treadmill or bike to burn the amount of calories you want to burn? If you're like most people, the answer is way too long! That's because steady-state cardio can only do so much, and also because your body gets used to doing certain routines, so it's no longer as challenged by them, which means your results taper off. It's time to try new, state of the art methods for cranking out cardio.
Experts agree that compound cardio is the way to go, since it burns calories while building muscle, which means you'll burn more calories at rest. It also means your workout takes half as long! Our cutting-edge equipment like Ski Ergs, Versa Climbers and Assault Bikes do double duty, providing cardio training, while engaging your muscles for a more efficient routine.  
6. Rock Climbing & Skiing in SOBE & Coral Gables
If you live in Coral Gables, South Beach, or Miami, FL, you might assume that rock climbing or cross country skiing are out of the question. But at Sweat440 in Miami Beach, our equipment provides that experience without having to hop on a plane. Our Versa Climbers mimic rock climbing, as you climb with your legs and pull with your arms, which remain above heart level for the ultimate cardio workout.
Our machines are so innovative, they can also be used in adaptive ways to accommodate those who can't use certain parts of their body. Our Ski Ergs offer a skiing experience, minus the crashing and burning you'll encounter on the actual slopes. This invigorating workout is heart-healthy, but it also gives you an enviable physique.
7. Total Body HIIT Workouts
Does your current workout have a bias? Many people have a favorite, like "leg day" or "ab day" or strictly cardio. However, a varied, total body workout is key to achieving the body that you want. Our muscles all work together, so it's important to give each of them attention. It's also important to avoid over-training a certain muscle group, which won't have the desired effect you're seeking.
Sweat440's HIIT classes offer a total body workout every single day. But each class also has an emphasis on certain muscle groups, so you can safely train with us every day without overdoing it. Monday might focus on shaping your lower body, while Tuesday might involve shredding your upper body, but all classes work your entire body, especially your core. To maximize your fitness, make sure you're doing your whole body justice with your workouts.
8. South Beach Worthy Cycling & Rowing
You've probably ridden a bike before. You might have even tried a spin class. But those workouts leave your upper body out of the equation, even if you throw a few dumbbells into the routine (which is actually dangerous for your spine while you're cycling). Sweat440 has a better alternative– Assault Bikes combine with several other exercises in a single session. At our South Beach gym, each exercise is repeated for 3 45-second sets, and you rotate through 4 stations with 3 different exercises.
So, you get the benefit of cycling, but it's coupled with proper resistance and upper body exercises for a better workout. Likewise, our rowers provide a cardio boost, but they're supplemented by other tools like sleds, sliders, kettlebell, dumbbells, and TRX for a workout like no other. Cycling and rowing at Sweat440 are next-level workouts that create a south beach worthy impact.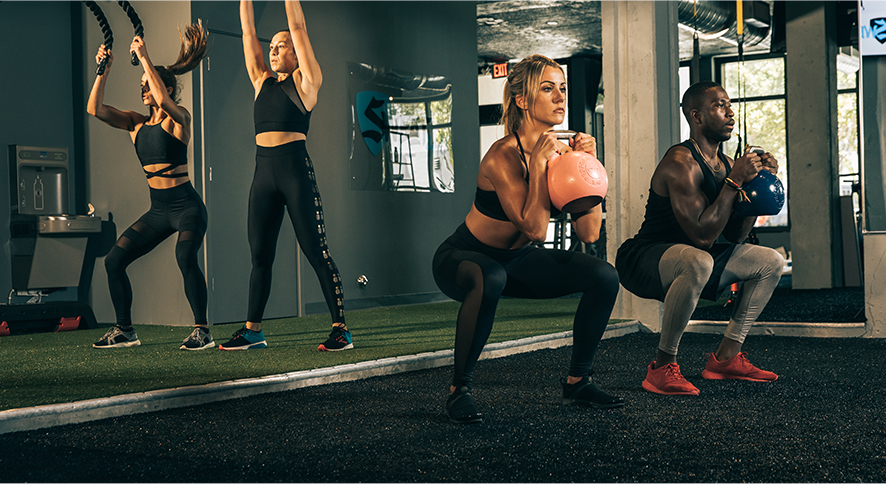 How to Enhance Your South Beach Workouts
Personal Training
Safer Boot Camp = HIIT Classes
Yoga & Pilates Stretches
Group Fitness Classes
State of the Art Equipment
Rock Climbing & Skiing, SOBE-Style
Total Body HIIT Classes
Compound Circuits of Cycling & Rowing
Sweat440 Miami Beach
1916 Bay Rd., Miami Beach, FL
Sweat440 Brickell
25 SW 9th St., Suite G100, Miami, FL
Sweat440 Coral Gables
301 Altara Ave., Suite 111, Coral Gables, FL
Sweat440 Doral
8403 NW 53rd St., Doral, FL