State of the Art Group Fitness Classes at Top Gym in Montreal
What Makes Sweat440's Gym Offerings So Unique?
Sweat440 is a groundbreaking gym with cutting edge training methods. One of our most distinctive assets is our class scheduling system. We offer high intensity interval training (HIIT) classes every 10 minutes, 7 days a week. You won't find another fitness center in Montreal with that many gym offerings available to its members. At Sweat440, you'll never get stuck on a waiting list, or miss a class if you're running late. With openings every few minutes, your workout is guaranteed at Sweat440 Montreal, no matter when you show up!
In addition, Sweat440 is a contract-free gym with free classes for all newcomers. You don't have to pay anything to try a class, and you don't have to sign a contract to join. We have the best risk/reward profile of any gym. There's no risk to join, and the rewards are remarkably better than what you'll find anywhere else. Read on to learn why!
How Does Sweat440's Health Club Innovate Group Fitness?
Sweat440 is the perfect place to try group fitness classes, because our classes are safe for all fitness levels. Classmates move throughout 4 different stations, each of which has 3 different exercises. Our trainers guide you through 45-second bursts of intense exercise, followed by 15 seconds of rest. You'll repeat each exercise 3 times, completing 36 total sets involving 12 exercises per class. We provide digital animated demonstrations of each exercise at each station, so you never feel like you can't keep up with the group.
This winning format is not only highly effective for losing weight and building muscle, it's also highly customizable for each participant. We'll help you select the right resistance and number of reps to reach your goals, so you can work at your pace. Whether you're a group fitness aficionado, or a first timer, our certified instructors will ensure that you're getting your best workout. Our health club is welcoming and encouraging, providing a positive environment to accomplish fitness goals together.  
How Is Personal Training Different at Sweat440?
Our founders are forward thinking fitness enthusiasts who are renowned personal trainers. They know that personal training isn't affordable for everyone, nor does it fit into everyone's schedule. But they also know just how effective it is, so they created a gym where personal training is included at no charge in each group fitness class. Since our classes are small, our trainers can provide individual attention to each class member, providing expert insight as you move throughout the stations. There's no other gym that offers such individualized instruction for free. It's something you'll only find at the top gym in Montreal– Sweat440!
How Are Free Weights & Strength Training Used in Our Workouts?
Our trainers know that everyone needs resistance training to achieve optimal health. Whether you want to bulk up for a bodybuilding contest, tone up your thighs for swimsuit season, or rev up your metabolism, strength training must be part of the equation. Weight training also guards against bone and muscle loss, which lead to health complications. So, our trainers devised compound cardio circuits that incorporate strength training in the cardio exercises.
With state of the art tools like VersaClimbers, Ski Ergs, and Assault Bikes, you're building muscle while burning calories, all while having a blast! Our innovative equipment is superior to a typical free weight rack since it saves you time and is adaptable to your needs. For example, our Ski Ergs can be used from a seated or standing position, and our VersaClimbers work your lower body as well as your upper body at the same time. Rather than doubling your time in the gym, cut it in half with our classes that build strength training into your cardio workout.
Why Is Sweat440 the Preferred Gym for Weight Loss?
Sweat440 is a dedicated HIIT gym. All of our classes are centered around interval training since it's the most effective tool for weight loss as well as muscle definition. Sweat440 Montreal is the best gym for losing weight because every single one of our classes will help you reach your VO2 Max, which is the most oxygen you can consume during a workout. This links directly to achieving EPOC (excess post-exercise oxygen consumption). In other words, you'll not only burn more calories in our classes, you'll also keep burning calories long after your workout ends. If you want to lose weight quickly, look no further than Sweat440!
Tennis? Squash Courts? What's the Square Foot Usage?
Another reason members rank us the top gym in Montreal is that we don't waste your membership dues on unnecessary square footage. While tennis and squash courts are fun for some, they aren't the reason most people join a gym. We use every square foot of our gym to provide exactly what you're looking for– a healthier, better physique! Other gyms charge a fortune to house certain amenities that most gym goers don't use. At our gym, we keep your costs low by not wasting space; instead investing it in the top trainers and best equipment for your workout.
Want to Try the Top Montreal Gym? Your First Class Is Free!
Ready to see why Sweat440's classes are the best in Quebec? Try a class for free today! All of our classes are free for newcomers, so check out our schedule and see which one interests you the most. Want to shape your lower body, shred your upper body, or crush a weekend warrior session? Give us a call, book online, or stop by Sweat440 Montreal, near the MADA Community Center, to see what we're all about, absolutely free of charge!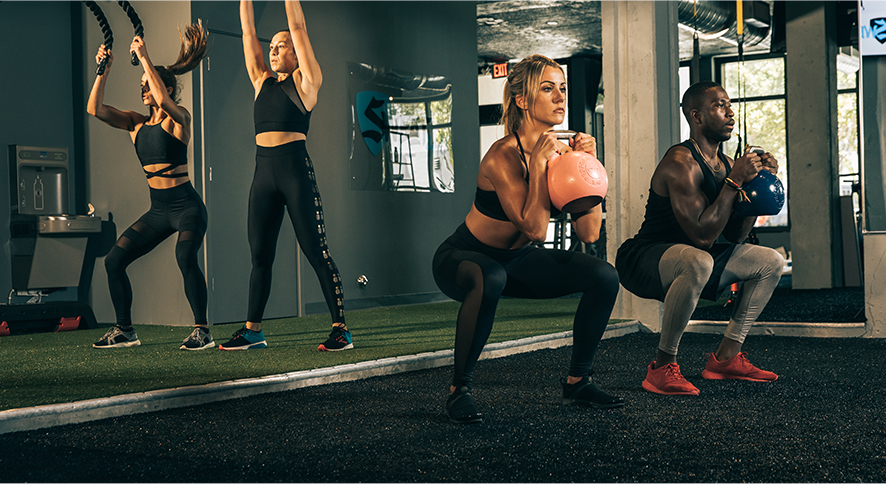 Why Is Sweat440 the Top Gym in Montreal?
Sweat440's Cutting Edge Gym Offerings:
VersaClimbers
Ski Ergs
Assault Bikes
Kettlebells
Sleds, Sliders
TRX
Digital Demos at Each Station
Selfie Station
Scheduling App
Sweat440's Winning Health Club Philosophy:
No Contracts
Free Classes for Beginners
Personal Training Included
Classes for All Fitness Levels
Classes Every 10 Minutes
HIIT Methodology
No Wasted Space=Better ROI
Risk-Free to Join
No Penalty to Cancel