9 Reasons Why the Top Gym in Miami Is a Boutique Gym
From warehouse-style chain gyms to family-style YMCAs, Miami is home to many types of fitness centers. But there's one type that stands out from the rest, for reasons that include quicker results, cutting edge equipment, and a more enjoyable member experience. Sweat440 Miami's boutique-style gym is your best bet for optimal fitness. Here's why you're going to love it.  
1. Sweat440's Top Gym in Miami Offers Free Trials
Right off the bat, one of the best things about smaller gyms in Miami is their ability to customize your experience. Our founders are highly sought-after personal trainers who spent years listening to what gym goers wanted from a gym. One of the top requests? A free trial to see how they liked the gym. At Sweat440, every newcomer gets a free trial, which includes a tour of the facility, and also a free high-intensity interval training (HIIT) class with our expert trainers. You won't receive that at most gyms in Miami, so choose carefully to make sure you love a gym before signing on. Unlike most Miami gyms, Sweat440 doesn't use contracts, so if you join, you can quit at any time.
2. Boutique Gyms Have Smaller Group Fitness Classes
Taking group fitness classes is an excellent way to maximize your gym membership. They add inspiration, variety, and companionship to your workouts. They also keep you coming to the gym, since studies show that appointments and accountability are key to consistent exercise. Sweat440 Miami's group fitness classes are small, so you won't feel intimidated or crowded while working out. You'll get your own workout pod and individual equipment so you can be social or stay in your own zone if you prefer. The smaller class sizes mean you'll never have to wait for equipment. Our classes start every 10 minutes, so you won't have to wait for an opening in a class either.
3. Boutique Fitness Fuses Rock Climbing With Weight Training
One of the most exciting things about some boutique fitness centers is that they can offer cutting edge fitness tools to enhance your workout. While some boutique centers specialize in only one thing, like hot yoga, Sweat440 provides a wealth of full-body equipment for a superior HIIT workout. We use machines like Versa Climbers, Ski Ergs, and Assault Bikes to mimic things like rock climbing, cross country skiing, and mountain biking, without the harsh elements or impact on your joints. Our trainers stay ahead of the curve on fitness technology, so that we're always providing the most innovative tools to our members.
4. Smaller Gyms Provide More Personalized Instruction
It might seem tempting to join the biggest gym in town, until you take a closer look. Oversized gyms don't have the same member to instructor ratio, which means you'll have a tough time getting an appointment with a personal trainer or a spot in a class. With larger gyms, group fitness classes often have generalized formats that don't provide any individualized attention.
In a smaller gym, like Sweat440, trainers circulate throughout each class to offer assistance, adjustments, recommendations, and accommodations. Your workout becomes customized without you having to pay for the extra instruction. If you want a workout plan designed specifically for you, head to a gym that sees each member as an individual and adapts each workout to suit your needs.
5. Less Crowding Means Less Risk of Injury or COVID-19
Overcrowded gyms have always posed more risk of injury or catching a contagious illness. In larger gyms, there's not enough trainer oversight to make sure you're using proper form or resistance while weight training. Gym members might throw the weights, fail to clean their equipment, or encroach on your personal space while exercising. In light of the pandemic, these risks are more serious than ever.
Sweat440 keeps class sizes small and rotates a group of classmates out of the gym every 10 minutes. Our unique scheduling system means you'll always have a spot in a class, but you'll also have minimal exposure to others during your 40-minute workout. We use hospital-grade cleaning procedures and provide spray bottles and towels to clean your equipment, in addition to our frequent sanitizing methods. A less crowded gym means less exposure to health risks, so it's more important than ever to pick a gym like Sweat440 Miami.
6. Boutique-Style Fitness Utilizes State of the Art Technology
A boutique training center often has unique advantages over typical gyms, like state of the art fitness technology. At Sweat440, we provide digital animations of each exercise on screens mounted at each station. So, you get expert instruction from our renowned trainers, along with a visual guide to show you exactly what to do. Even in your very first class, you won't feel like a rookie since we make it easy to follow along. We also have assistive tech like our scheduling app and intuitive website. We offer fun technological perks like our selfie station, where members love to record their successful completion of a powerful HIIT workout.
7. Top Gym in Miami Burns More Calories With Customization
No two people have identical body compositions, medical histories, or fitness abilities, so gyms that don't customize your workout often lead to discouraging results. At Sweat440, our small classes, led by expert instructors, provide the customized solution you need. We determine your target heart rate, ideal resistance, optimal number of reps, and exertion limit to make the most of your workout. Our trainers know how to push you beyond where you thought you could go, without pushing you too far. We guarantee quicker results, since our interval training method helps you burn calories, not just while you're working out, but also for hours after you're done.
8. South Beach & Coral Gables Gyms Have Free Training
All members of our South Beach, Brickell, Doral, and Coral Gables gyms get free personalized training in every single class. Your first class is completely free, and every class you buy after that includes individualized instruction for no additional fee! There is no other gym in South Beach that offers a deal like that, especially considering that our trainers are HIIT experts, not just average fitness instructors. You'll receive undivided attention at our Miami Beach Sweat440 gym, without having to book a personal trainer or pay a training fee.
9. Our Boutique Gym Is Near Your Juice Bar & Coffee Shop
One thing our members really love is that Sweat440 Miami is located near their favorite juice bar, coffee shop, and other social locations. You can grab a quick workout with friends and then head to Delicious Raw Kitchen & Juice Bar or Panther Coffee just down the street. Larger gyms are often located in more obscure spots where they can find a big plot of land. But boutique fitness centers are often right where you want to be to run errands, meet friends, or head to work. Convenient gyms in Miami are the way to go if you want to make time for fitness.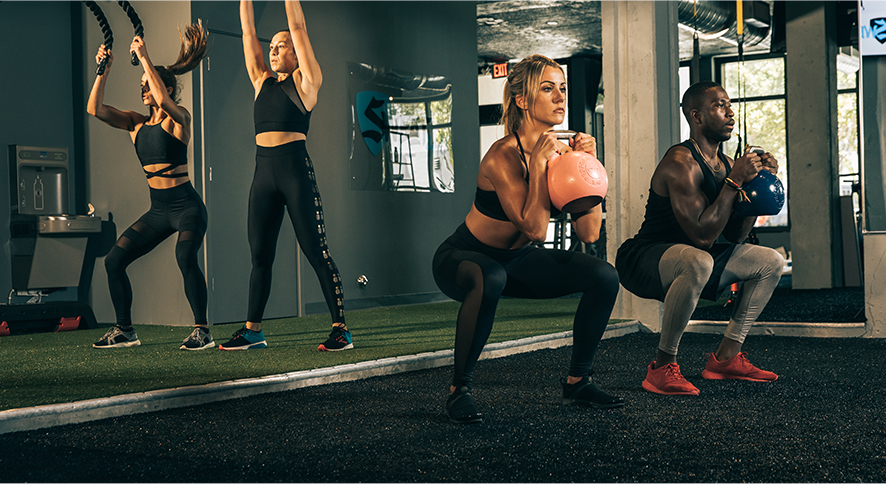 9 Reasons to Try Sweat440's Top Miami Gym
9 Things You'll Love at Sweat440:
Individualized workouts
Free trial classes
Less crowded, more sanitized
Burn calories faster
More classes to choose from
State of the art technology
Infused techniques like rock climbing
Free training in all classes
Near your coffee shop or juice bar
9 Things You'll Hate at Other Gyms in Miami:
Long wait lists for classes
Expensive and unavailable trainers
Overcrowded and less sanitary
No free classes or training
Lackluster results
Generalized vs. customized workouts
Outdated equipment
Inconvenient locations
Binding contracts and fees