6 Reasons to Follow Sweat440's HIIT Workout Plans in Florida
Sweat440's High Intensity Workout Regimen Is Superior
High intensity interval training (HIIT) builds muscle and burns calories faster than steady state cardio or traditional strength training. So, a lot of gyms claim to offer HIIT classes, but they aren't always legitimate. HIIT requires a specific ratio of intensity and recovery periods. It also blends strength training into compound cardio circuits for maximum impact. 
Many gyms neglect essential components of HIIT, and simply offer steady state, high intensity workouts. Sweat440 Coral Gables, Sweat440 Miami Beach, and Sweat440 Brickell all provide a true HIIT workout with specific increments and resistance built into all of the cardio. Our 40-minute classes pack 36 sets into each workout. In each of our four 10-minute stations, you'll complete three sets of three different exercises. 
Each exercise is performed intensely for 45 seconds. There are 15-second recovery periods after each set. The sequence helps you hit your target heart rate and burn more calories. At Sweat440, you'll hit your VO2 Max, which is the most oxygen you can consume during a workout. The result is maximum fat loss and calorie burn for hours after the HIIT workout. Don't settle for just any workout labeled "HIIT." Get all the benefits of HIIT at Sweat440.
Sweat440 Offers a Contract Free HIIT Workout Plan
Another reason to try Sweat440's HIIT workout plans in Florida is that Sweat440 is a contract-free gym. That means you'll never get locked into a membership you no longer need. There are no joining fees, cancellation fees, or hidden fees with Sweat440. You simply pay for the classes you take, and you aren't charged for classes you have to miss. 
In addition, your first class is free at Sweat440! A contract-free gym with free classes … that makes Sweat440 the most affordable gym in Florida for HIIT! Try a free class at Sweat440 Coral Gables near the Shops at Merrick Manor, or Sweat440 Brickell near Brickell City Centre, or Sweat440 Miami Beach near Fresh Market today!
Sweat440 Teaches HIIT Gym Workout Plans Exclusively
Sweat440 is superior to other Florida gyms because it teaches HIIT exclusively. All of the instructors are HIIT experts who teach HIIT classes seven days a week. Other gyms have instructors that teach a variety of classes and don't specialize in a particular method. But Sweat440 is a dedicated HIIT gym, so you get the best training, as well as the latest HIIT equipment, when you complete our HIIT workouts. 
Sweat440's gyms are stocked with cutting-edge technology like SkiErgs, VersaClimbers, Assault Bikes, and rowers. Our strength training equipment burns fat while building muscle mass. And our HIIT cardio circuits include resistance tools like kettlebells, battle ropes, and TRX. Each participant uses the resistance and reps that are right for them, so our HIIT classes are safe for all fitness levels. This isn't true at all gyms, so choose Sweat440 for safe results.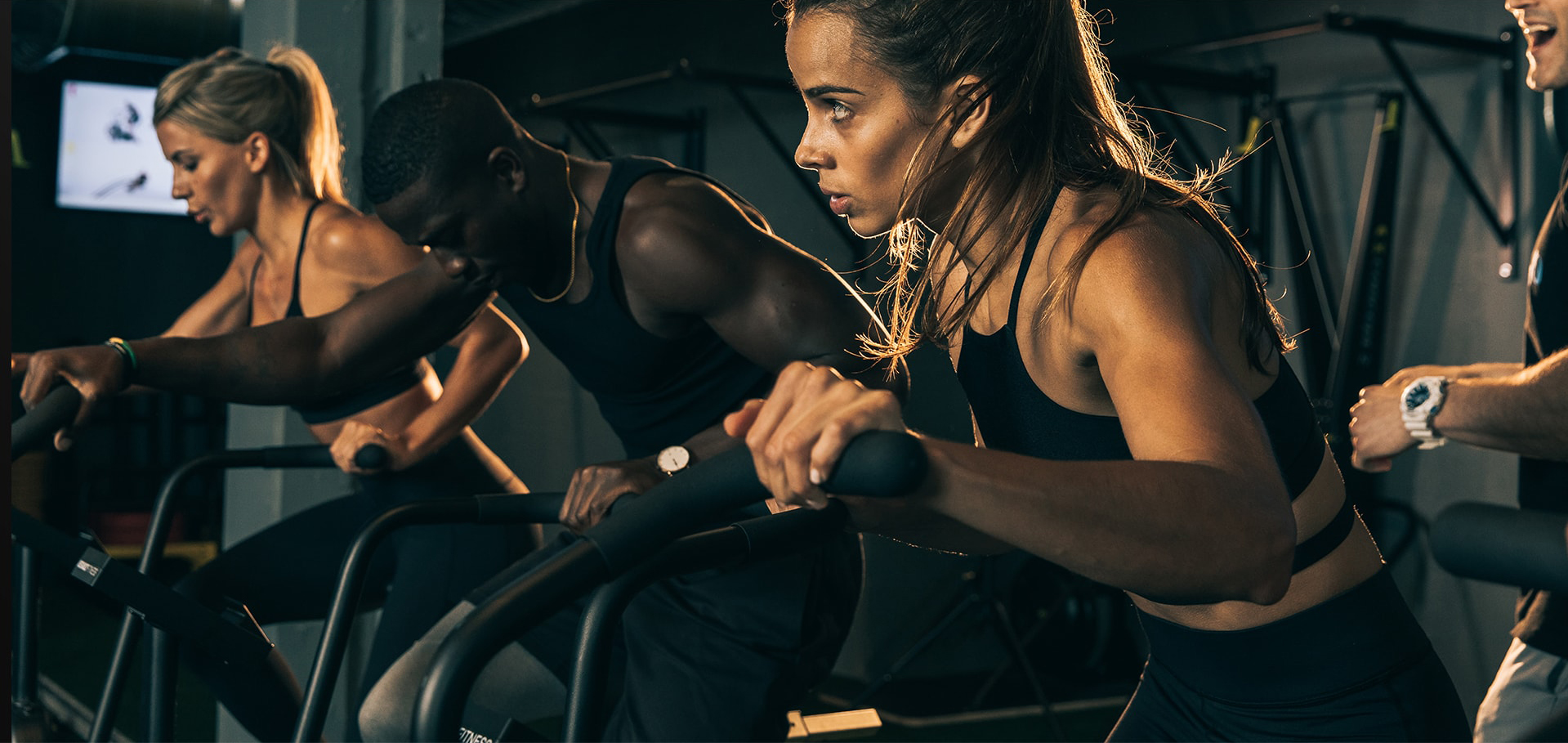 Sweat440's HIIT Workout Schedule Changes Daily
Unlike most gyms that only offer a HIIT class or two per week, Sweat440 teaches HIIT all day. We offer a full body training program that emphasizes different muscle groups on different days of the week. So, you can safely do HIIT as often as you want at Sweat440 without overtraining any muscles. The daily variety keeps you engaged. You'll never be bored at Sweat440! And your body won't hit a plateau. Our rapid intervals keep your metabolism from getting complacent, so you burn more calories in less time. 
Sweat440's HIIT Classes Start Every 10 Minutes
No other gym in Florida has a schedule like Sweat440's. Our classes start every 10 minutes, so there's always one that fits your schedule. If you're running late, you don't have to miss a class. You simply join the next one. This means you never get stuck on a waiting list and never get boxed out of a certain class. 
We train the same muscle group all day, then switch to a new one the next day. So, you can come any time that day and take the class you want. Most Florida gyms are overcrowded, and people pay membership fees for classes they can't get into. Sweat440 takes the opposite approach. You only pay for the classes you take, and we have plenty of classes for everyone! 
Sweat440's HIIT Exercises Are for All Fitness Levels
One of the best things about Sweat440 is that our HIIT workouts are designed for all fitness levels. HIIT is not like steady state sessions on a bike or treadmill. It's fast-paced, moving you through several exercises. To accomplish this at every fitness level, it requires trained instructors. Our trainers circulate throughout the class providing assistance, accommodations, suggestions, and motivation! Our HIIT workouts for women, men, beginners, and pros, are all the same. Because each Sweat440 class is customizable and adaptable. 
Our trainers make sure each person is working toward their personal best without risking injury. Each station has an animated demonstration of the exercise, so you always know what to do. This makes it easy for even beginners to jump right in! Sweat440 offers the best HIIT workout plans in Florida. Each affordable workout is led by HIIT specialists who help beginners and experienced athletes exceed their goals.  
What Are the Best HIIT Workout Plans in Florida?
8 Features of Great HIIT Workouts:
Burns fat and builds muscle simultaneously

Intense intervals plus recovery periods

Adaptable to different fitness levels

Led by qualified HIIT instructors

Changes muscle groups daily 

Increases both fat loss and muscle mass

Avoids steady state cardio

Offers free classes
8 Great HIIT Gyms in Florida:
Sweat440 Coral Gables

Sweat440 Brickell

Sweat440 Miami Beach 

Sweat440 Miami Lakes

Sweat440 Doral

Sweat440 Coral Springs

Sweat440 Upper East Side

Sweat440 Deerfield