Why People of All Fitness Levels Join This Nearby Gym in NYC
If you live in NYC, you know that some fitness clubs have a reputation for certain types of members. There are the barbell-slamming, grunting, vein-popping gyms; the elitist, intense, cycling gyms; the crowded, unwelcoming, waitlisting gyms… you could probably name several more "types" of NYC fitness clubs.
But there's a refreshingly different nearby gym NYC residents are raving about. One of the key perks? It isn't limited to a "type" of member. Sweat440's NYC gyms in Chelsea, near Gramercy Park, and in FIDI, near Pace University, provide a killer workout for members of all fitness levels. Whether you're lacing up your sneakers for the first time since COVID-19 struck, or training for the next NYC Marathon, Sweat440 welcomes you and offers an unbeatable workout.
Sweat440's high-intensity interval training (HIIT) classes are designed to let you work at your own pace and ability, so everyone maximizes their potential. While we're NYC's favorite new gym, you don't have to worry that we'll be too crowded. Our unique scheduling system ensures that everyone has plenty of space to work out. Here are 3 reasons why people of all fitness levels love our nearby gym in NYC.
3 Reasons Our Fitness Clubs Work for All Fitness Levels
Our Trainers Provide Individual Instruction
At many fitness clubs, you have to figure things out on your own. You might end up overdoing it, or not working hard enough. And if you don't know your target heart rate or capabilities, you aren't likely to see results. You might injure yourself with the wrong weights, or the lack of proper warm up and cool down. But it's no wonder that people go it alone at other gyms, personal training can cost a fortune!
At most fitness clubs you either have to pay a bunch and a vie for an appointment time with a trainer, or settle for a class that teaches one pace to a group of diverse people. With their trainers, you shell out a bunch of money, and the schedule is very restrictive. If you're sick, or running late, you're just out of luck. Classes at other gyms usually cost extra in addition to membership fees, and they're taught in a general way that might not be suited to you. Not to mention, they often require scheduling months in advance.
At Sweat440, our classes include free personal trainers, so you're never on your own. You don't have to pay a fortune for individual instruction, since it's part of each class. Our trainers circulate through every small group class to correct form, assist, and provide accommodations. It's the only gym where personal training is a free part of every single class! Our classes start every 10 minutes, so you can always get a spot, and we keep classes small so you always get individual attention. Whether you're a beginner or a pro, our fitness clubs generate results.
Our Equipment is Diverse and Versatile
Are you bored of treadmills? No problem! Do bikes hurt your knees? We've got you covered! Do weight rooms intimidate you? We're here to help! At Sweat440, we use compound cardio circuits that fuse cardio with resistance for a unique workout that is never dull or repetitive. If you aren't a fan of certain cardio machines, you'll be thrilled to try our state of the art equipment like Ski Ergs and Versa Climbers that provide cardio in new, invigorating ways.
And if you want weight training in your routine, but are intimidated by the weight rooms at other gyms, you'll love how our trainers incorporate dumbbells, kettlebells, slam balls, and TRX into the routine seamlessly to build muscle without intimidation. Weight training has countless benefits, from toning up, to losing weight, to strengthening your brain. So don't be resistant to resistance work, just let our trainers lead the way!
Since we have such a breadth of tools to work with, we can customize a workout for your needs. Our Ski Ergs can be used seated or standing. Our sleds can carry heavy or light weight. Our Assault Bikes offer upper and lower body toning. Each of our tools can be used to achieve your distinct fitness goals.
Our Memberships Are Flexible
Do you grind out workouts on a daily basis? Sweat440 is here for you! Our classes are different every day, so you can come as often as you like, and always get a different workout. You don't have to worry about overexerting certain muscle groups, since our full-body workouts target a different set of muscles each day.
Are you more of a twice a week gym-goer? You're in good company at Sweat440 too! Come in whenever you like and get a great workout! Maybe you plan on 3x a week, but your crazy schedule means sometimes you come once a week, and other times, you fit those 3 sessions in. One good thing about Sweat440 is our memberships are designed for all different schedules. If you come twice a week, you don't pay the same amount as someone who comes 7 days a week.
Our memberships don't involve contracts and have no minimum purchase. You can buy an unlimited membership, a 10-pack, an individual class… the choice is up to you! If you just want to dip your toe into fitness, we make it affordable to do so. And if you want to go all in, we offer bigger discounts the more classes you buy! As we mentioned, our classes start every 10 minutes, and the best part is, your first class is free! Come join the nearby gym NYC residents of all fitness levels choose for optimal fitness!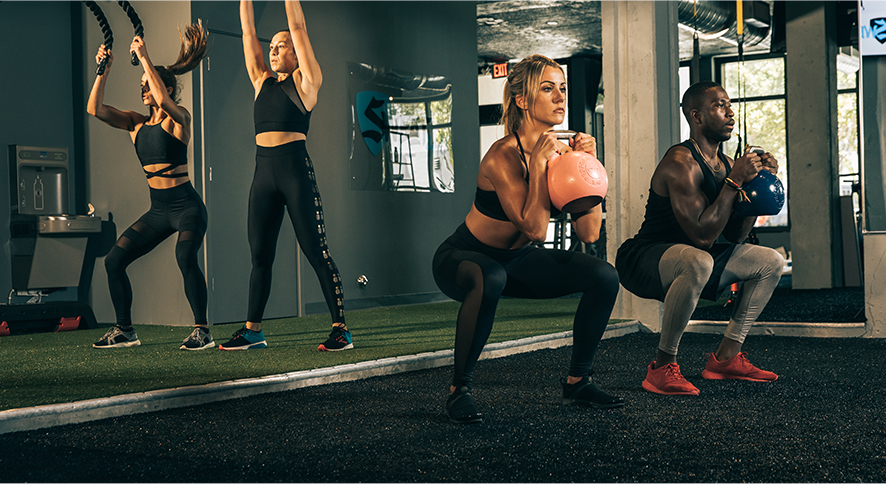 The Nearby Gym in NYC With Something for Everyone
How Our Gyms Suit All Fitness Levels
Diverse equipment
Free training in classes
Accommodations for exercises
Flexible memberships, no contracts
Classes every 10 minutes
Compound cardio for quick results
Weight training without intimidation
Classes differ daily, targeting various muscles
Welcoming environment for all
Sweat440's NYC Fitness Clubs Nearby
 600 6th Ave.
 New York, NY 10011
 (646) 495-1676
 80 John St.
 New York, NY 10038
 (917) 383-1050