Success Stories from Free Class Gym Members
Kicking Off
 Imagine achieving your fitness objectives within a short span of 40 minutes! At SWEAT440, we are redefining fitness norms by making them both enjoyable and attainable. We offer high-intensity, adaptable workouts, suitable for everyone, irrespective of their fitness experience. Thanks to our novel #Neverlate program, a fresh session commences every 10 minutes, so tardiness is no longer a roadblock to your wellness aspirations.
Our claim isn't unsubstantiated. The real evidence lies in the transformational narratives of our first-time, free gym class participants who have sweated it out, persisted, and hit their fitness targets at our gyms. Let's take a closer look at these motivation-inducing success tales.
Inspiring Transformation Tales 
The introductory free gym classes at SWEAT440 have ignited numerous personal metamorphoses. Our Google Business reviews are overflowing with enthusiastic testimonies from members who've had transformative experiences at our gym.
Consider Sarah, a software engineer who went from battling exertion to surmounting it, thanks to the systematic attendance of our free gym sessions. Jack, a professional always against the clock, managed to carve out time for his fitness due to our innovative #Neverlate feature, shedding 15 pounds in merely two months! His glowing review encapsulates his journey, "The most excellent gym in the vicinity. Never jam-packed, fabulous instructors, and a challenging workout every time. A solid 10/10 recommendation!"
Triumphs and Victories
The accomplishments of our members aren't confined to the gym premises. The resilience and determination cultivated at SWEAT440 Doral often transpire in other areas of their lives.
Melissa, a mother of two, was keen to recover her pre-pregnancy fitness. With consistent participation in our free gym classes, she not only regained her fitness but also developed a sustained passion for wellness. Carlos, a beginner, surprised himself by completing a half marathon after training with us. He attributes his milestone to our high-intensity, 40-minute workouts, saying, "A heartfelt thank you to Sweat440. With their top-notch coaching staff and superb workouts, I achieved a personal dream of running a half marathon!"
These accounts truly exemplify our motto – "You get what you sweat."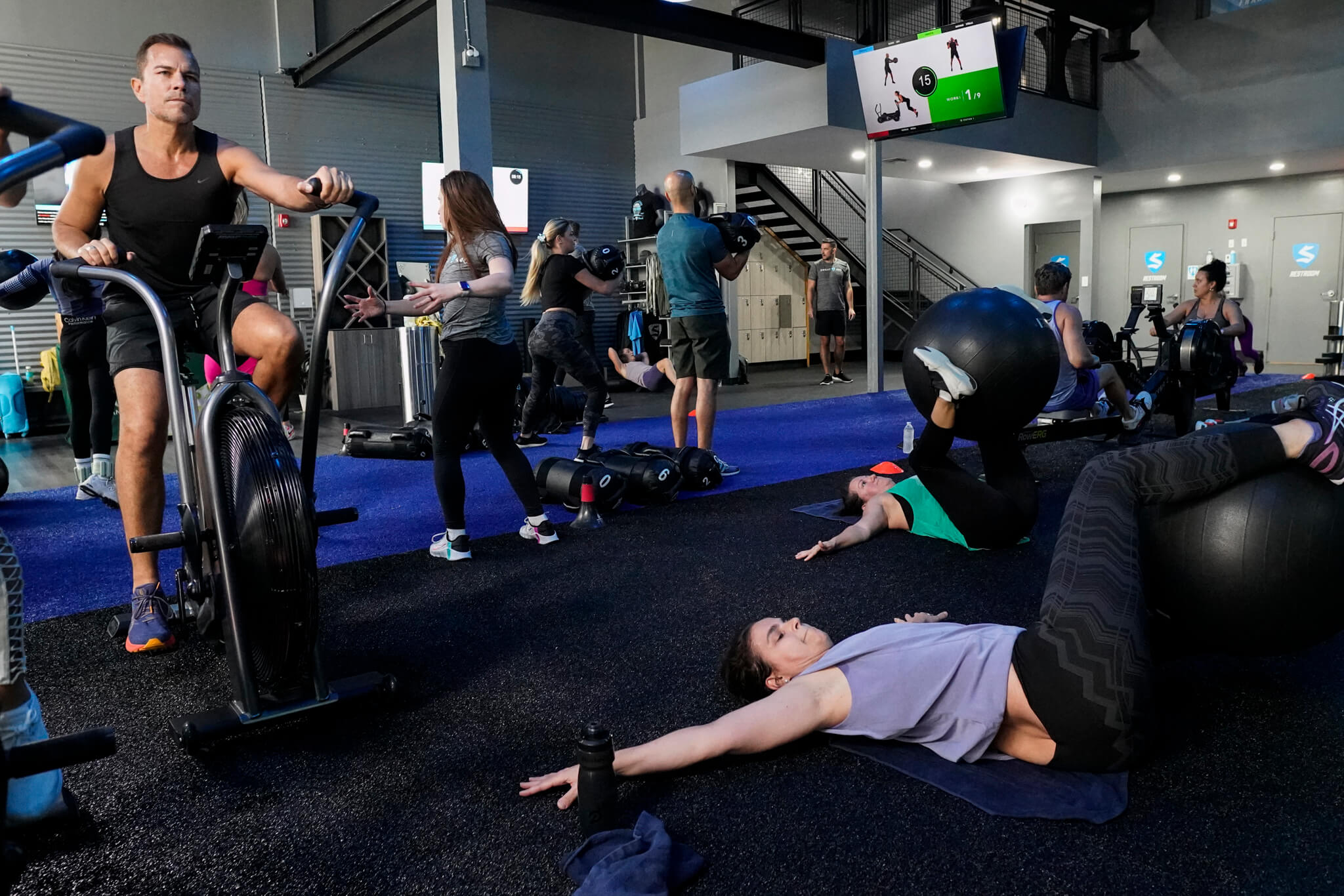 Collective Encouragement 
At SWEAT440, we consider fitness a collective pursuit. It's a journey better embarked upon with support, cheer, and camaraderie. Hence, we've cultivated a close-knit community fondly named the #440Squad. This is a place where we're more than just gym members; we're a tribe united by shared goals and collective experiences.
Our Google Business reviews echo this sentiment, highlighting the positive vibes our members experience in each workout. A significant part of their progress and achievement is attributed to this nurturing environment. This bond is further strengthened by our trainers, who, besides being guides, serve as vital elements of this encouraging community.
Emma, a regular member, eloquently expresses our community spirit: "Absolutely smitten by this place! The trainers and members are so warm, and everyone genuinely motivates each other to power through the workout."
After delving into the empowering success stories of our members, it's evident that SWEAT440 offers more than a traditional workout environment. We serve a comprehensive fitness experience, blending efficient high-intensity training with unmatched community backing. This unique approach reflects in the personal transformations, accomplishments, and camaraderie exhibited by our members.
But these are not just standalone stories. They have repeated affirmations of the potential you possess when you become a part of our #440Squad. They validate our mantra, "You get what you sweat", and at SWEAT440, each sweat bead propels your fitness journey.
Start carving your success narrative with us. Begin your transformative journey with a free gym class at SWEAT440 in Doral. Our gym is conveniently located, well-equipped, and houses expert trainers ready to assist you.
Initiate today and understand why our members can't stop singing our praises. In Mike's words, "Without a doubt, the best gym I've ever joined. The energy, the people, the workouts…everything is top-notch. I'm in the best shape of my life, and I owe it all to Sweat440."
Experience the distinctive SWEAT440 way and join our flourishing #440Squad today. Your wellness expedition commences here.
Keep Your Fitness Journey Going
Nurture motivation

Holds you accountable

Have fun

Never the same workout

Meet new people
Health Benefits

Social and Emotional Benefits

Friendly Environment

Consistency and Commitment

Confidence Boost