Free First Class Fitness: How to Maximize Your Workout Without Breaking the Bank
In an era when top-notch fitness experiences often bear a considerable cost, SWEAT440 Madison emerges as a game-changer. Dispensing complimentary premiere classes, we redefine fitness accessibility, orchestrating outcomes without a fiscal burden. No longer do you need to empty your pockets to revel in premium, expert-led exercise regimens?
Unveiling The SWEAT440 Complimentary Class Experience
At SWEAT440, our conviction is steadfast – premium, instructor-guided fitness experiences should be available to everyone. Hence, our open invitation to a free premiere class. Our fitness doctrine is all-encompassing, vibrant, and engaging, thereby democratizing fitness regardless of budgetary limitations. Our premiere session isn't a mere exercise routine; it's a comprehensive encounter, encapsulating everything SWEAT440 embodies. From our avant-garde 40-minute routines to our galvanizing, high-voltage gym ambiance, we present a holistic introduction to our idiosyncratic fitness philosophy. The frequency of these classes, scheduled every 10 minutes, ensures that even the busiest bees find a suitable workout slot. This premier session offers a glimpse into the SWEAT440 universe, reflecting our dedication to making fitness pleasurable, attainable, and accessible.
Embarking on Your Fitness Quest with Zero Fiscal Strings Attached
Fitness journeys are singular, personal adventures, and the decision to embark on one should be void of any monetary anxieties. At SWEAT440, we invite everyone to set forth on their fitness quest without any financial obligation. Our complimentary premiere class presents an opportunity to test drive our unique concoction of strength training, cardio, flexibility workouts, and circuit training routines, providing a well-rounded, full-body regimen sans cost. This is your chance to taste the waters and ascertain if our methodology aligns with you. It's an open invitation to delve into our welcoming community, vibrant environment, and lively workouts, all meticulously curated to help you reach your fitness aspirations. From bolstering your stamina and endurance to enhancing your agility and equilibrium, this class acts as a springboard towards a healthier, fitter lifestyle, all without causing a dent in your wallet.
SWEAT440's Progressive Approach to Fitness Coaching
SWEAT440 leads the vanguard of fitness evolution, perpetually morphing and adapting to offer efficient, result-oriented regimens. Our unique 4-station circuit module is meticulously crafted to optimize your workout in a concise 40-minute window. Each session targets different muscle groups and diverse fitness facets, including cardio, strength, flexibility, and power. We incorporate complex movements and brief rest intervals to ensure continuous body movement, an elevated heart rate, and persistent muscle stimulation. Our classes commence every 10 minutes, which signifies you can saunter into our gym at your convenience. At SWEAT440, you're #Neverlate! This flexibility eliminates the anxiety of tardiness, delivering a fitness experience that's as convenient as it is effective.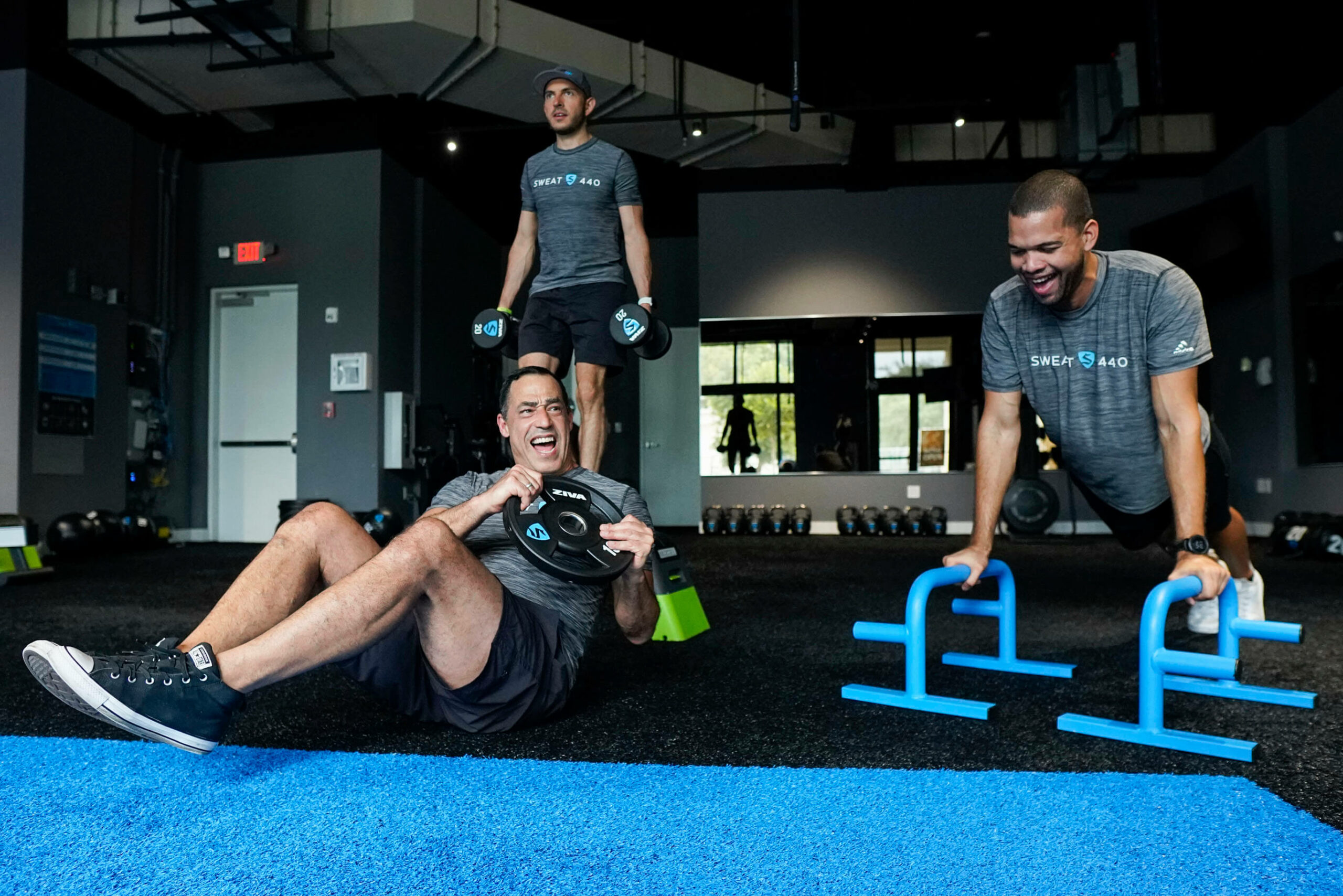 From Beginners to Pros: Fitness for Every Skill Level
Inclusivity lies at the heart of SWEAT440. Our premier class is thoughtfully designed to cater to all fitness levels, thereby being the ideal jump-off point for any fitness journey. If you're dipping your toes in the fitness world, our certified coaches will guide you through each movement, prioritizing correct form and safety. If you're an old hand at fitness, our high-voltage workouts will push your limits, elevating your fitness to uncharted territories. Each exercise within our 40-minute regimen can be modified to align with your fitness prowess and objectives. This flexibility ensures that everyone, regardless of their fitness capacities or experiences, can enjoy and benefit from our classes. At SWEAT440, novices metamorphose into enthusiasts, and enthusiasts evolve into experts. Join us for a free class and set forth on your journey towards a healthier, fitter you.
Embracing the #440Squad: The Power of Community
Stepping into a SWEAT440 gym signifies more than commencing a workout; it's the initiation into a lively community of like-minded individuals. When you participate in our complimentary premiere class, you integrate into the #440Squad, a supportive conglomerate of trainers, staff, and fellow gym members who constantly motivate each other to achieve their fitness dreams. Our community constitutes individuals from diverse walks of life, from busy executives and parents to fitness rookies and seasoned athletes. Despite our differences, we are united by a shared aspiration: to evolve into healthier, stronger versions of ourselves. The camaraderie within the #440Squad enhances every workout, making each session enjoyable and fulfilling. Our complimentary premiere class presents an opportunity to witness this inclusive, positive, and motivational atmosphere firsthand.
Embarking on a fitness journey shouldn't be a privilege limited to the affluent but an accessible avenue for all. At SWEAT440, we are transforming the fitness landscape with our complimentary premiere class, enabling you to experience top-tier, instructor-led workouts sans any fiscal obligation. From our innovative fitness modules and flexible class schedules to our inclusive fitness community, SWEAT440 offers a fitness experience unparalleled. Ready to stride towards a healthier, fitter lifestyle? Stop by SWEAT440 Madison and register for your complimentary premiere class. Remember, at SWEAT440, your sweat determines your rewards! So step into our gym and commence your fitness quest today. Your quintessential workout experience is just a session away.
Why You Should Join a Gym
Expert Guidance

Personalized Plan

Cost-Effective

Variety of Equipment

Personal Support
Health Benefits

Social and Emotional Benefits

Friendly Environment

Consistency and Commitment

Confidence Boost