Sweat 440: Join the Best HIIT Classes in Alabama
Sweat 440 is the best place in Alabama for high-intensity interval training (HIIT) classes. The classes are intense but fun, and the results are amazing. Located at 10878 County Line Rd Madison, Alabama, you can find our state-of-the-art boutique fitness studio near the Alabama Credit Union. Whether you want to lose weight, build muscle, or get in better shape, Sweat440 is the place for you. This article offers compelling reasons to join the best HIIT classes in Alabama.
Sweat 440 is one of the best boutique fitness studios in Alabama
Many people think going to the gym is just about working out. However, there is more to it than that. The environment that you work out in can have a big impact on how effective your workout is. That's why boutique fitness studios are becoming increasingly popular. They provide a more intimate and focused setting than your typical gym. This allows for a more personalized experience and more one-on-one attention from instructors.
Sweat 440 is one of the best boutique fitness studios in Alabama. Our supportive and positive environment is perfect for anyone looking to get in shape and feel good about themselves. If you're looking for a more intimate and focused workout experience supervised by a team of experienced and passionate instructors dedicated to helping you reach your fitness goals, then Sweat 440 is the place to go.
Sweat 440 offers group fitness classes
When it comes to working out, people take many different approaches. Some people prefer to go it alone, while others prefer the motivation and support of working out in a group. Group fitness classes can be more motivating than working out alone. When you have others to work out with, you're more likely to push yourself harder.
Sweat 440 Madison offers group fitness classes that are perfect for those who want to get fit with other people. The classes are small, so you can get to know the other people in your class and receive personal attention from the instructors. And the schedules are flexible, so you can enter a class whenever you want without scheduling it in advance — you're never late.
Sweat 440 offers the best HIIT workout classes
Sweet 440 offers the best HIIT workout classes for several reasons. Our classes are led by certified trainers who know how to get the most out of our clients. We use various equipment to ensure our clients are challenged and engaged throughout their workouts. And we offer a unique HIIT workout that implements all elements of fitness, including cardio, strength training, weight training, resistance training, core training, and cross-training. Our HIIT classes challenge your body and help you reach your fitness goals.
Sweat 440 offers extremely flexible classes
The problem with traditional group fitness classes is that they need to be scheduled in advance. Depending on the popularity of the group fitness class, you may have to schedule a class a few hours or even days in advance. After scheduling the class, you have to plan your entire day around the class to ensure you're on time. If you're late, you generally have to forfeit that class. That's one reason why people stay away from group fitness classes.
However, Sweat 440 offers small, flexible group fitness classes that offer the benefits of working out in a group environment without the inconvenience. Each class consists of four 10-minute fitness stations that an individual must move through. As such, after every 10 minutes, a new group of people can join the HIIT class. This unique format allows new members to join our group fitness classes every 10 minutes. You're never late for a class, and there's no need to schedule a class in advance!
Sweat 440 targets all major muscle groups
Sweat 440 offers dynamic workouts that target all major muscle groups throughout the week. We have different days dedicated to specific groups of muscles, such as the lower body, upper body and core, lower body and core, and full body. Furthermore, different days of the week also have different goals, such as shaping, shredding, and sweating. You can plan your schedule strategically to ensure you're targeting all major muscle groups during the week.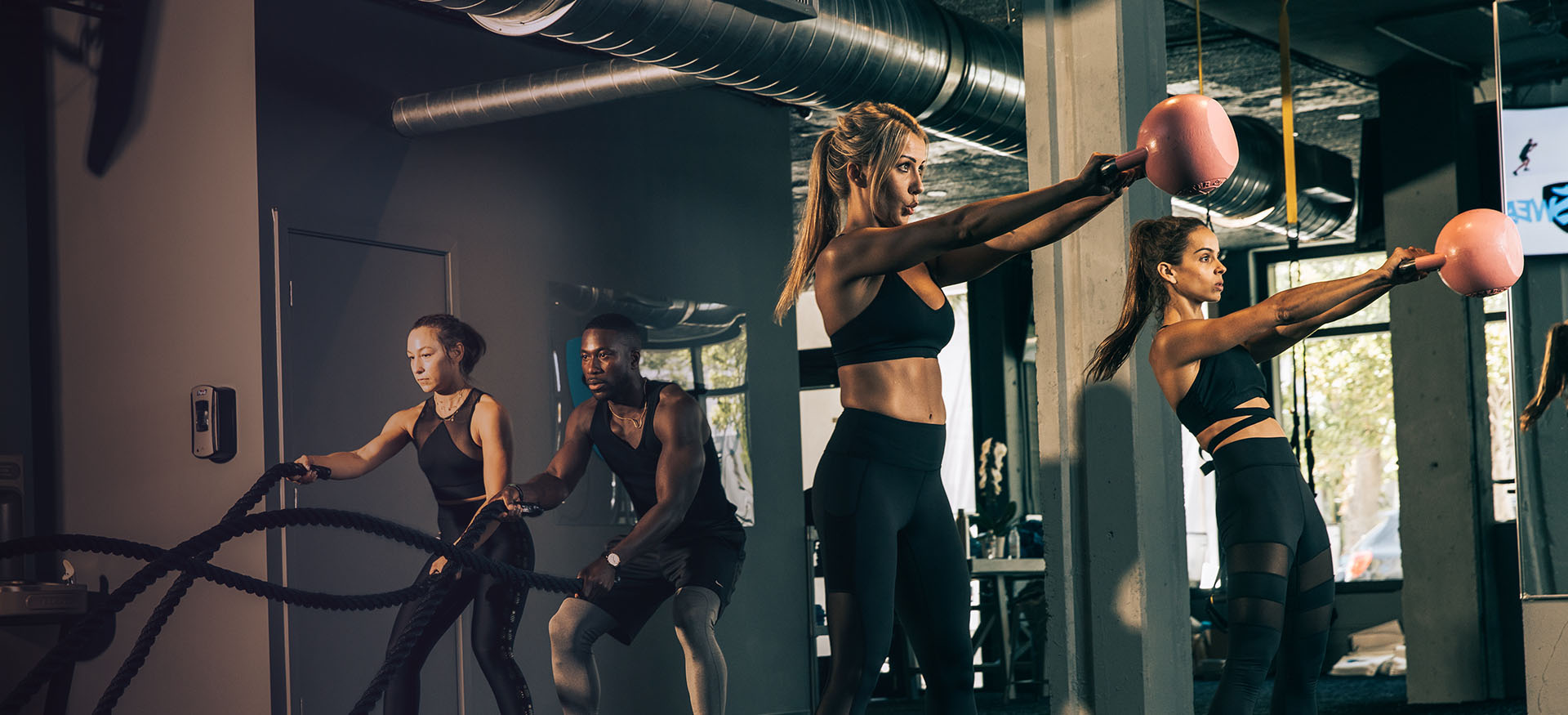 Sweat 440 offers flexible memberships
Life can be unpredictable, and your fitness goals might change over time. That's why we offer flexible memberships that allow you to pay as you go. You can come to our facility as often or as little as you like without worrying about being tied to a contract. Our pay-as-you-go memberships are affordable and convenient, so you can get started on your fitness journey without any commitment.
Sweat 440 offers free trial workout classes nearby
Sweat 440 offers free trial workout classes to all new members in Alabama. If you're on the fence, we encourage you to drop by and join one of our HIIT workout classes. We're sure you'll love the experience, following which you can join our flexible, no-contract memberships.
Benefits of Sweat 440 HIIT Classes:
State-of-the-art boutique fitness studio

Dynamic group fitness classes

Engaging HIIT workout classes

Extremely flexible classes that don't require scheduling

Target all major muscle groups during the week

Flexible memberships without contracts

Free trial workout classes in Alabama
Monday

: Shape (Lower Body)

Tuesday

: Shred (Upper Body & Core)

Wednesday

: Sweat (Core & Conditioning)

Thursday

: Shred (Lower Body & Core)

Friday

: Shape (Upper Body & Core)

Saturday

: Warrior (Total Body)

Sunday

: Warrior (Total Body)