5 Reasons to Try Sweat440's Gym Reopening Near Me in Gables
Are you as pumped to get back in the gym as we are? We know you're tired of waiting, but don't rush into joining a gym without doing a little research. While some gyms are reopening safely during COVID-19, others are going rogue. Avoid gyms that pay no attention to capacity, equipment sanitization, or mask usage. You can bet they aren't conducting temperature checks or symptom screening their staff either. Before joining a gym reopening near me in Gables, pump the breaks and check out their safety measures.
Your best bet? Try Sweat440 in Coral Gables for free. Our gyms consistently exceed industry standards for fitness, and now we're exceeding government standards for COVID-19 safety as well. Avoid the risk of joining gyms in the Gables that are prioritizing their revenue over your safety. Join your friends at the Coral Gables gym that consistently receives 5-star reviews– Sweat440. Here are 5 reasons you're going to love it!
​1. Sweat440 Has Always Put Safety First
While some gyms are scrambling to implement safety measures during COVID-19, Sweat440 prioritized safety from the start. We're adding additional precautions, but your safety was always our first priority. That's why we've always had trainers circulating through every class to oversee your safety. Some gyms, like large chains and 24-hour fitness centers, don't keep track of who's coming and going. But our trainers have always connected with members and been an arm's-length away for assistance.
We've always used workout stations for ample personal space. And we've always used animated demonstrations of exercises at each station to ensure safe form. We've always kept class sizes small for plenty of individual instruction. While member safety is new for many gyms during COVID-19, it was always our top concern, so you can trust us to protect your health.
2. Sweat440 Exceeds Government Safety Standards  
In addition to our original standards of safety, we've added additional safety measures for COVID-19. Our gyms are sanitized with an antimicrobial disinfectant fogging procedure twice a week, and cleaned with hospital-grade Protexus Electrostatic Sprayers twice a day, in addition to frequent sanitizing of equipment and touchpoints. Our team completes touchless temperature checks and wears PPE at all times. We've added distinct social distance markings on our floors and created workout pods with individual equipment for each member.
We have sanitizer nearby for all members to use and we've suspended the use of lockers, showers, towels, and water fountains (expect for refilling) for now. We're asking members to stay home if they're sick or exposed to COVID-19. We're also asking members to arrive no more than 5 minutes before class and depart as soon as class ends. In addition, we're offering outdoor classes for an extra layer of protection.
3. Sweat440's HIIT Slays All Other Workouts in Coral Gables
Tired of talking about COVID-19? We hear you! Now that you know how we keep you safe, let's talk about the real reason to join our gym– the incomparable fitness! Our gyms consistently rank #1 in Miami Beach, Coral Gables, Brickell, and throughout South Florida. First and foremost, it's because of our unparalleled method. Each of our classes delivers a killer HIIT workout, led by a top-notch trainer. Our instructors lead you through 4 10-minute stations in 40 minutes, completing 3 sets of 12 different exercises.
It's the best full-body workout in South Florida, but we also target specific muscle groups each day. Don't be fooled by a gym offering a HIIT class once a week, it's probably led by a general fitness instructor with improper intervals for results. Our trainers teach HIIT all day, every day, and they know the perfect ratios of intensity and duration to develop your best physique.
In addition, we use state of the art equipment like Versa Climbers, Ski Ergs, and Assault Bikes to fuse cardio with resistance for faster results. Whether you're new to the gym or a professional athlete, we have the tools to amplify your fitness. You'll burn twice the calories in Sweat440's 40-minute class than in hours at any other gym reopening near me in the Gables.
4. Sweat440's Gym Reopening Near Me in Gables is a Blast
Are you in need of a little fun? Who isn't after this pandemic? Sweat440 delivers the best workout in town, but it's also incredibly fun! Our trainers keep you moving through 45-second, high-intensity intervals, followed by 15 seconds of rest, so there's never a dull moment. Our classes repeat all day to fit your schedule, but they're different each day of the week, so you're always in for something new!
We fuel our classes with upbeat music, positivity, and encouraging trainers so you have too much fun to notice how hard you're working. Ready to reconnect with friends and workout buddies? You can do it safely at Sweat440. Had enough laying on the couch, scrolling through your phone, and zoning out on Netflix? Burned out by your new working conditions or teaching your kids at home? Come join the party at Sweat440 and get fit while having a blast!
5. Sweat440's Gyms Are Financially Risk-Free
If you're a little worried about joining a gym due to the virus or employment uncertainty, Sweat440 is here for you. Not only do we safeguard your health, we protect your finances too. We don't use contracts, so you're never locked into an annual membership if your circumstances change. We don't charge initiation or cancellation fees, or any hidden fees. There are no minimum classes to purchase; you can buy in the amounts you prefer. And we never charge for classes you have to miss– you simply come to the next one you can.
Best of all, your first class is free, so you can try Sweat440 risk-free! We also offer free personal training in every class! Come see how we keep you safe while taking your fitness to the top! Try a free class today at Sweat440's gym reopening near me in Gables, right near Merrick Manor. Rid yourself of the stress, boredom, and isolation of COVID-19 at a HIIT class today!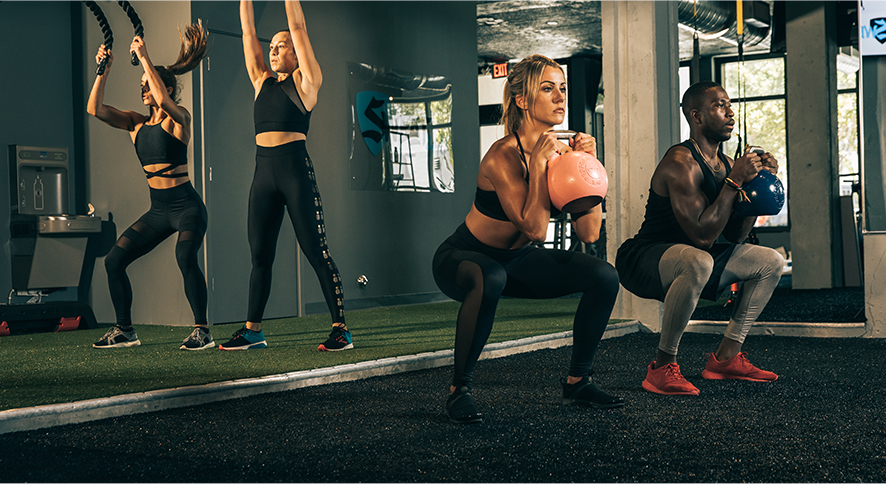 Why You're Going to Love our Gym in Coral Gables
Our Gyms Put Safety First
Antimicrobial disinfectant fogging twice a week
Protexus Electrostatic spraying twice a day
Frequent sanitizing of equipment and surfaces
Masks, temperature checks, and PPE
Suspension of shower, locker, fountain & towel usage
Social distance markings and workout pods
Small classes with trainer oversight
Outdoor classes and scheduling apps
Our Gyms Also Put Members First
No contracts so you aren't locked in
No hidden fees or minimum purchase
First class is free + free training in all classes
No long waitlists or charge for missed classes
Classes every 10 minutes to fit your schedule
Different classes every day to keep things fresh
Upbeat music, positivity, assistance, & inclusion
The best HIIT workout in town in just 40 minutes