Which Fitness Studio Near Gables Excels at Burning Calories?
Want a Fitness Studio Near Gables That Expedites Weight Loss?
If you ask anyone how soon they'd like to lose weight, the answer is usually, "ASAP!" No one wants a lengthy process to achieve their ideal weight. While there is no overnight solution, there are ways to expedite weight loss safely so that the weight stays gone, rather than creeping back on (as is common with overly restrictive diets and overtraining). One of the best ways to expedite your results is to choose a fitness method known for burning calories quickly and continuing to burn them while you're at rest. Sweat440 Coral Gables specializes in that very method, by using a high intensity interval training system that helps you achieve your VO2 max (maximum amount of oxygen consumed during exercise) and also triggers EPOC (excess post-exercise oxygen consumption). Our formula helps you burn twice the calories in half the time and continue burning them for hours afterward.  
Want a Gables Gym That's Known for Burning Calories Quickly?
Sweat440 Coral Gables packs 36 sets into 40 minutes, which are divided into 4 10-minute stations of 3 different exercises. We crush intense sets for 45 seconds, then take 15 seconds to catch our breath, so we can keep on blasting at max capacity for the entire 40 minutes. Since we alternate levels of intensity, we're able to push harder for longer, rather than tiring out like you would with steady-state cardio. This allows you to burn more calories without injury, overexertion, or muscle failure. The variations keep your muscles guessing, so they never get complacent or settle into muscle memory. The result is a minimum of 400 calories burned per class, with many participants burning 800 or more each session.
Want to Infuse Strength Training to Accelerate Weight Loss?
While some people see strength training and weight loss as mutually exclusive, they're actually closely linked. The more muscle mass you have, the more calories you burn while at rest. In other words, muscles improve your basal metabolism. If you stick with only cardio, you'll prolong the process of burning calories. At Sweat440 Coral Gables, we incorporate strength training and weight training into our cardio, by adding resistance to each movement. Using kettlebells in your squats, or pushing sleds while you run, or climbing against resistance on a VersaClimber are a few tactics we use to ensure that you burn calories, not just during class, but also while you're relaxing at home afterward. We're experts at providing the optimal resistance to blast calories without bulking you up.   
Want to Take Group Fitness Classes to Make Weight Loss Fun?
If you're embarking on a fitness journey, it's best to bring some friends along for the ride! Group fitness classes provide the accountability, inspiration, and most importantly, the encouragement you need to stay the course. At Sweat440 Coral Gables, we celebrate each other's successes with high-fives, selfie stations, and genuine positivity in our inclusive environment. Our group fitness classes are designed for all fitness levels, since you work at your own pace in your own workout pod. Gain motivation from others while you exercise safely, with social distancing and trainer oversight to make sure you're optimizing your routine.
Want Free Personal Trainers to Help Meet Your Fitness Goals?
Personal trainers are essential to reaching fitness goals quickly, yet safely. Our trainers are experts at identifying your target heart rate, weight training capabilities, and cardio needs. We customize each workout by assisting with your form, resistance, reps, and even suggesting alternatives to exercises that aren't suited to you. We train everyone from first-time gym members to professional athletes, so we know exactly what it will take for you to exceed your personal fitness goals. The best part is our personal training is completely FREE! Sweat440 Coral Gables is founded by renowned personal trainers who choose to provide this service to our members at no charge, in every single class.      
Want Personal Training and High Intensity Interval Training?
What's better than free personal training? How about personal trainers who specialize in high intensity interval training? Our instructors not only guide you throughout your entire session, but they also use the HIIT method known for burning more calories than any other. Sweat440 Coral Gables is the only gym where you get free high intensity interval training with a customized approach every time you come to the gym. No matter which class you take, it's the best workout in town, and you'll see and feel the difference right away. There is no better way to burn calories quickly than doing HIIT with a personal trainer.
Want to Try the Top Coral Gables Gym for Burning Calories?
Ready to try the top fitness studio near the Gables for losing weight and burning calories? Pop into Sweat440 Coral Gables, right near the Shops at Merrick Park, where everyone's first class is FREE! You'll sweat for the entire session and you'll instantly see why we're the best at eliminating excess weight. But you'll also have a blast and won't believe how fast the class flew by. After your first free class, every subsequent class also includes free personal training. You don't have to sign a contract or buy a certain number of classes. Just come as often as you want to! Spoiler alert, you'll be back again tomorrow! Our members can't get enough, and we can't wait to add you to the family!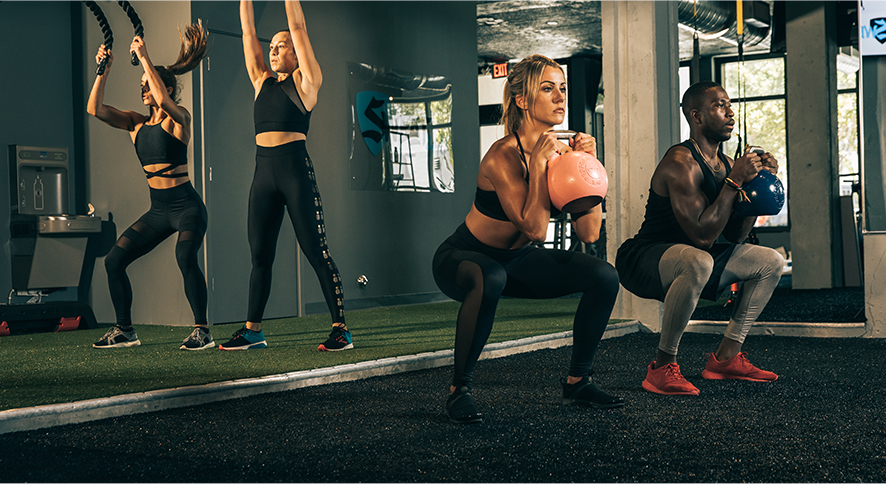 Ready to Burn Calories Quickly with Sweat440?
Try One of Our Gyms Near the Gables:
Sweat440 Coral Gables: 301 Altara Ave.
Sweat440 Miami Beach: 1916 Bay Rd.
Sweat440 Brickell: 25 SW 9th St., Suite G100
Sweat440 Downtown Doral: 8403 NW 53rd St.
Try One of Our Group Fitness Classes:
SHAPE: upper or lower body
SWEAT: core + conditioning
SHRED: core + lower or upper body
WARRIOR: total body conditioning