6 Incentives at Sweat440's Fitness Studio Near South Beach
1. A Legitimately Free Trial– Unlike Other Gyms in Miami
Some gyms in Miami Beach don't offer a free trial at all. Others let you try a session after you've signed up for a lengthy membership. But those free trials typically don't include fitness classes or personal trainers; it's just you trying to navigate a new gym on your own. At Sweat440's fitness studio near South Beach, we offer an unbeatable incentive, which is a legitimately free trial.
You don't have to sign a contract or pay extra for a class or a trainer. Your free session includes a high-intensity interval training (HIIT) class, led by a personal trainer. You get to familiarize yourself with our method, our instructors, our facility, and our members without paying a single dime. All of our classes and amenities are available to you during your free trial, so you get the full experience without having to sign up first.  
2. A Contract-Free Membership– Rare in South Beach
Sweat440 has always been a contract-free gym. We don't believe in trapping members into an agreement like other South Beach gyms do. We understand that people's health, finances, and locations can change, so we don't ask you to commit to any length of time in order to join our gyms.
You can quit at any time and we don't require several months of advance notice the way other gyms do. We have the most loyal, enthusiastic members, who rave about our gym. They stay because they love working out at Sweat440, not because they're bound by a contract.
3. No Unexpected Fees– Other Miami Beach Gyms Have Many
Some gyms in Miami offer low monthly rates, but then they pad their pockets with endless fees you weren't expecting when you joined. Initiation fees, annual fees, cancellation fees, amenities fees, membership fee increases… there's no end to the ways some gyms make money off their members. Some gyms will entice you with introductory pricing, then increase your dues once you're locked in. At Sweat440 Miami Beach, we're completely transparent in our pricing.
There are no hidden fees whatsoever and we offer several membership levels to keep fitness affordable for everyone. You can buy one class at a time, if you aren't sure how often you'll attend. You can also buy a 10-pack of classes, or even an unlimited monthly membership for the greatest savings. You'll never be surprised by our pricing, since you simply pay for classes you take, and nothing more. We don't even charge you if you skip a class; you simply apply that credit to your next session.
4. Free Personalized Training– A Fortune at Most Gyms
Sweat440's Miami gyms offer a huge incentive to members by providing free training in every small group fitness class. Training is expensive and hard to book in South Beach, so this is one of our members' favorite benefits! Your first class, which includes training, is completely free. But every class you buy after that also includes free training from our premiere HIIT specialists.
No matter which class you take, you're guaranteed to train with a qualified instructor who meets the high standards set by our founders, renowned personal trainers Matthew Miller and Cody Patrick. We combine the two key factors that ensure quick results: group fitness classes (which keep people consistent) and quality training (which pushes you to your full potential), so it's no wonder our members swear by Sweat440!
5. Intro to Cutting-Edge Fitness– Treadmills Can't Compete
Some South Beach gyms have been around a while, so you might know them by name. But their equipment has probably been around a while too, which means it's not only less functional, it's also less efficient. The latest equipment outperforms things like treadmills and traditional bikes by a large margin. Seat440's tools like Versa Climbers, Ski Ergs, and Assault Bikes combine your strength training and cardio into one powerful workout.
Our new technology reduces injury, increases fitness, and expedites results, while also providing an exhilarating change from your boring routine. Our trainers introduce you to our cutting-edge equipment and guide you through the class, so you're a pro in no time. We also install screens at each exercise station with digital animation of each movement, so you can follow along. Once you try our powerhouse method, you'll never look back.
6. Guaranteed Afterburn Effect– EPOC Like No Other Gym
Sweat440's distinctive HIIT method uses specific intervals of intensity guaranteed to create an afterburn effect, meaning you'll keep burning calories for 48 hours after your workout! This excess post-exercise oxygen consumption (EPOC) is only achieved by following the right variations of intensity to maximize oxygen consumption during your workout. In our classes, that translates into 45 seconds of high-intensity exercises, followed by 15 seconds of rest, repeated for 40 minutes.
Expect to burn 400-800 calories during class and many more after you're done! This is one incentive you simply won't receive by taking traditional fitness classes or jogging on a treadmill. Come sweat with us to induce the afterburn effect that increases your fitness, even while you're at rest. Visit Sweat440's fitness studio near South Beach today to reap all of these benefits and more!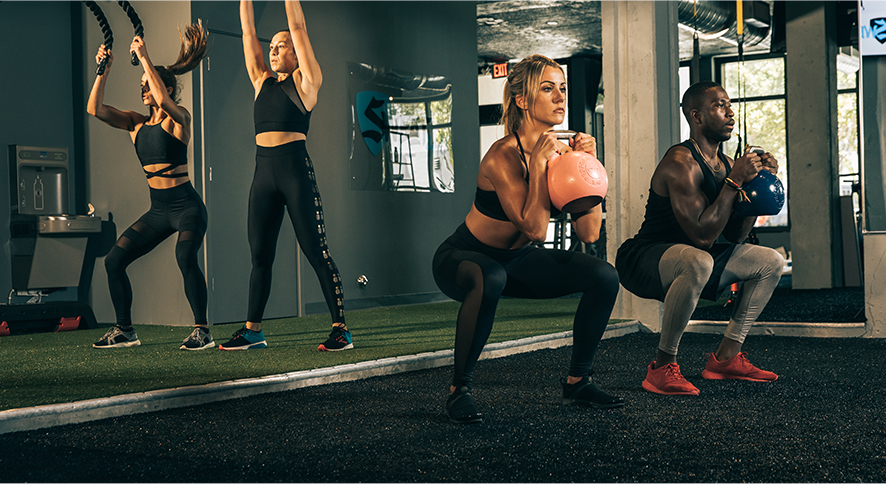 Don't Miss These Offers at a Fitness Studio Near South Beach
6 Sweat440 Offers You Won't Want to Miss:
Legitimately free trial
Contract-free memberships
No extra or unexpected fees
Free personalized training
Into to cutting-edge fitness
Guaranteed afterburn effect
Fitness Studios Near Miami with These Offers:
Sweat440 Miami Beach
Sweat440 Brickell
Sweat440 Coral Gables
Sweat440 Downtown Doral
CLICK HEREto find your gym
CLICK HEREto open a franchise