10 Fitness Clubs Near Me with Free Trials
Some gyms require you to make a year-long commitment before you know if they're a fit. You wouldn't buy a house without inspecting it first, or a car without a test drive. So, don't join "fitness clubs near me" just because they're close by, without a free trial. Sweat440's fitness clubs offer free classes for everyone, and we don't even use contracts! We have no minimum purchase, and you can quit whenever you like. That's just one reason our gyms rank as "top fitness clubs near me." Our members come because they love our gyms, not because they're stuck in a contract! Click here to find the Sweat440 fitness club near you!
Sweat440 Miami Beach– If you live near South Beach, you want to stay beach-ready! So try a free class at this popular gym for a killer HIIT workout in just 40 minutes! Don't waste hours at other inferior "fitness clubs near me," the beach is waiting for you!
Sweat440 Brickell– Close to financial institutions like Bank of America Financial Center, shopping like Brickell City Centre, and schools like Southside Elementary, this Miami gym is a favorite spot for people of all lifestyles and fitness levels. Try a free class today on your commute, or on your way to Miami's social scene!
Sweat440 Kendall– Whether you're dropping your kids off at Pinecrest Prep, or hopping on I-95 for your business commute, Sweat440 Kendall is right on your route! Start your day with a burst of energy, or sweat out your stress at the end of the day with our free HIIT classes! 
Sweat440 Palm Beach– With allthe dining spots, shopping, and beauty spas nearby, it's easy to make this location part of your routine! Pop in for a free class and save your money for pampering nearby!
Sweat440 Downtown Doral– Close to Downtown Doral Park, Doral Charter School, and fabulous restaurants, this is the perfect fitness club to squeeze in a workout before picking your kids up, or meeting colleagues for dinner. Try a class on us, and make Sweat440 the best part of your day! 
Sweat440 Coral Gables– Ideal for fitting a workout in during your lunch break or after a long day of meetings, this location is perfect for professionals and students alike, with its proximity to Coral Gables High School. After you sculpt your physique, reward yourself with new fashion at nearby Merrick Village.
Sweat440 Chelsea– Whether you're meeting friends in the morning at Coffeed or in the evening at Raines Law Room, this gym simplifies your schedule. With major transit stops nearby, it's a cinch to try a free class in NYC!
Sweat440 FIDI– The Financial District is bustling with energy, so you have to keep up! Get a quick sweat on at our FIDI location to fit fun and fitness into the grind. Close to Pacific College, Pace University, and the NYSE, we're a welcome spot for stress relief!
Sweat440 Austin– Austin has a thriving social scene, so make fitness part of the fun! We're just across from your favorite bars and restaurants. Grab your friends for a free sweat session and head out on the town looking fit!
Sweat440 Montréal– Our Montréal gym is perfectly situated amid your favorite spots. Grab your essentials at the nearby Pharmacie or Dollarama, or meet friends at the beautiful parks nearby. Try a free HIIT class, and invite friends to see how Sweat440 is changing fitness for the better!
Why Some Fitness Clubs Near Me Don't Offer Free Classes
Trying something new can be intimidating. Some gyms seem to specialize in intimidation. Some gyms intimidate guests because they don't acclimate newcomers or show them how to use the machines. Other gyms have overcrowded classes and machines with a long waiting list. Most gym owners know their weaknesses, and they'd rather you not figure those out right off the bat. They want to lock you into a binding contract, so you keep paying even if you're unhappy.
Why Sweat440 Believes in Free Classes & Personal Trainers
At Sweat440, we don't use contracts, and we don't believe in signing you up for something you aren't familiar with. We offer free classes and the ability to purchase as few or as many classes as you like going forward. You can stop whenever you like, but trust us, you'll want to stick around!
Our HIIT classes are led by personal trainers who show you the ropes and stick with you to ensure safety and proper form. They can assist with accommodations and offer alternative exercises to match your abilities. Best of all, our personal trainers are FREE in every class. You don't have to pay extra to get individual instruction. We know that personal trainers are crucial to fitness results- in fact, our founders are personal trainers themselves! So, we offer free classes and free training to everyone who tries Sweat440!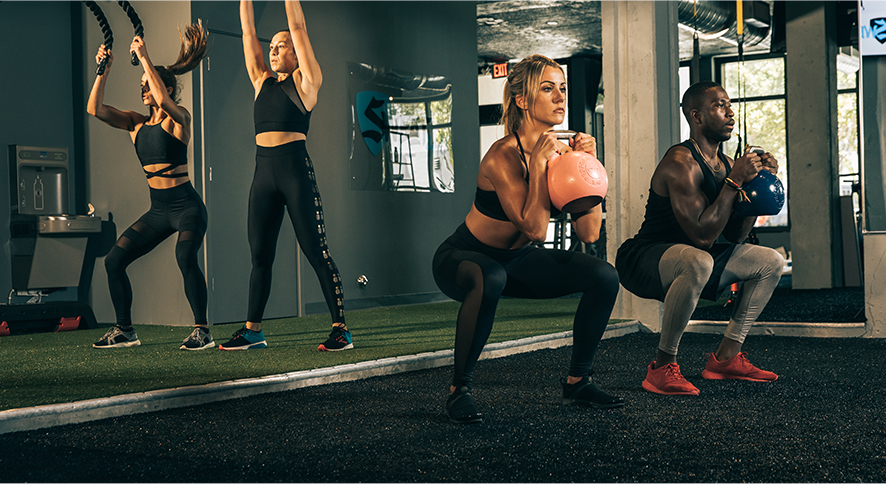 Free Personal Trainers & Classes at Sweat440!
Fitness Clubs Near Me with Free Classes
Sweat440 Chelsea
Sweat440 FIDI
Sweat440 Miami Beach
Sweat440 Brickell
Sweat440 Downtown Doral
Sweat440 Kendall
Sweat440 Palm Beach
Sweat440 Coral Gables
Sweat440 Austin
Sweat440 Montréal
Why Sweat440 Has Free Classes & Personal Trainers
Free classes ensure the gym is a fit.
You can stop whenever you like.
Finances don't prohibit your fitness.
Trainers keep you safe and injury-fee
Training amplifies your results.
Trainers hold you accountable.
Classes provide inspiration.
Classes eliminate boredom.
Trainers accommodate limitations.
Classes are diverse to prevent plateau.