7 Inspired Fitness Classes for All Fitness Levels
There are many different types of fitness classes out there. You have yoga classes, resistance training, strength training, boot camp, dance fitness, and so many other types of fitness classes. But how do you decide which is the right type of fitness class for your specific needs? How do you find the right group fitness classes? Below, we give you an overview of some of the best types of inspired fitness classes for all fitness levels. We also introduce you to the best overall fitness studio in the country — Sweat440.
#7. Dance Fitness Classes
Dance fitness is one of the most engaging, fun, and exciting fitness classes out there. Dance fitness allows you to shake your body and release all those toxins. Depending on the level of energy, you can burn a lot of calories. High-energy dance fitness sessions can also burn as many as 1000 calories in a single hour! Some of the best dance fitness classes are 305 Fitness and Zumba Fitness. While dance fitness classes are suitable for all fitness levels, they're only suitable for conditioning and cardiovascular training. Dance fitness offers little in the way of strength training, making it unsuitable for muscle strength building.
#6. Barre Classes for Conditioning & Strength Training
Do you want a long, lean, and sculpted dancer's body? Do you want to increase your muscle strength while also enhancing your flexibility? If so, barre classes may be perfect for you. Barre classes are inspired by ballet barre, and they incorporate elements of conditioning, yoga, ballet, pilates, and low-impact strength training. Some of the most popular studios for barre classes are The Bar Method, Barre3, and Pure Barre. The biggest issue with barre classes is that you can't develop muscle strength past a certain point.
#5. Yoga Classes
Yoga classes are ideal for those who want to build muscle strength while conditioning their bodies and focusing on mindfulness. Despite what many people think, yoga actually requires a lot of muscle strength and core activation. Some of the country's best yoga classes are CoreYoga and Y7 Studio, both providing different versions of yoga class.
#4. Cycling or Rowing Resistance Training
Resistance training is a form of workout where you have to push your body against a resistance, building muscle strength. Even though resistance training is generally meant for strength training, it's often used with cardiovascular classes, like SoulCycle and CITYROW. Both of these resistance training classes provide high-energy interval training through stationary bicycles or rowing machines. These classes are ideal for losing weight and increasing muscle strength.
#3. Boot Camp
The term "boot camp" often brings up images of drill sergeants hurling obscenities while you do burpees. However, Boot Camp is simply a form of workout where a personal trainer guides a group through a series of challenging workouts, usually using body weight. Boot camps are suitable for all fitness levels because they work in "stations" of different levels.
#2. Strength Training Classes
Strength training classes are simply fitness classes focusing on muscle strength rather than conditioning or cardiovascular training. They may have elements of cardio and conditioning, but they primarily focus on muscle strength. Strength training classes use advanced equipment, medicine balls, bars, and dumbbells to push your muscles to their limits. However, strength training classes aren't enough on their own, you need to combine them with the right levels of cardiovascular training and conditioning.
#1. Overall Full-Body Fitness Classes (Sweat440)
The best fitness classes for all fitness levels are those that incorporate all elements of physical fitness. Each aspect of your physical wellness, including cardiovascular health, flexibility, balance, and muscle strength, are equally important for overall fitness. That's why you should opt for fitness classes like Sweat440, i.e., fitness studios that have well-rounded training schedules incorporating elements of strength training, resistance training, cross-training, core-training, and high-intensity interval training.
Why Sweat440 has the best fitness classes for all fitness levels?
Sweat440 is the best fitness studio for all fitness levels because our training program doesn't ignore any aspect of fitness. Our fitness schedule is divided based on muscle groups and forms of fitness. There are four types of fitness days — sweat, shred, shape, and warrior. Sweat days focus on high-energy cardiovascular training. Shred days focus on muscle strength development and resistance training. Shape days focus on resistance training and conditioning. And warrior days focus on strength training, combined with aspects of all other modules.
As you can see from our training schedule, Sweat440 targets every muscle group in your body for a total body workout.
Monday: Shape — Lower Body
Tuesday: Shred — Upper Body/Core
Wednesday: Sweat — Core/Conditioning
Thursday: Shred — Lower Body/Core
Friday: Shape — Upper Body/Core
Saturday: Warrior — Total Body Conditioning
Sunday: Warrior — Total Body Conditioning
Sweat440 also provides a free sweat session for all first-timers. Our fitness classes start every 10 minutes, so you're never late. All you have to do is walk into one of our Sweat440 fitness classes in New York or Florida to claim your free sweat session! If you're in New York, you can find our fitness studio near iconic landmarks like Madison Square Park or the Federal Reserve Bank of New York.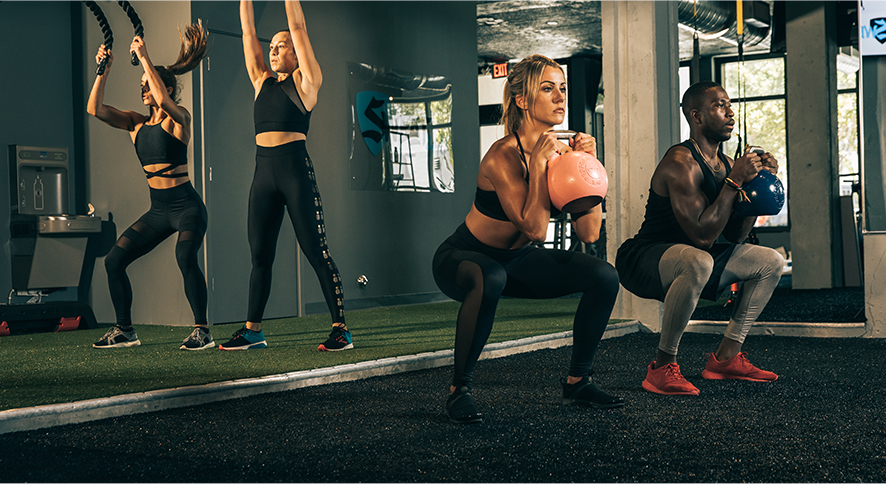 Top 7 Inspired Fitness Classes
#7. Dance Fitness Classes
#6. Barre Classes for Conditioning & Strength Training
#5. Yoga Classes
#4. Cycling or Rowing Resistance Training
#3. Boot Camp
#2. Strength Training Classes
#1. Overall Full-Body Fitness Classes (Sweat440)
Sweat440 Strength Training Locations