The Most Convenient Fitness Center Near Me in Chelsea
Do you have trouble sticking to your workout program? Do you eventually stop going to your fitness classes because their timings or locations are too inconvenient? Convenience is crucial when it comes to strength training and fitness classes. We lead busy lives and don't have the time or liberty to prioritize strength training over our packed daily schedules. The ideal fitness center should have fitness classes that can work around your schedule, rather than the other way around. This article introduces you to Sweat440, widely recognized as the "most convenient fitness center near me in Chelsea."
Inconveniences associated with most traditional fitness classes:
Inflexible Timings: Most group fitness classes have extremely rigid timings. You have to schedule the class early and be there at the right time. If you're late, you can't enter the class, and you end up losing your slot. Most people have to plan their entire day around such fitness classes.
Structure & Specialization: When it comes to structure, most fitness classes either go too far or not far enough. Traditional gyms don't provide any structure or guidance to achieve your fitness goals, so you have to curate your own workout plan. Meanwhile, group fitness classes are way too specialized with ultra-specific goals, such as burning calories, building your glutes, or working your calf muscles, etc. Consequently, you have to schedule different fitness classes around the city for a complete full-body workout.
Manipulative Contracts: Traditional gyms and fitness classes have a terrible reputation of trapping you in manipulative legally-binding contracts that you can't leave. Once you join those gyms, getting out of your monthly payments is a nightmare.
What makes Sweat440 the most convenient state-of-the-art fitness center in Chelsea?
1. Group Fitness Classes with Flexible Timings
Sweat440 provides 40-minute group fitness classes with a #neverlate principle, which means you will always find a slot within the class, without missing out on anything. You don't even need to schedule your classes! Sweat440 maintains such flexible timings because of an innovative fitness plan. Each 40-minute workout session consists of four10-minute fitness stations, each guiding you through 3 sets of 3 exercises, each lasting 1 minute. The final minute in each fitness station is your opportunity to catch your breath, rest, and move to the next fitness station. As you move to the next station, you allow a new group to take your place in the previous station. This circuitous structure ensures that a new group can join the fitness classes every 10 minutes, so you're never late for a workout!
2. Personalized Training with Full-Body Development
Sweat440 has a finely-calibrated workout structure and plan designed by certified fitness experts. Unlike other fitness classes, Sweat440 focuses on full-body fitness goals, targeting each muscle group at least twice a week, and mixing components of strength training, cross-training, HIIT, cardiovascular training, core training, etc. As such, you don't have to go to multiple fitness classes; Sweat440 is enough. Furthermore, you can also engage in personalized training because each class is led by a certified trainer, who can help you modify the existing training module according to your needs.
3. No-Contract Fitness Classes with Flexible Memberships
Sweat440 abhors predatory legally-binding contract practices. You can join Sweat440 fitness classes without legally binding contracts that trap you into payment cycles. Sweat440 has flexible memberships and payment options — you can pay by the class, for a group of classes, or monthly. You can exit the membership whenever you want — no strings attached.
4. State-of-the-Art Facility with Fully-Equipped Locker Rooms
Sweat440 is a state-of-the-art facility with the latest workout technologies, such as rowers, assault bikes, sleds, battle ropes, etc. As such, Sweat440 helps you maximize your workout potential using the best equipment. Sweat440 also has fully-equipped locker rooms where you can change before and after the session to effortlessly move from one engagement to the next.
5. Convenient Location in Chelsea
Sweat440 is one of the most conveniently located fitness centers in Chelsea, right across from the 18th St. and 14th St. Metro Stations and the 6th Ave. and W 20th St. bus stops. As such, you can easily get to Sweat440 fitness classes, regardless of which part of the city you're in.
Our Sweat440 fitness club offers a free sweat session! 
Sweat440 Chelsea is the best and most convenient fitness center in New York. But you don't have to take our word for it; you can try it out for yourself. Our Sweat440 fitness club offers free trial sessions to all first-timers, so claim your free sweat session today!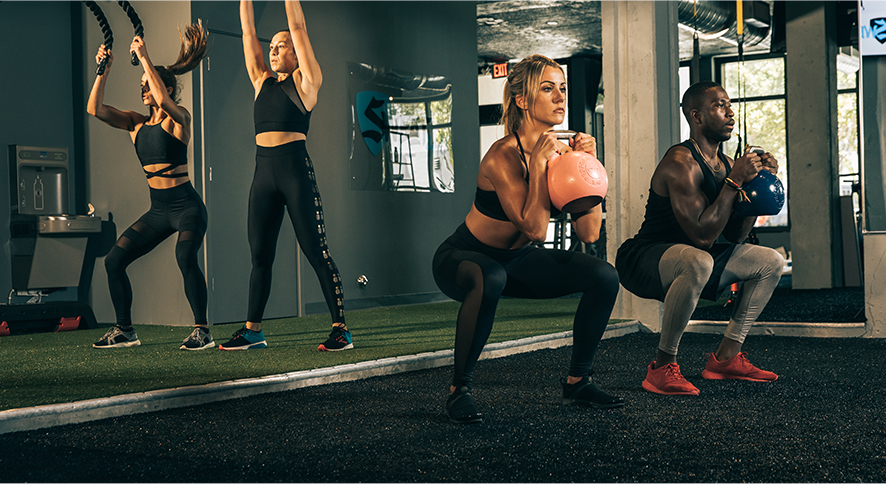 Sweat440 Fitness Center Near Me in Chelsea
Sweat440 Fitness Classes Schedule
Monday: Shape — Lower Body
Tuesday: Shred — Upper Body/Core
Wednesday: Sweat — Core/Conditioning
Thursday: Shred — Lower Body/Core
Friday: Shape — Upper Body/Core
Saturday: Warrior — Total Body Conditioning
Sunday: Warrior — Total Body Conditioning