How Can I Find the Best Fitness Center Near Me in 2020?
Are you wondering, "how can I find the best fitness center near me in 2020?" When looking for fitness centers, most people look at factors like 24-hour availability and the presence of personal trainers. However, these factors are usually pretty inadequate to truly find a suitable fitness center for long term fitness goals. In this article, we discuss which factors you should (or shouldn't consider) when looking for a "fitness center near me in 2020".
Factors to consider when looking for the best fitness center near me in 2020.
You may wonder which factors to consider if 24-hour availability and one-on-one time with personal trainers aren't essential. Well, you should instead focus on qualities that ensure you love training and going for fitness classes. The only way to ensure you meet your fitness goals is to make sure you love your training program. Fitness is a long marathon rather than a sprint, you must enjoy the journey above all else.
After you Google, "fitness center near me in 2020," you should focus on the following criteria and factors:
Look for fitness centers providing group fitness classes because studies show that group exercise allows you to make greater long-term fitness gains.
Group fitness classes also provide a social setting for you to interact with others, making the fitness class more engaging.
The fitness center should be staffed all the time, whenever it's open.
They must have engaged and enthusiastic certified trainers who push you to do better.
The group fitness should ideally have flexible hours and timings, allowing you to fit it into a busy schedule.
Look for fitness centers that provide structured schedules for fitness improvements.
The fitness center should have all the latest fitness technologies and equipment, such as rowers, assault bikes, sleds, battle ropes, suspension training, etc.
Group fitness classes should ideally focus on holistic physical fitness rather than isolated muscles.
You should ideally find no-contract fitness centers that don't lock you into legally-binding contracts that you can't exit.
Why Sweat440 is the best fitness center for long term fitness goals.
Sweat440 is the best fitness center because it meets all of the qualities and factors mentioned above. Sweat440 is a group fitness gym where each 40-minute group fitness class consists of four 10-minute fitness stations that take you through three sets of three exercises each. The entire circuit is handled with clockwork precision, giving you a 1-minute break after every 9 minutes of high-energy workout. As you move from one fitness station to another, another group takes your place in the previous station. This circuitous module allows new groups to join the class every 10 minutes. As such, Sweat440 provides extremely flexible group fitness classes for which you're #neverlate.
Sweat440 has state-of-the-art fitness centers equipped with all the latest equipment and clean locker rooms. Our training schedule has been designed by certified experts to target each aspect of fitness, including core training, cross-training, strength training, and high-intensity interval training. We also target each muscle group at least once or twice a week. The following is our Sweat440 training schedule.
Monday: Shape — Lower Body
Tuesday: Shred — Upper Body/Core
Wednesday: Sweat — Core/Conditioning
Thursday: Shred — Lower Body/Core
Friday: Shape — Upper Body/Core
Saturday: Warrior — Total Body Conditioning
Sunday: Warrior — Total Body Conditioning
Schedule a free sweat session at Sweat440.
Sweat440 wants to set itself apart from unscrupulous gyms that lock you into contracts you can't exit. We provide no-contract memberships, allowing you to join and leave with complete freedom. We also provide a free trial session for all newcomers, so come over and claim your free sweat session today!
Sweat440 is located in New York City and parts of Florida. In New York, our fitness centers are located in Chelsea and FiDi, near the 14th St. Metro Station and Fulton Street Station, respectively. In Florida, our fitness centers are located in Miami Beach, Coral Gables, Brickell, or Downtown Doral.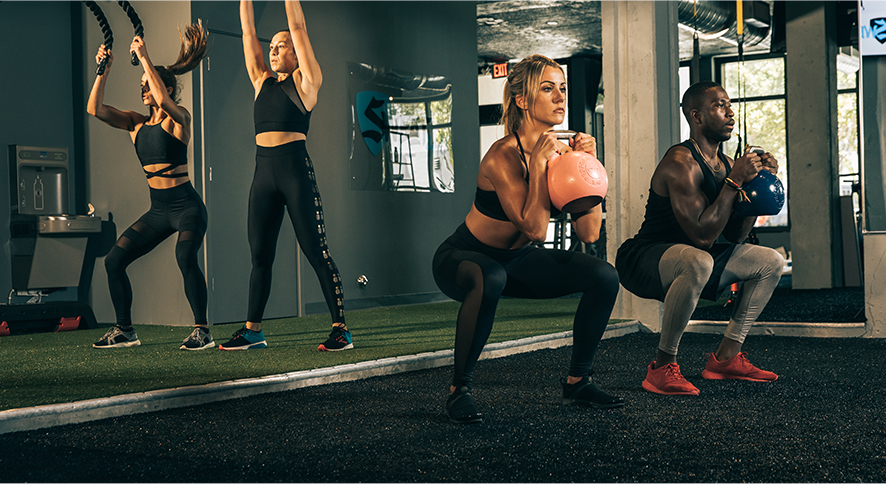 Fitness Center Near Me in 2020
Qualities of the Best Fitness Centers
Flexible group fitness classes.
Engaging environment.
The constant presence of certified physical fitness experts.
Structured workout schedules.
State-of-the-art equipment.
No contracts.
Focus on full-body physical fitness goals.