Free Gym Classes vs. Other Fitness Programs
Fitness comes in various forms. Whether it's one-on-one sessions with a personal trainer near me, burning calories in a crowded total gym, sweating it out in workout classes near me, or experiencing the adrenaline rush of HIIT workouts from the comfort of your home. Amidst these choices, free gym classes rise as a compelling option, particularly for those starting or wishing to shake up their current workout routine without dipping into their wallets. Let's delve into the comparison of complimentary fitness classes and their counterparts, and shed light on why the former may just be the ticket to your fitness success.
At SWEAT440, we advocate that an exceptional fitness experience should be within everyone's grasp, hence we welcome newcomers with a free first class. Our distinctive fitness ethos, including our unique #Neverlate class scheduling, the warmth, and inclusivity of our 440Squad, coupled with top-notch amenities and ground-breaking high-intensity interval training (HIIT) workouts, craft an exceptional fitness environment that beckons involvement and fosters a healthier lifestyle.
The Paid vs Free Classes Debate 
While premium fitness classes hold their advantages, including a more personalized training experience and a diverse selection of specialized workout options, complimentary gym classes trail close behind. They offer nearly identical benefits without the initial financial outlay. This freedom lets you experiment with different workout styles, interact with trainers, and familiarize yourself with the community before deciding if a gym membership suits your needs.
SWEAT440's complimentary gym classes at Deerfield offer a comprehensive HIIT workout experience under the watchful eye of our professional trainers. This allows you to assess the quality of guidance, the effectiveness of the workouts, and the overall environment. Moreover, with our #Neverlate class scheduling system, you can slot in a class at your convenience. Free gym classes provide an invaluable opportunity to immerse yourself in the gym's atmosphere, understand the quality of workouts, and assess how well it aligns with your fitness ambitions, personal preferences, and schedule.
From Home to Gym 
Home workouts have risen in popularity due to their accessibility, flexibility, and personal space they provide. They erase the need for the commute, and you can adjust your routine based on your preferences. However, they require a high level of self-discipline, as staying motivated and consistent can be a hurdle without the energizing atmosphere of a gym setting.
In contrast, complimentary gym classes offer a fusion of structured workouts within a dynamic group setting, all under the supervision of fitness professionals. SWEAT440's expert trainers guide you through each workout step while ensuring proper exercise form, thereby amplifying the efficacy of your workout. Our gym's lively environment, personified by the 440Squad, significantly boosts your motivation and makes your workout sessions more enjoyable. Unlike most home workouts, SWEAT440's complimentary gym classes provide access to a plethora of state-of-the-art equipment, further enriching your workout experience.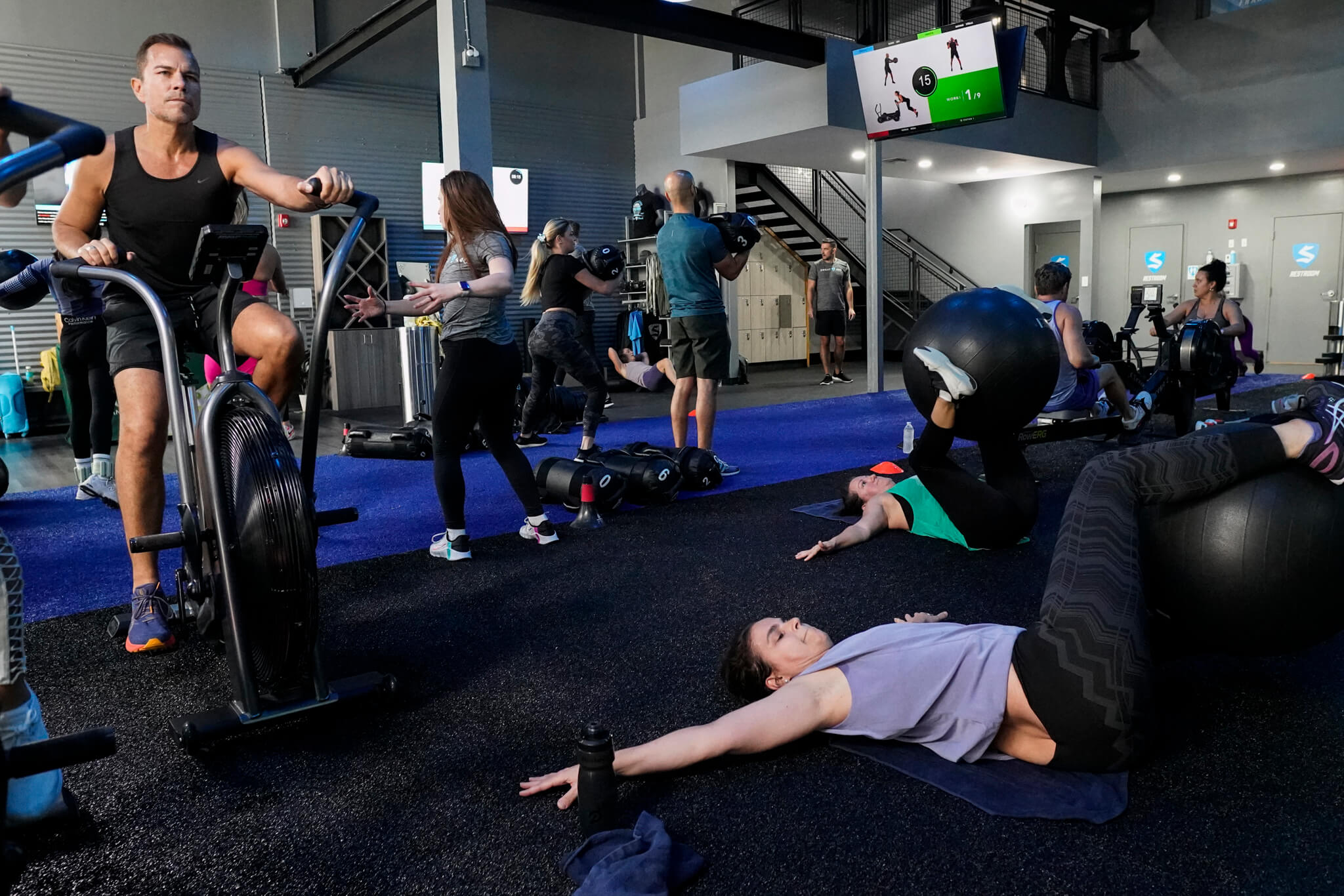 Group Fitness: Going Solo or Joining the Team?
Group fitness programs share several enticing elements with free gym classes. They provide the stimulating dynamics of a group environment, professional guidance, and a planned workout regimen. However, complimentary gym classes hold an edge with the opportunity to experience these perks without any immediate financial commitment.
The free gym classes at SWEAT440 are not just about physical workouts. They represent an inclusive fitness experience that introduces you to our supportive 440Squad, unique class structures that foster progression, and the uplifting atmosphere that we nurture. This mix ensures that individuals of all fitness levels feel welcome and inspired.
Our group classes revolve around high-intensity interval training (HIIT), a trusted method to ramp up cardiovascular fitness, build strength, and keep burning calories even post-workout. Our skilled trainers navigate you through each exercise, ensuring accurate form and pushing you to your limits, but never beyond.
Drawing Conclusions
 Fitness is a unique journey for everyone. It requires matching your individual needs, goals, and preferences with the right fitness routine. Complimentary gym classes offer a distinctive chance to explore what a gym offers, from the quality of workouts, and trainers, to the community spirit. This enables you to make an informed decision about whether it's a perfect fit for you.
SWEAT440 sets the bar high in this regard. Our free classes showcase what we proudly offer, from our unique HIIT workouts, and flexible scheduling, to our professional trainers and the heart-warming 440Squad. We're confident that once you experience the enthusiasm, positivity, and effectiveness of our classes, you'll find value in joining the SWEAT440 family.
Ready to kick-start your fitness journey with no strings attached? Book your free first class at our Deerfield location today! Experience for yourself why SWEAT440 is not just a gym – it's a supportive community, it's a lifestyle, and it's the hub where "you get what you sweat." Allow us to accompany you in your journey toward becoming the best version of yourself. Feel the SWEAT440 difference today.
Keep Your Fitness Journey Going
Nurture motivation

Holds you accountable

Have fun

Never the same workout

Meet new people
Health Benefits

Social and Emotional Benefits

Friendly Environment

Consistency and Commitment

Confidence Boost