What is the Closest Gym to My Location?
When people search for fitness centers to join, the "closest gym to my location" is often the first thing they look for. It's no secret that finding a gym nearby eliminates hassles like traffic and wasted time on the commute. But studies show that our brains are wired to choose the easiest solution, so joining the closest gym also increases your likelihood of actually going.
Proximity Matters, But There's More to the Fitness Equation
But, there are obstacles that detract from fitness, no matter how close you are to your gym. Things like outdated equipment, lines for machines, overcrowded classes, intimidating environments, costs, and limited schedules make people stop going to the gym. So, don't just look for the "closest gym to my location," also look for one with happy members who are achieving substantial results.
Method + Proximity= Results
Sweat440 has multiple convenient locations, plus our members consistently leave 5-star reviews of our classes. We teach high-intensity interval training (HIIT) in every class, so each workout maximizes your efforts. Our HIIT method is guaranteed to deliver better, faster results. And we even do so with shorter workouts. Our 40-minute classes torch more calories than an hour at other gyms.
We also include free personal training in every class, so you get expert instruction, combined with superior motivation. Forget about the intimidation, crowds, and confusion you feel at other gyms. Sweat440's trainers guide you through every class and are supplemented by animated demonstrations at each station, so you're never lost in your routine. With the top fitness method and expert trainers on your side, Sweat440 is the closest gym and also the one with superior results!
What to Expect at the Sweat440 Near Me
At Sweat440, do fitness differently, and convenient locations are just one of the ways we prioritize members. We offer affordable rates, multiple membership options, and no hidden fees. We are unique in that we don't use contracts. We believe you should be able to come and go as you please. And we're confident in what we provide- we don't need to lock you into some ironclad agreement to get you to come back. We know you're going to love it here. Come try a class for free and you'll see! Here's what to expect when you come.
1. HIIT Classes Around the Clock
Another way we prioritize you is by offering classes every 10 minutes. No matter when you want to come in, you're only minutes away from your best workout. You can book classes online or through our handy app, but you can also pop in and our front desk team will fit you into the next available class. No need to sign up months in advance or sit around on a waiting list. We make classes accessible for all of our members, regardless of their schedule.
2. Classes That Include Free Personal Training
Each of our classes includes free training from certified instructors. Our classes are led by experts who teach HIIT all day long. So, you don't have to try to get into the "best class" or the one with the "best instructor." Our instructors are all super-qualified with extensive experience. Our founders are trainers themselves, so we take your instruction seriously.
3. A Different Workout Every Day
Each class provides a full-body workout, but we give extra emphasis to particular areas each day, so you can safely train at Sweat440 daily. Some classes only pay limited attention to a variety of areas, so you never max out the potential in muscle groups. But our classes train the full body and tweak each muscle individually. For example, on Mondays, you might shape your upper body, while on Tuesdays, you'll shred your lower body. Every day, we shred your core and torch fat and calories.
Which Sweat440 is the Closest Gym to My Location?
Florida:
Our friends in the sunshine state have plenty of choices in convenient Sweat440 locations. If you want to fit a workout into your Miami workday, hop into our Brickell location at 25 SW 9th St., Suite G100. Or try our Coral Gables gym at 301 Altara Ave., Suite 111. Miami Beach residents can crush their workout at 1916 Bay Rd. In downtown Doral, try our gym at 8403 NW 53rd St. Or in Kendall, visit us at 4293 SW 152nd Ave. Palm Beach residents can stop into our gym at 3201 N. Miami Ave, Suite 10.
New York:
If you live in the Big Apple, make fitness an easy priority by joining our nearby gyms. In Chelsea, join us at 600 6th Ave. Or stop into our Financial District gym at 80 John St. Both gyms are right near major transportation like Grand Central Station for easy access.
Texas:
If you're an Austinite, join one of our newest outposts at 507 Pressler St. in Austin with convenient parking and proximity to a bus stop.
Canada:
Quebec dwellers love our Montréal location at 500 Rue Jean-Talon O for its convenient access to multiple schools, places of business, and bus stops.
Sweat440 continues to grow in popularity and demand. Rather than building giant facilities that leave a huge carbon footprint and increasing member rates to cover real estate, we prefer to keep classes smaller for individual attention, and offer multiple outposts in convenient locations. Check our website regularly- there might be a Sweat440 coming your way very soon!!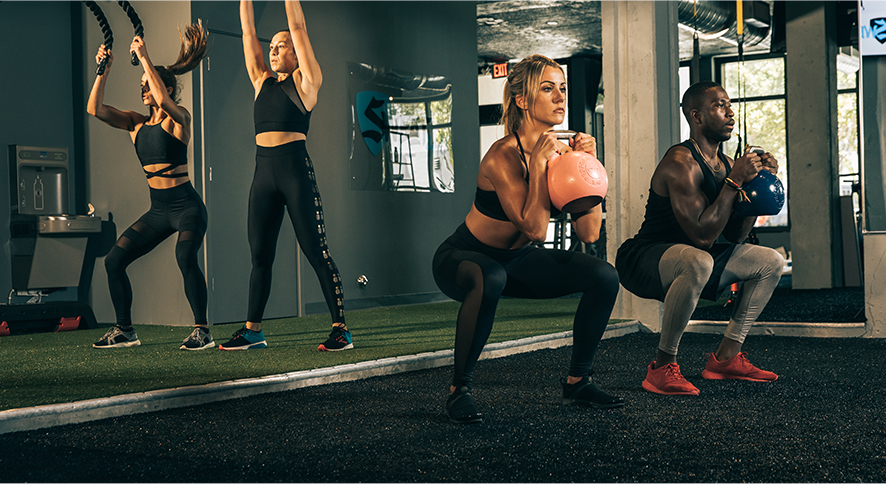 Choose the Closest Gym, But Also the Most Effective
10 Things to Look for in the Best Nearby Gym
Choose a gym that teaches the best method- HIIT.
Choose a gym with free personal training.
Choose a gym with plenty of classes.
Choose a gym that fits your schedule.
Choose a gym with the latest equipment.
Choose a gym that's not overcrowded.
Choose a gym with affordable rates.
Choose a gym without a binding contact.
Choose a gym that welcomes all fitness levels.
Choose a gym with 5-star reviews.
The 10 Closest Gyms to My Location
In Montréal: 5000 Rue Jean-Talon O
In Austin: 507 Pressler St.
In NYC/Chelsea: 600 6th Ave.
In NYC/FIDI: 80 John St.
In Miami Beach: 1916 Bay Rd.
In Coral Gables: 301 Altara Ave., Suite 111
In Doral: 8403 NW 53rd St.
In Miami/Brickell: 25 SW 9th St., Suite G100
In Palm Beach: 3201 N. Miami Ave., Suite 10
In Kendall: 4293 SW 152nd Ave.