Closest Gym to Me With HIIT Classes for All Fitness Levels
Do you want to try high-intensity interval training (HIIT), but you're a little apprehensive? Maybe you've seen the incomparable results it produces, or heard how fun and fast-paced it is, but you're unsure if you're up to the challenge. It's true that HIIT is a potent workout, packed with calorie-torching, muscle-building movements. But it's also customizable to all fitness levels, when you learn from a certified HIIT instructor at Sweat440.
From Cardiac Rehab to Triathlon Training: HIIT Can Do That!
HIIT can be utilized with patients recovering from cardiac events, surgery, or cancer, when done correctly. Make no mistake, if you want to get in the best shape of your life, HIIT will do that, even for athletes at the top of their game. But Sweat440's HIIT classes are designed for each person to work at their own pace to safely and swiftly reach their goals. Whether you want to regain the ability to walk around the block, or compete in an Ironman race, HIIT meets you where you are, and takes you where you never thought you could go. Just make sure you train with a HIIT expert!
How HIIT Works for All Fitness Levels: Expert Personal Training
In order for HIIT to work for beginners and professional athletes alike, it's important to practice HIIT with certified trainers. The HIIT trainers at Sweat440 are uniquely qualified to guide you, since they are HIIT specialists who teach HIIT all day, every day. They're experts at identifying warning signs if you're pushing too hard, and even signs that you aren't pushing hard enough.
Our trainers know the perfect ratio of high intensity to periods of rest, to prevent you from overdoing it. And they have the right recipe to safely maximize oxygen consumption during HIIT, so you keep burning calories after you're done. Unlike most gyms where a HIIT class is on the schedule occasionally, Sweat440 focuses solely on HIIT, so every trainer is distinctly qualified and highly experienced.
Why You Shouldn't Try HIIT On Your Own
If you try a HIIT routine without expert advice, then you risk injury or complications like muscle fatigue. You also risk underperforming and not generating the results you imagined. It's not sufficient to simply alternate intensity and rest. It's essential to intersperse the two properly to get results. If you work too intensely for too long, you'll actually do more harm than good.
When we're overtired, our form and posture suffer, resulting in strains and sprains. And if you go too hard with one particular body part or type of exercise, you'll tire out more quickly. The certified HIIT trainers at Sweat440 know how to make the most of each droplet of sweat, generating results, without compromising your health and safety.  
Trainers also know how to work diversity and dynamics into your routine to prevent plateaus. At Sweat440, we use compound cardio circuits that combine cardio with strength training to maximize the outcome. Rather than traditional workouts where you walk or run on a treadmill, then do weightlifting, Sweat440 uses Versa Climbers, Ski Ergs, Assault Bikes, TRX, and more to create muscle confusion, so you never stall out in your progress.  
At Sweat440, We Schedule Classes to Accommodate Everyone
We know how effective HIIT is, and we know how important it is to work with a personal trainer to do it correctly. That's why we schedule classes every 10 minutes, so everyone can fit HIIT into their day. Every one of our classes includes FREE personal training, so you can always max out your workout, while staying safe.
Each one of our classes is adaptable to all fitness levels, so you don't have to worry which one to pick. If you have an injury or disability, our trainers will augment each station to fit your needs. For example, if you have a leg injury, you might think cardio is out of the question. But at Sweat440, you can perform our Ski Ergs from a seated position, for an excellent cardio workout. If your shoulder is bothering you, our sliders burn calories without the use of your arms. Our trainers are experts at making sure each person safely excels.
Our daily class schedules vary by location- each day of the week provides different ways to sculpt, shape, shred, and tone your body. But in all of our gyms, classes start every 10 minutes, and each class is led by a certified trainer and is designed to accommodate everyone.
Sweat440 is Equipped to Take Everyone to the Next Level
Whether you have no limitations or several limitations, we have countless techniques for everyone. From functional exercises, to stress-blasting tools like slam balls, sleds, battle ropes, and kettlebells, Sweat440's HIIT classes are not only a blast, they're also the best workout on the planet! Some gyms focus more on things like a spa, kids club, or juice bar. But Sweat440 focuses on incomparable results!
We know how effective HIIT is, so we make it accessible for everyone. Our members span all fitness levels and they're a welcoming bunch, routinely giving high-fives between stations. Unlike gyms that ignore or intimidate newcomers, we welcome beginners and our trainers assist you throughout the entire workout.
In addition to free personal training in each class, our stations are all equipped with screens that display animated demonstrations of each exercise. You never have to figure things out on your own- just follow along with the trainer and the demos. And if you're already a pro, soar through at your own level, crushing calories and increasing muscle tone in ways you never imagined. Ready to give HIIT a try? We thought so! To find the "closest gym to me" click here. Then come try your first class for free!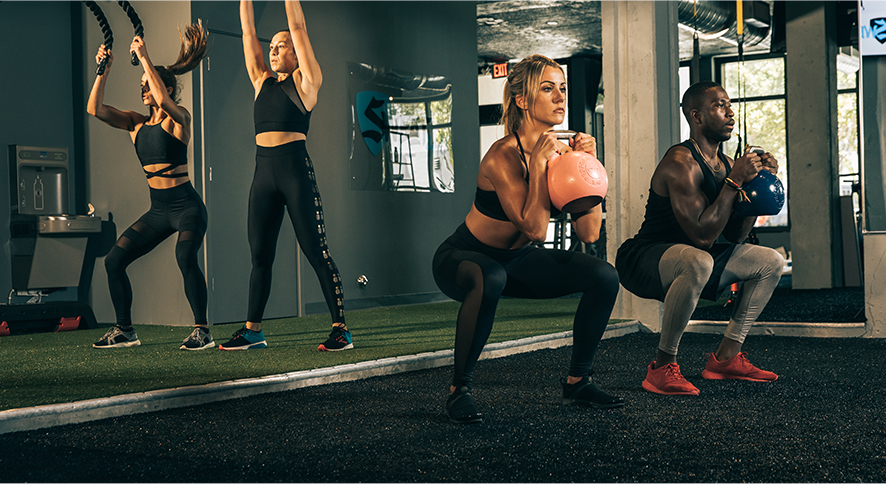 Sweat440 is the Closest Gym to Me With HIIT for Everyone
How Sweat440 Makes HIIT Inclusive
Personal training included in every class for instruction
Animated demos for extra assistance
Proper intervals of intensity for maximum results
Expert attention to form and exertion levels
Accommodations for all injuries and limitations
Sweat440's Closest Gym to Me: Locations
Florida: Brickell, Doral, Kendall, Miami Beach, Palm Beach, Coral Gables
New York: Chelsea, Financial District
Texas:Austin
Canada: Montréal
Your Town: Coming Soon!