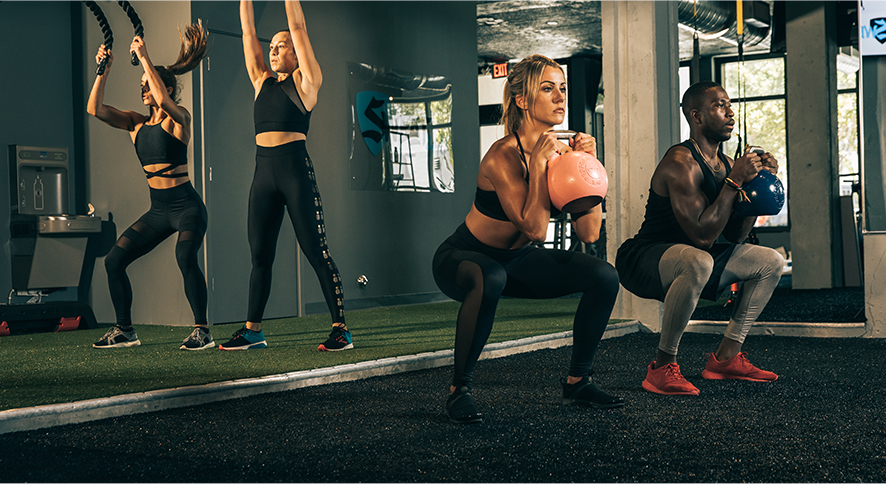 Gym Classes Near Me to Learn the Basics of HIIT
High-intensity interval training (HIIT) is the chosen workout for anyone who wants dramatic, lasting results quickly. Medical experts agree, it provides the most efficient, effective workout. But, if you're new to the HIIT philosophy, you might have some questions, like, "Just how intense is it?", "Can I keep up?" or, "How are the classes structured?". HIIT classes vary depending on where they are offered and who is leading the class. So, not every gym offers HIIT classes conducive to beginners. But
 Sweat440
leads the industry in classes catered to all fitness levels, led by top-notch, certified instructors. See what sets us apart.
How Sweat440's Gym Classes Near Me Help Beginners
HIIT Specialists
HIIT classes at other gyms are led by instructors who teach a wide variety of exercise classes. They are often uneducated in HIIT philosophies and don't know how to properly implement intensity or intervals. At Sweat440, we teach HIIT all day, every day. So, our instructors are the most experienced in the business. We follow a proprietary formula that guarantees results quickly and safely, no matter where you are on your fitness journey.
Individual Attention
Many gyms stick teachers at the front of the class where they can't see everyone or offer specific instruction for beginners. At Sweat440, our trainers circulate through every class, correcting form, assisting with technique, and helping modify exercises for any limitations. We provide personalized training at no extra cost in every one of our classes.
Class Size
Some gyms have classes so large that instructors can't even tell if you're new. They might offer one or two HIIT classes a week, which means rooms are overcrowded, and beginners will find themselves on a waiting list more often than not. Without consistency, it's harder for newcomers to pick up the skills. At Sweat440, we offer tons of classes, starting every 10 minutes, rather than cramming everyone into one class. We make sure you can always find a spot in a class, so you get up the learning curve quickly.
Varied Intensity
Often classes at other gyms that claim to use HIIT methods only focus on high intensity. But the shift in intensity is what helps you reach your VO2 max, thereby burning the most calories. With the variations, you're able to sustain superior output, rather than tiring out more quickly. For beginners, it's essential to vary intensity so you don't overexert. At Sweat440, you can trust our expertise to push you to new levels, without pushing you too far.
Short Intervals
Are our classes challenging? You bet! Are they doable? Absolutely. We implement four 10-minute stations with 3 exercises each, performed for 45 seconds, with 15 seconds of rest in between. In other words, if you are new to a particular exercise, you only do it for 45 seconds before you get a break. You work at your own pace within those seconds. Rather than classes that demand a certain number of reps or a certain amount of weight, you do what you can, aided by trainers who help you reach your potential.
Extra Instruction
If you don't want to feel like the newbie, no worries. Our trainers are there to answer any questions you have, but we also provide animated demos on screens at every station. You can just glance at the "how-to" for an instant tutorial that gets you up to speed. Some workouts like martial arts mean newcomers might find themselves in classes with students aged 5-12. But at Sweat440, adult beginners blend in seamlessly with elite athletes, thanks to our innovative system. If you forget what the trainer said, just check the demo for extra input. We're as passionate about safety as we are health and fitness, so we make proper technique easy to learn.
Flexible Schedule
With classes that start every 10 minutes, you can pick the time when you are most energized and ready to learn. If you aren't a morning person, you don't have to take a 6 am class, because our classes are offered all day long. If you're tired after a long day of work, you aren't restricted to a 7 pm class. Unlike most gyms, we offer the same class at several times, so come when you feel most inspired. Our classes vary each day of the week, so you can come every day and learn something new each time.
Shorter Classes
Our classes run for 40 minutes, unlike the typical 60-minute class. That's because HIIT burns 30% more calories in a third of the time of traditional workouts. So, newcomers can relax, knowing they can endure for 40 minutes. In fact, our classes fly by, since they are so dynamic and packed with variety. Our upbeat music and uplifting environment make you forget how hard you're working.
No Contracts
When you try something new, it's stressful to think you can't back out if it's not for you. At Sweat440, we don't lock you into a contract or require you to buy classes in bulk. In fact, your first week is free, and you can buy as little as one class at a time after that. Other gyms want you to sign up before you can change your mind. At Sweat440, we're confident that you'll be back for more. Try us today and see why!
Beginners Should Choose Their HIIT Gym Carefully
Why Some Gym's HIIT Classes Aren't Safe For Beginners
Some HIIT classes are led by uncertified instructors.
Some HIIT classes don't use proper intervals.
Some HIIT classes don't vary intensity safely.
Some HIIT classes are overcrowded and lack personal attention.
Some HIIT classes are overbooked so beginners can't be consistent.
Some HIIT classes use generalized weights and reps for diverse members.
Some HIIT classes last too long for beginner's endurance.
Some HIIT classes require contracts that lock you in before you're ready.
How Sweat440 Assists Beginners
Sweat440's instructors specialize in HIIT all day, every day.
Sweat440 utilizes the best intervals for exertion and recovery.
Sweat440 varies intensity to target max calorie burn without overdoing it.
Sweat440 offers multiple smaller classes for personalized training.
Sweat440 offers classes every 10 minutes so you can be consistent.
Sweat440's exercises are adaptable to every fitness level.
Sweat440 makes you sweat for 40 minutes, but not longer than needed.
Sweat440 doesn't lock you into any contracts, fees, or minimums.