Welcome to SWEAT440: Your First Step Towards a Transformative Fitness Journey
We extend a warm welcome to SWEAT440, a unique exercise concept curated for your personal needs and aspirations. Recognizing that a new fitness path can seem daunting, we are here to make the transition smooth. We'll guide you through comprehending the gym's ethos and class structure, introducing you to our skilled coaches, and integrating you into our spirited 440Squad community. No matter your fitness background, we eagerly await the opportunity to reveal the SWEAT440 difference.
First Impressions: Walking into SWEAT440
When you first arrive at SWEAT440 Toms River, you'll find yourself immersed in a vibrant and supportive fitness collective. Our establishments are immaculately maintained, contemporary, and equipped with cutting-edge technology designed to enhance your workout journey. Our team is always eager to assist you, ready to answer questions and address any queries. A quick orientation of our premises is always an option, so don't hesitate to ask.
Understanding SWEAT440's Unique Fitness Philosophy
At the core of SWEAT440 lies an exceptional fitness ideology designed to accommodate hectic routines while providing powerful and efficient workouts. We provide High-Intensity Interval Training (HIIT) packed into a swift 40-minute slot. This concentrated methodology allows our patrons to fit a thorough workout into their busy lives. But this conciseness doesn't skimp on the outcomes. Our HIIT routines are crafted to enhance calorie burn, boost heart health, and build strength. Our inventive timetable, featuring classes commencing every 10 minutes, eradicates the need for adhering to rigid class times. This unique blend of flexibility and high-intensity training distinguishes SWEAT440, offering a fitness experience that seamlessly integrates into your lifestyle.
Meeting Your Coaches and the 440 Squad
At SWEAT440, our vibrant community, the 440 Squad, is pivotal in our member's fitness progression. From your initial step into our gym, our approachable and proficient coaches are there to support you. They guide you through each routine, ensuring clarity of exercises and correct form to amplify benefits and avert injuries. Their passion for your fitness achievements sets our coaches apart. They are there to stimulate, encourage, and propel you towards your fitness aspirations. As a member of the 440 Squad, you'll engage with other members with similar fitness objectives, adding a significant boost to your motivation levels and overall gym experience.
Signing Up and Pricing Structures
At SWEAT440, we value honesty, particularly in regard to pricing and registration. Becoming a member is a straightforward process, either at our front desk or via our website. We empathize with the hesitation many feel when exploring a new gym, so we offer your first class complimentary. This opportunity lets you sample our unique workout methodology and our friendly community before making a commitment. Once you decide to join, you'll find our membership packages competitive and flexible, catering to a range of needs and budgets.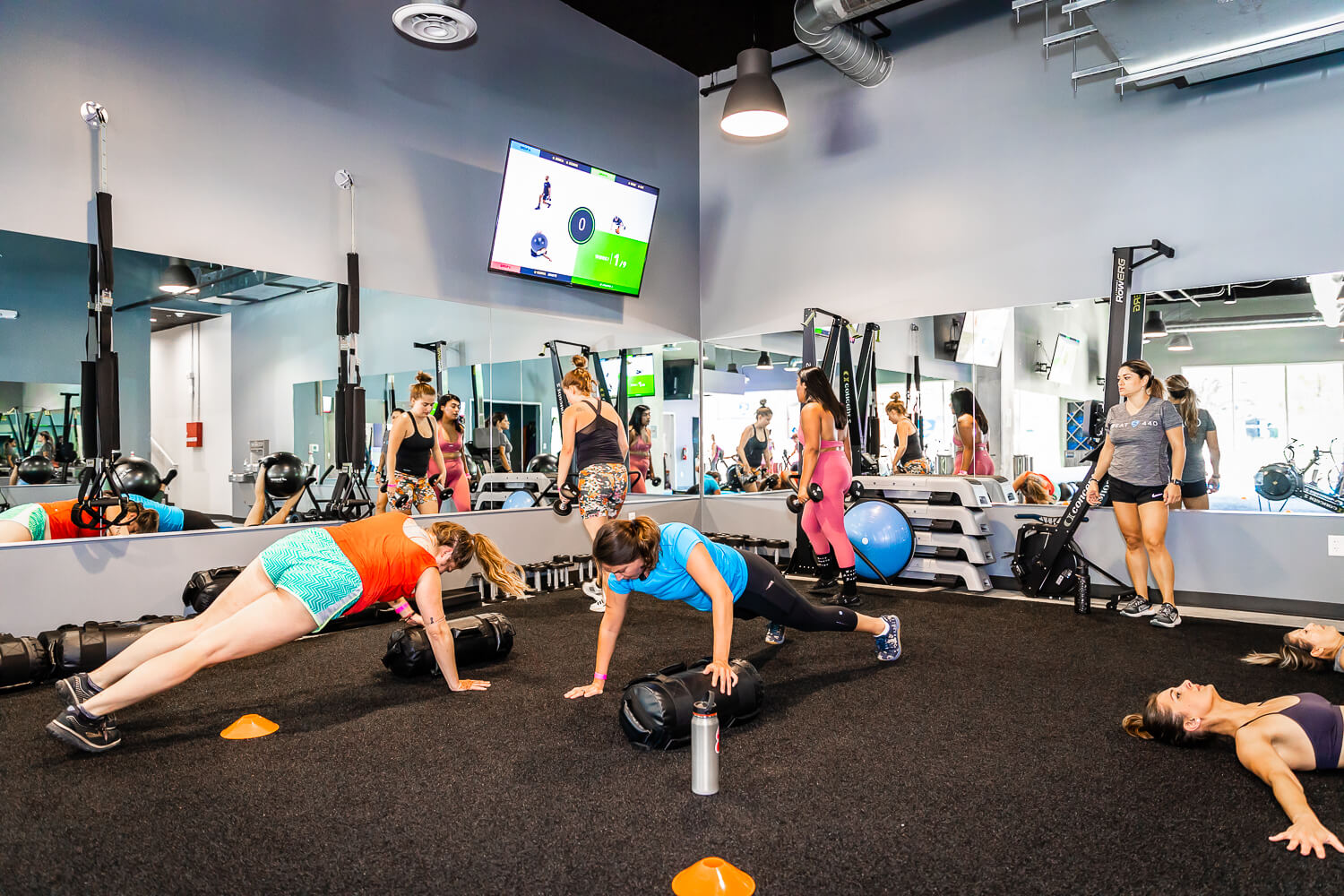 Your First Workout: Let the Fitness Journey Begin
Your initial workout at SWEAT440 can be a mix of anticipation and jitters. However, there's no need to fret! We suggest you arrive slightly ahead of time to familiarize yourself and prepare for the session. Each 40-minute session blends strength training with cardiovascular exercises, utilizing diverse equipment to maintain novelty and challenge. Though the workouts are vigorous, remember the importance of listening to your body and setting your own pace. This isn't about comparing with others; it's about personal evolution. Our coaches are there to support you, providing alternatives when required. So, embrace the journey – every workout is a step closer to your fitness aspirations.
Becoming a Part of the 440 Squad
As we wrap up this guide, we trust we've illuminated what to anticipate during your inaugural SWEAT440 visit. From our singular fitness philosophy, diverse workout styles, transparent pricing, and supportive community, our goal is to deliver a gym experience unparalleled by any other. Being a part of the 440 Squad signifies inclusion in a fitness collective that values individual journeys and provides the necessary tools and support for you to achieve your fitness objectives. If you're prepared to experience the SWEAT440 distinction, we invite you to take the plunge and visit our Toms River location. Your first class is on us, and we're excited to welcome you into our inspiring community.
The Best of SWEAT440 For You
Efficient 40-minute workouts

Classes every 10 minutes

Skilled instructors

Cutting-edge facilities

Inclusive environment
Claim Your Free First Class 
Visit our website and locate the

Toms River, NJ Location

Choose the class time that suits you best.

Reserve your spot, and prepare to get sweaty!