The Best HIIT Gym Near My Location
Do you want to get super fit, super fast? Then, there's only one choice. You have to try high-intensity interval training (HIIT). A word of caution though, HIIT only works when it's done correctly. Many gyms offer a HIIT class occasionally, but they're often taught by generalized fitness instructors who aren't trained in the HIIT method. So, don't just look for a HIIT workout, look for a legitimate HIIT gym! With HIIT, you'll get fit faster than ever. And if you choose the "best HIIT gym near my location," you'll also save time on the commute! Fortunately, the #1 HIIT gym has convenient locations in cities around the world.
Why Should I Choose a HIIT Gym, Not a HIIT Workout?
HIIT is a very specific method which requires accurate intervals of intensity. Some people misinterpret HIIT to just be a high-intensity workout. But actually, it's the perfect balance of high intensity, interspersed with brief periods of rest that does the trick. Those quick shifts in intensity enable your body to perform at a higher level for longer, and also trigger both aerobic and anaerobic output. Simply working out at full steam will actually backfire, causing exhaustion, muscle fatigue, poor form, injury, and surprisingly, burning fewer calories.
Trying a HIIT workout online or attending a random HIIT class at a gym won't guarantee the right formula. HIIT classes that are too long are actually less effective and make you more prone to injury as form deteriorates with fatigue. And if your periods of rest are too long, your heart rate drops below the target. Likewise, if your heart rate is too high for too long, it's not only risky, but less efficient for burning fat. HIIT workouts require the right blend of cardio and resistance for results. So, HIIT performed solely on a treadmill or bike won't generate quick results. Compound cardio movements are the key to perfecting your physique.
Sweat440 is a dedicated HIIT gym, where all HIIT classes are led by certified HIIT instructors. This means we know the exact intervals to trigger HIIT's capabilities. We not only teach HIIT classes, we specialize in them, all day, every day. Each of our classes provides the best HIIT workout in town, no matter which one you take. That's because we're a HIIT gym, not a gym with a HIIT class once a week. Since our trainers are highly trained in the proper method, we help you get fit much faster. Our classes are 40 minutes of various intervals, not an hour of monotonous intensity. This allows you to burn twice the calories and sculpt twice the muscle in half the time.
Why Should I Choose a HIIT Gym Near My Location?
Studies show that choosing a "gym near my location" greatly increases the odds that you'll go. It's also proven that living near a gym keeps you leaner. When you get a chance to crank out a sweat session, you don't want to spend half the time getting to the gym. Life is hectic and unpredictable, so if you have an hour to spare, you can get to Sweat440, get a killer workout, and return with time to spare.
Our 40-minute classes are designed to crush calories and build muscles simultaneously, maximizing your time. And our workouts target your VO2 Max, or maximum oxygen consumed during exercise. That means you'll burn calories for hours after your workout. Sweat440 has 6 gyms in Florida, 2 in New York, 1 in Texas, 1 in Canada, and more to come! So, choose the "best HIIT gym near my location" to make the most of your time.
Why is Sweat440 the Best HIIT Gym Near My Location?
Since Sweat440 is a dedicated HIIT gym, you can count on every one of our HIIT classes to provide superior HIIT instruction. We make the most of each droplet of perspiration, sculpting abs and glutes while toning your thighs. Each of our classes is a full body workout, but we offer different areas of focus each day. We always torch your core, but we'll target different muscle groups throughout the week, so you can do our HIIT classes every day.
Some HIIT classes at other gyms only pay brief attention to all of the muscle groups, never maximizing their potential. But we max out each muscle group by rotating daily and by interspersing your efforts with 15 seconds to catch your breath. Our members consistently give us 5-star reviews because we provide the #1 HIIT workout.
But Sweat440 excels in ways beyond our HIIT methods. We also offer the best memberships of any "gym near my location." We don't use contracts, and we let you buy as many classes as you choose. We never charge for classes you have to miss, nor do we charge initiation or cancellation fees. Our members come because they love it here, not because they're locked into a contract. And with classes every 10 minutes, there's always a spot waiting for you. Check out Sweat440's convenient locations today! The best HIIT workout at a gym nearby? Yes, it's true, and we can't wait to meet you!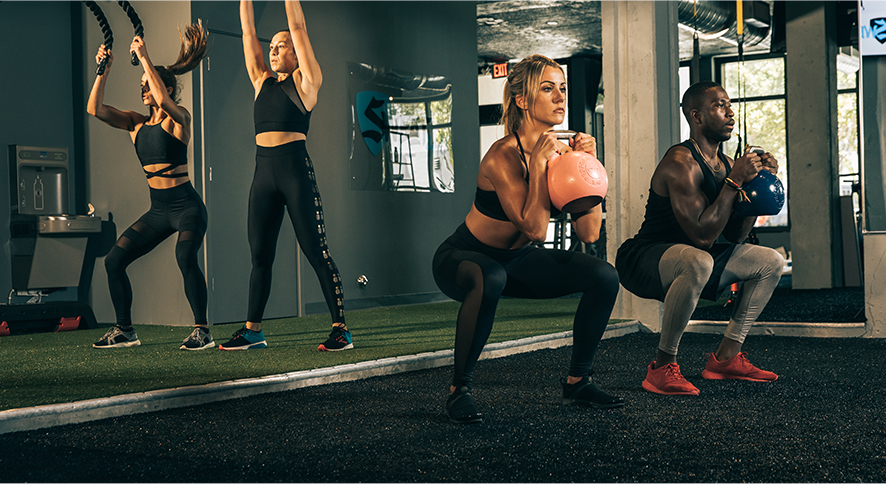 Find a Sweat440 HIIT Gym Near My Location
The #1 HIIT Gym Near My Location
Sweat440 Chelsea
Sweat440 FIDI
Sweat440 Miami Beach
Sweat440 Brickell
Sweat440 Coral Gables
Sweat440 Kendall
Sweat440 Palm Beach
Sweat440 Downtown Doral
Sweat440 Montréal
Sweat440 Austin
SHAPE- Lower Body
SHRED- Upper Body/Core
SWEAT- Core/Conditioning
SHRED- Lower Body/Core
SHAPE- Upper Body/Core
WARRIOR- Total Body Conditioning
OUTDOOR- Socially Distant Classes