Sweat440 Gym Classes Near Me for Full-Body Workout
​"I've been looking for gym classes near me for a full-body workout. Should I join group fitness classes like dance fitness or a Zumba class?" We were recently asked this question by someone at the beginning of their fitness journey — they were looking for group fitness classes for a full-body workout, but they believed their options were limited to a Zumba class, dance fitness classes, or stationary bike classes.
Cardio-based group fitness classes are incredibly popular, but they're not suitable for a long-term full-body workout. Dance fitness classes, like Zumba, and stationary bike classes only provide cardiovascular training, i.e., they get your heart rate up and help you burn calories. They offer little to no strength training benefits, making them ill-equipped to provide a full-body workout.
However, we have good news — you can also join a group fitness class that provides strength training, full-body workout, and works for all fitness levels. Sweat440 is an incredibly innovative and revolutionary group fitness class that helps people of all fitness levels meet their long-term fitness goals. This article describes how Sweat440 group fitness classes are different from other traditional fitness classes, and where you can find Sweat440 classes near your location.
How's Sweat440 different from other dance fitness or strength training classes?
Sweat440 is a group fitness class with an innovative workout format. Sweat440 fitness classes are 40-minute sessions that incorporate strength training, core training, cross-training, high-intensity interval training, conditioning, and resistance training — they incorporate all forms of fitness to provide a holistic full-body workout.
Each 40-minute fitness class consists of four 10-minute fitness stations. Each fitness station, in turn, consists of 3 sets of 3 exercises. You have to perform each exercise for 45 to 50 seconds, catch your breath for about 10 seconds, and then start the next exercise — this process is repeated for a total of 9 minutes.
During the final minute, you can position yourself in the next fitness station and prepare yourself for the next group of exercises. As you progress through the fitness stations, a new group takes up your previous position. As such, the Sweat440 training model allows new members to join the group fitness class every 10 minutes, ensuring you're never late for a class.
Sweat440 is a state-of-the-art gym with the latest workout equipment, including rowers, assault bikes, sleds, battle ropes, suspension training, etc. The fitness classes are curated by fitness experts, and they're designed to be highly scalable, making them suitable for all fitness levels. Furthermore, the Sweat440 training schedule targets a different set of muscles daily, helping you meet long-term full-body fitness goals.
The Sweat440 fitness schedule is broken down into four categories — sweat, shape, shred, and warrior. The sweat days are meant for cardiovascular exercises that make you burn calories and lose weight. The shape days are focused on conditioning drills and exercises. The shred days combine HIIT with strength training to get you ripped. And the warrior days combine all the previous formats for a supercharged full-body workout.
Monday: Shape — Lower Body
Tuesday: Shred — Upper Body/Core
Wednesday: Sweat — Core/Conditioning
Thursday: Shred — Lower Body/Core
Friday: Shape — Upper Body/Core
Saturday: Warrior — Total Body Conditioning
Sunday: Warrior — Total Body Conditioning
Based on this structure, Sweat440 successfully distinguishes itself from other group fitness classes:
You don't have to schedule your classes in advance, and you're never late for a class.
The group fitness classes incorporate all styles of fitness.
They're scalable for all fitness levels.
The fitness schedule addresses all muscle groups.
Where can I find Sweat440 gym classes near me?
Claim your free sweat session today!
Sweat440 provides flexible no-contract memberships. Unlike many other gym chains and group fitness classes, we don't ask for a one-year commitment, nor do we trap you in legally binding contracts. You can purchase a single session, a group of multiple sessions at a discounted rate, or an unlimited membership for a specific period. There are no contracts or long-term commitments. We also provide a free trial session, so feel free to claim your free sweat session from your nearest Sweat440 gym today.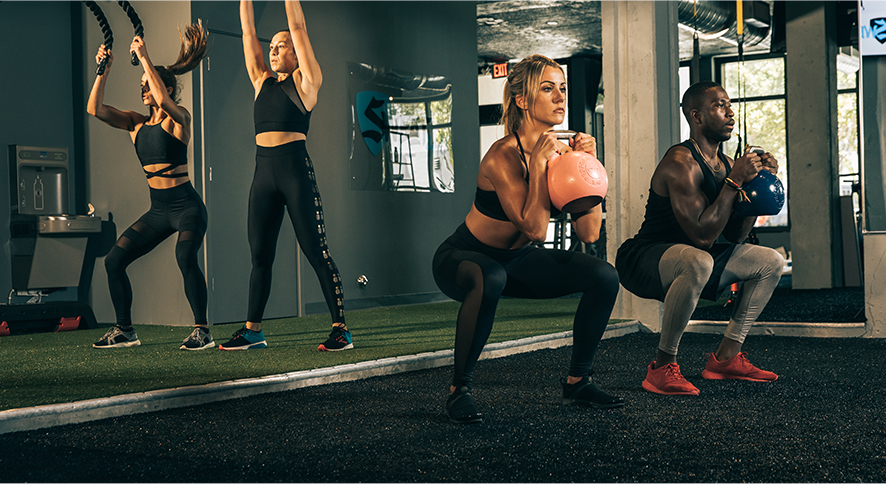 Sweat440 Group Fitness Class Schedule
Monday: Shape — Lower Body
Tuesday: Shred — Upper Body/Core
Wednesday: Sweat — Core/Conditioning
Thursday: Shred — Lower Body/Core
Friday: Shape — Upper Body/Core
Saturday: Warrior — Total Body Conditioning
Sunday: Warrior — Total Body Conditioning
Sweat440 Gym Classes Near Me