The Ultimate Cross Circuit Training Workout: Sweat440
Is your gym routine starting to feel like a chore? Is it boring, repetitive, and worst of all, ineffective? Then hop off that treadmill, before you decide to throw in the towel! There's a better way to get fit, and it's fun, fast, and efficient. A cross circuit training workout at Sweat440 blasts through the boredom of traditional cardio, and blasts through more fat and calories too! Here's how a cross circuit training workout wakes up your fitness and creates your best body in half the time.
What is a Cross Circuit Training Workout?
 "Cross" means that multiple exercises are combined. In the broadest sense, it's a cross between cardio and resistance. Rather than separating cardio from strength training, the two are combined in compound exercises that provide twice the benefits. There is also a "cross," or fusion, of different components like upper body and core workouts.
"Circuit" refers to stations where you perform different exercises for certain intervals. Rather than an hour of running, you might do 45 seconds of dumbbell squats, or kettlebell swings, or pedaling on an assault bike, before switching to a new station. These circuits keep your body in a state of change, so you never overexert, but also never hit a plateau.  
"Training" means, you guessed it, instruction from personal trainers. Since cross circuit training is a fast-paced, versatile workout, it requires the expertise of a certified trainer to be executed properly and safely. If you try to design your own cross circuit training workout, you risk improper intervals of intensity, which could hinder your progress, either by being insufficient, or by overdoing it, or sustaining injuries. The certified trainers at Sweat440 provide the proper intervals of intensity and fusion of components for the ultimate outcome.
Can Anyone Do a Cross Circuit Training Workout?
One of the best assets of a cross circuit training workout is versatility. Since it's based on circuits of intensity, each participant can work at their own fitness level. Each circuit is followed by brief periods of rest, so you can catch your breath, without losing momentum. Just when you think you can't do another rep, you get a breather, followed by a totally different exercise.
You never experience muscle fatigue or overexertion when you work with our trainers, unlike when you go it alone. Sweat440's cross training classes use high-intensity interval training (HIIT) to maximize each minute you spend in the gym. Our trainers know how to pull sufficient exertion from each muscle group to generate rapid change. We keep you at your target heart rate to blast fat and build muscle throughout the entire class.
The Combo of Cardio and Strength Training Benefits Everyone
Since circuit training combines cardio and strength training, the workout is done in half the time of traditional workouts. At Sweat440, you achieve better results in 40 minutes than an hour at another gym. No matter where you are on your fitness path, cross circuit training is the ideal workout.
● If You're Into Strength Training:
Sweat440's HIIT classes blend dumbbells, kettlebells, functional weight exercises, TRX, and resistance in with muscle building cardio machines like Assault Bikes, Ski Ergs, and rowers. There's no steady-state cardio to be found in our gyms- every movement enhances a targeted muscle group.   
● If You Love Cardio:
Sweat440's HIIT circuits take your cardio endurance to exciting new levels. Training at high-intensity bursts of 45 seconds, followed by 15 seconds of low intensity allows you to perform at peak levels for a longer period of time. It also jumpstarts your metabolism and targets your VO2 max, so you burn calories long after your workout is done, optimizing the food you use to fuel up. Professional athletes and those training for races experience fitness breakthroughs with HIIT circuit training.
● If You're New to Fitness:
While Sweat440's HIIT classes are a powerful workout, they're adaptable to all fitness levels. Since our trainers circulate through every class, offering assistance, correcting form, and showing alternatives to each movement, even those who are new to fitness can safely enjoy a cross circuit training workout. Each station at Sweat440 includes a screen with animated demonstrations of the exercise, so you always know how to execute the moves.
● If You're Short on Time:
One of the best things about Sweat440's HIIT classes is their efficiency. In 40 minutes, we take you through 4 10-minute stations, where you perform 3 sets of 3 different exercises. That means you blast through 12 different exercises in well under an hour, for the ultimate full body workout. You will sweat for all 40 minutes at Sweat440, but our upbeat music, positive trainers, and inspiring classmates help the minutes fly by. Best of all, our classes start every 10 minutes, so you can always work fitness into your schedule!
Optimize Heart Rate, Upper Body, & Lower Body 7 Days a Week
At Sweat440, we take you through a total body workout that targets a different muscle group every day. That means you can safely take our HIIT classes 7 days a week! No need to join multiple gyms or pay for a membership you can only use a few times a week, like the gyms that don't use proper circuits. Our proprietary combo of functional exercises with cardio and resistance keep you in top form, so you can work out as often as you want! Take a look at our variety of classes below and come try your first class for free!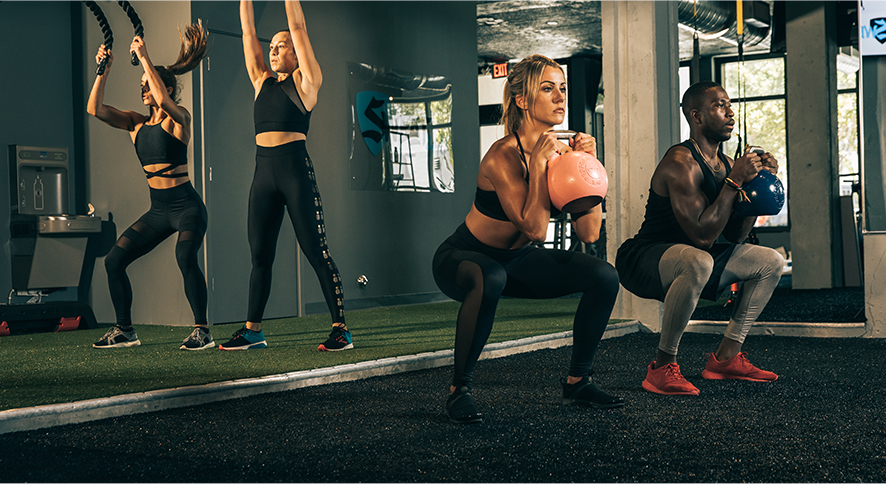 Try a Cross Circuit Training Workout for Free at Sweat440!
Our Cross Circuit Training Classes:
Monday: Shape- Lower Body
Tuesday: Shred- Upper Body/Core
Wednesday: Sweat- Core/Conditioning
Thursday: Shred- Lower Body/Core
Friday: Shape- Upper Body/Core
Saturday: Warrior- Total Body Conditioning
Sunday: Warrior- Total Body Conditioning
Why Sweat440's Cross Circuit Training is Superior:
Your first class is free!
Each of our classes includes free HIIT training!
Our intervals of intensity create quicker results!
Our classes start every 10 minutes!
You burn more calories in just 40 minutes!
Our classes are designed for all fitness levels!
We have no contracts, just awesome classes all day!