Joining a gym is a hopeful moment in a person's life. There's the hope of better health, a smaller waist, or a stronger heart. You might also hope for more flexibility, greater endurance, or trusted fitness advice. And if you don't hope that it's fun, or that you make new friends, take heart, those are possible too!
But not every "gym NYC" search leads to a hopeful outpost. In fact, some gyms in NYC actually dash hopes, along with expenses, and resolutions. Overpriced, overcrowded, and unskilled gyms can flush your hard-earned money right down the drain. But Sweat440's 2 gyms in NYC take the opposite approach- increasing your return on investment.
Gyms often use misleading marketing to scam you out of your funds. Hidden costs and undelivered promises are the hallmark of many gyms trying to compete in New York City. If you're looking for the cheapest gym to join, avoid health clubs that aren't transparent in their method, mission, or membership fees.
Sweat440: Transparent in Every Way
Luckily, Sweat440's website is crystal clear about who we are, what we do, who it's for, and what it costs, so you know exactly what to expect. If you're wondering if you belong at Sweat440, the answer is yes! All of our group classes are geared as equally to the fitness beginner as they are to the fitness fanatic. Our methods are backed by scientific research to be most cost-effective.
Who We Are:
Sweat440 was co-founded by professional trainers Matthew Miller and Cody Patrick with the innovative idea to revolutionize fitness by aligning it with every schedule, every budget, and every level of fitness. Our classes are full of diverse, authentic, encouraging members who love to help each other excel.
What We Do:
We provide high-impact interval training (HIIT) group fitness classes that start every 10 minutes. Our classes are run by professional instructors who deliver personalized training in a group setting in our pristine boutique studios. Our HIIT classes torch the most calories humanly possible in just 40 minutes, but you wouldn't know it based on how fun it is. Get ready for rowers, sleds, assault bikes, and suspension training- it will be over before you realize what you accomplished! We target certain body parts each day of the week, so if you miss your Tuesday morning Shred Upper Body/Core class, no worries, we offer it all day long.
Who It's For:
Our classes are for everyone. We implement 4 stations in 40 minutes with 3 exercises per station and a chance to rest in between, Pro athletes can pump out reps or blast through cardio as fast as they can, and beginners can take it slower. Our coaches circulate through the class and supplement with animated demos at each station, so nobody gets left behind. We can work around injuries or limitations and help you reach any goal you have in mind.
What it Costs:
Your first class is free- yes, totally free. No contracts that secretly sign you up until you remember to cancel. We only charge for the classes you attend, not the ones you have to miss. You can drop in for $30, buy a 10-pack at $20 per class, or purchase unlimited visits for our Founder's Rate of only $169. No need to pre-book and no contracts involved, just pure fitness around the clock.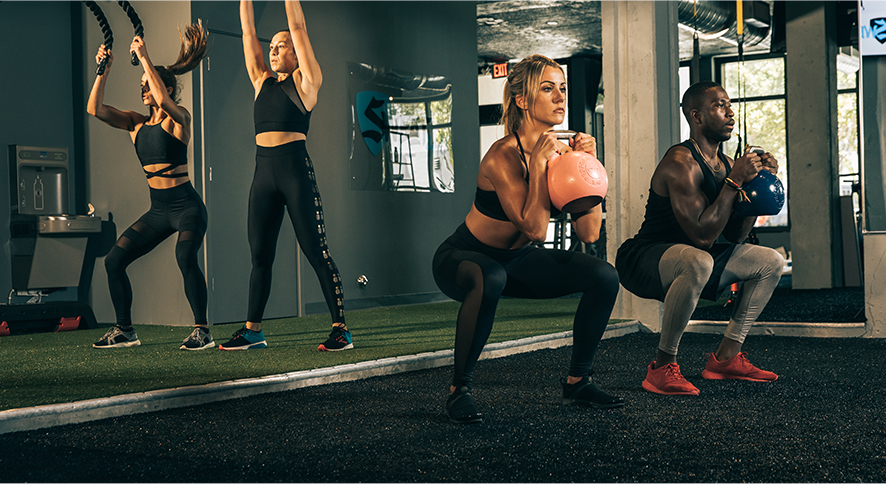 Why Sweat440 is Best for Every Budget
How Sweat440 Saves Money:
Sweat440 offers free classes so you can try before you invest.
Sweat440 doesn't make you book in advance before you know your schedule.
Sweat440 doesn't charge for classes if you're late or have to skip.
Sweat440 doesn't make you sign a contract or tack on hidden fees.
Sweat440 offers multiple packages so you can stick to your personal price-point.
Sweat440 provides training in each class so you don't have to pay for trainers.
Sweat440 targets different body parts each day, so we're your one-stop shop.
Sweat440 focuses on HIIT training which studies show is more cost-effective.
Who Saves Money at Sweat440:
Moms with kids and unpredictable schedules- we don't charge if you miss.
Professionals with hectic schedules- no penalties if you're late (#neverlate).
Fitness beginners who want to give it a try risk-free.
Business travelers looking to stay fit on the go- we have many locations.
Daily fitness enthusiasts- our routines change so one gym is sufficient.
Commuters who face heavy traffic- jump into the next class if you're in a jam.
Everyone who steps into our gym- we have no contracts or service fees.
No matter what your budget is, nobody likes to be swindled out of their money. Sweat440 is a rare find in NYC- a gym that delivers on its promises. Our pricing is fair, clear, and transparent, and our results far outweigh the investment. Step into our new boutique fitness studios for a welcoming smile and a welcome change of pace.