7 Reasons Why You'll Love This Gym Membership near Brickell
1. Our Gym Membership Near Brickell Includes a Free Trial!
You've probably seen Miami gyms advertise a free training session or free fitness assessment before, but most of them require you to join the gym before you redeem that free session. Sweat440 Brickell's free trial is legitimately free, with absolutely no obligation. You don't have to be a member before you try one of our high intensity interval (HIIT) classes, so click here to try Sweat440 Brickell without paying a single cent!
2. There Is No Contract or Initiation Fee!
Sweat440's unique membership plans come in several levels, none of which require a contract. You aren't locked in for a year, like you are with the typical gym membership near Brickell. You also won't be charged any annual fees, initiation fees, or cancellation fees. You simply pay for the classes you take, which you can buy in amounts that you choose. Buy one class at a time, a package of ten, or unlimited weekly or monthly sessions. If you need to miss a class for any reason, we don't charge you. Simply take the next class that aligns with your schedule. You'll never be caught off guard by our pricing or fees. They're completely transparent.   
3. Our Group Fitness Classes Start Every 10 Minutes!
If you live or work in Brickell, you know how busy life can be. Rush hour traffic, never-ending meetings, or chatty clients– plenty of disruptions can prevent you from making it to the gym at a set time each day. Sweat440 understands this and offers classes every 10 minutes to meet your needs. If you were planning on a 6:00 pm class but your Zoom call ran long, there's another class starting in just 10 minutes! You're #neverlate at Sweat440, since we build our flexible schedule around your lifestyle. Most gyms in Miami only offer each class once or twice a week, but ours repeat all day long, and change every day of the week. You never have to miss your favorite class, whether it's SHAPE for your lower body, SHRED for your upper body, or sweating through a full-body WARRIOR class.
4. Personal Training Is Free in Every Class!
Ever priced out a personal trainer in Miami? They're not only hard to book, they also charge between $50 and $200 for each 30-minute session. At Sweat440, personal training is infused in all of our group fitness classes at no additional fee. Our founders are renowned personal trainers who wanted to make personal training more affordable and accessible to everyone in Miami. With membership options like our $32 unlimited weekly plan and our $129 unlimited monthly plan, that means personal training in our HIIT classes costs less than $5 a day! You won't find a deal like that anywhere else in Miami, nor will you find a workout or trainer more capable of generating results.
5. We're Near Your Favorite Coffee Shop and Juice Bar!
Fitness is fun, especially when it's coupled with social interaction. Our classes are fueled by upbeat music and friendly classmates who inspire you to be your best! Sweat440 is just steps away from your favorite juice bars and coffee shops like Raw Juce and Capital One Café, so you can fuel up with friends after a workout, or get your coffee fix before you head to the office. Rather than charging high membership fees to house our own café, we're located right near all of your favorite spots, so you can take your pick! Grab lunch at Sushiato Brickell or La Sandwicherie Brickell after your midday class. Pick up groceries on your way home from your evening sweat session at the Publix across the street. Sweat440 is near everything else you need to do.
6. Our Location in Downtown Miami Simplifies Fitness!
Sweat440 Brickell is conveniently located near the Bank of America Financial Center, SunTrust Bank, Navy Federal Credit Union, and more, so fitness fits easily into your day. You can squeeze a class in on your lunch break, pump yourself up for the day before work, or sweat out your stress after a long day. Our classes are just 40 minutes, but burn twice the calories of classes that last an hour or more, thanks to our interval training methods. We know how Miami residents love to stay fit, but also how hard it can be to fit in a workout. Our convenient location in downtown Miami and our flexible schedule make it easy to get fit!
7. Our Small Group Classes Provide Safe Socializing!
Miami is a city filled with people who love life and engaging with each other. Sweat440 provides a safe space to exercise in a fitness community during the pandemic. Our gyms are sanitized with EPA-approved, hospital-grade cleansers, including Protexus electrostatic sprayers and antimicrobial disinfectant defogger machines. Our equipment and surfaces are cleaned after each use, and members are given their own cleaning spray and workout pod for protection. We've reduced our capacity for your safety and added social distancing guides on the floor to keep people at a safe distance from each other. Research proves it's important to exercise during the pandemic. At Sweat440, we go above and beyond to keep you healthy and safe, so you can simply enjoy your workout! Try a free class at Sweat440 Brickell today and see why we have the best gym membership in town!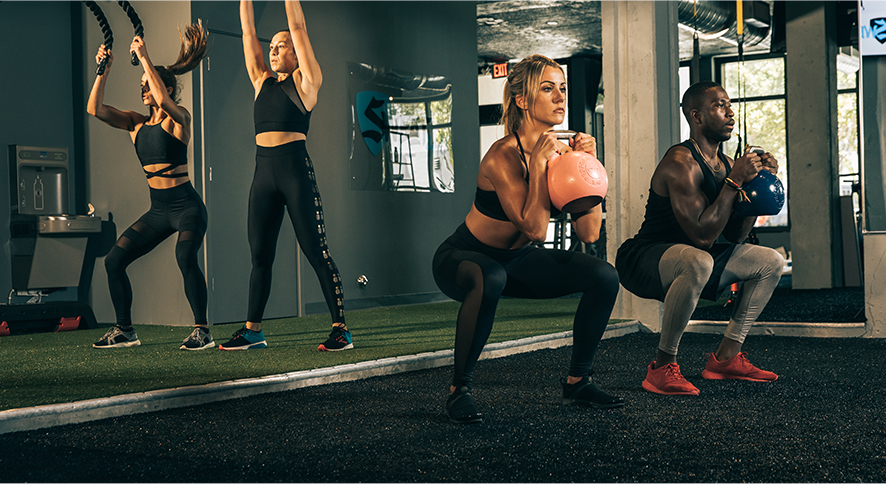 7 Great Things About Sweat440 Brickell
7 Perks of Sweat440 Membership:
Free trial without signing up
No contract or initiation fee
Group fitness classes every 10 minutes
Personal training in every class
Close to your favorite coffee shop and juice bar
Located near your workplace
Superior sanitizing for safe socializing
7 Free Classes for Beginners to Try:
SHRED- Upper Body & Core
SHRED- Lower Body & Core
SHAPE- Lower Body & Core
SHAPE- Upper Body & Core
SWEAT- Conditioning & Core
WARRIOR- Total body conditioning
OUTDOOR- Full-body class outdoor